The competition in the small car segment, especially in India, will never see an end and in the near future it will only get stiffer. Maruti Suzuki recently launched its latest contender in the small car space, the Maruti Alto 800 and as expected the car is registering enormous sales. Now Chevrolet, part of General Motors, was not preparing for any special launch in the entry level space and so, has updated its Chevrolet Spark, in hope that it would improve the sales. It is a matter of time who will be more popular of the two, but a detailed comparison between them certainly seems appropriate here, so here is a detailed look at Chevrolet Spark Vs Maruti Alto 800.

Exteriors
Maruti was working on the new Alto 800 for quite some time now and the resultant is a decent looking car. The bodily features may seem influenced by the i20 and Figo, but overall it is a fine looking car. Some of the highlights include a bold front fascia with big headlamps, a pronounced shoulder line, leaf shape tail lamps.
The updated Spark looks a little better than the 800 but its design isn't groundbreaking either. But at least it looks completely original. The profile of the car is rather tall and not like the Alto 800 which sits very close to the road. The updated 2012 Spark features a new grille with chrome treatment on front bumpers and around fog lamps, dual tone rear bumpers with integrated reflectors.
Chevrolet Spark Dimensions
Overall Length (mm) : 3,495
Overall Width (mm) : 1,495
Overall Height (mm) : 1,518
Wheelbase (mm) : 2345
Maruti Alto 800 Dimensions
Overall Length (mm): 3395
Overall Width (mm) : 1490
Overall Height (mm) : 1475
Wheelbase (mm) : 2360
In terms of proportion the Spark is ahead as it has more height, width and length. Even the wheelbase is longer than the Alto 800, but only by a small margin.
Interiors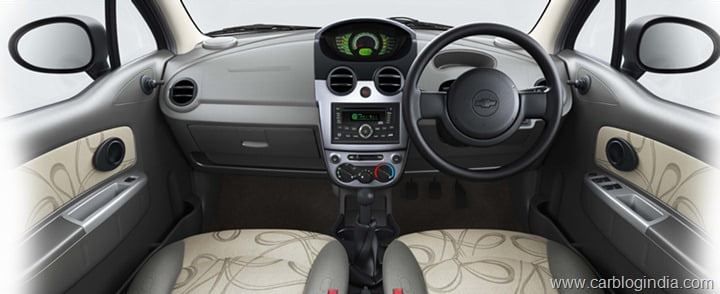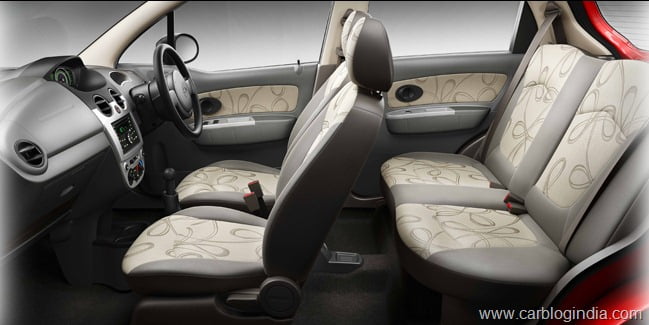 Talking about the interiors now, the Spark which gets a updated exterior does feature a retouched passenger cabin too. First and most noticeable change made is the light coloured interior trim with improved door trims for a more premium feel. Along with the new trims also comes a new instrument cluster design with digital analogue combination meters. Rest of it remains unchanged. List of features includes rear defogger, front and rear power windows, power steering, AC, audio system with USB and AUX-in connectivity, silver finish on instrument panel, child safety locks for rear doors, central locking, tubeless tyres and more.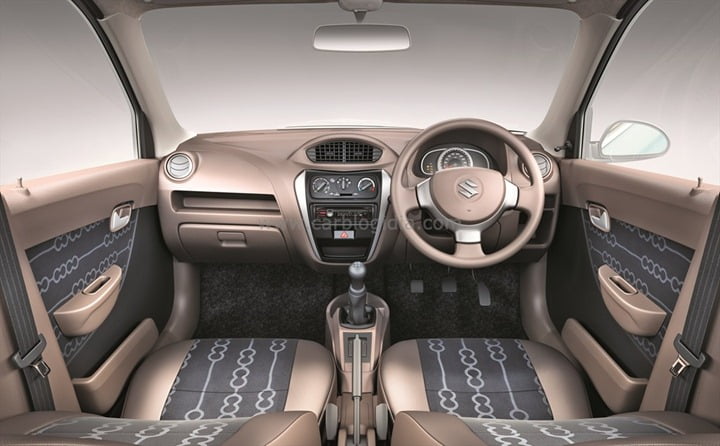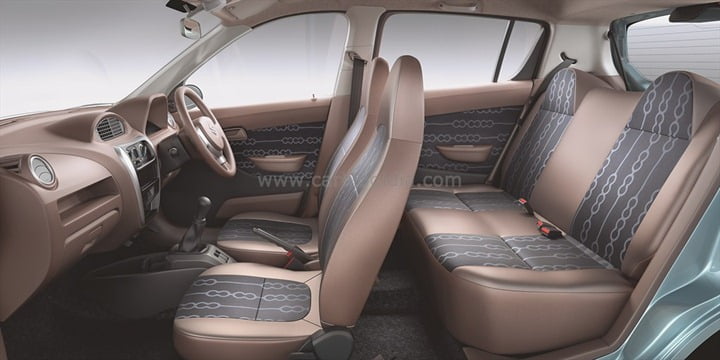 The Alto 800 gets an all new interior, not something that you have seen in the earlier Altos. In terms of plastics quality, fit and finish, Maruti disappoints us but considering the fact that it is for the entry level segment, we are convinced by the passenger cabin. As far as the design is concerned we are pleased to see Maruti going a step further. However, the design could have been a little innovative. Features list includes power steering, air conditioner, head light levelling, engine immobiliser, tubeless tyres, driver airbag, silver accents inside door handles, driver side storage space and more.
Engine– Chevrolet Spark 2012 Vs Maruti Alto 800
Chevrolet Spark Engine Specifications
995 CC, 4 cylinder MPFI petrol engine
Max Power of 62 BHP at 5400 RPM
Max Torque of 90.3 Nm at 4200 RPM
ARAI certified mileage of 18 KMPL
5 speed manual transmission
DDLI system for more fuel efficient performance
Kerb weight of 840 kg
Power to weight ratio of 73.8 BHP per 1000 kg
Maruti Alto 800 Engine Specifications
3 Cylinder MPFI Petrol Engine
Engine displacement 796 CC
Max power of 47.5 BHP @ 6000 RPM
Max Torque of 69 Nm @ 3500 RPM
ARAI Certified mileage of 22.7 KMPL
5 Speed Manual Transmission
Kerb Weight of 720 Kg
Power to weight ratio of 66 BHP Per 1000 Kg
The Spark has a 1 litre engine engine with improved DDLI (Dual distributor less ignition) system which ensures smooth and fuel efficient performance. It puts out 63 BHP of max power and 90.3 Nm of peak torque, and comes mated to a 5 speed manual gearbox. The Spark returns 18 KMPL.
The Alto 800, as the name suggest, equips a smaller 800 CC engine that is essentially an improved version of the FD8 unit. It puts out 47.5 BHP of max power and 69 Nm of peak torque. The 800 returns 22.7 KMPL which is 5 KMPL better than the Spark.
Performance & Handling– Chevrolet Spark 2012 Vs Maruti Alto 800
The Spark handles well but is certainly not the type of car that will amaze you. The same is the case with the 800 too, which is not a great car to drive but steers decently. But if overall stability is taken into account the 800 turns out to be the better option.
Price– Chevrolet Spark 2012 Vs Maruti Alto 800
The new Spark is priced between 3.26 lakh and Rs. 3.8 lakh. The LPG + petrol dual fuel variants of the Spark start at Rs. 3.81 lakh and end at 4.1 lakh. The Alto 800 has been priced very competitively, starting at 2.44 lakh INR and ending at 2.99 lakh. The CNG + Petrol dual fuel variant begin at 3.19 lakh and end at 3.56 lakh.
Conclusion– Chevrolet Spark 2012 Vs Maruti Alto 800
If features and engine power are considered, the Spark is a better car, except for that it does not have an airbag option which the 800 does. Similarly the Alto 800 does not get an audio system which is there in the Spark. Performance wise the Alto 800 is not only better but also offers better fuel efficiency. Coming to pricing now, not even a single variant of the two models overlap and both are quite distant. So for sure what one can do is, get an Alto 800 top end variant and get the extra accessories such as audio system. Even then the overall cost would be far less than the feature rich variant of the Spark. But if you want a more powerful engine with same form factor, you can consider the Spark.
Also read – New Chevrolet Spark Vs Hyundai Eon