Today's comparison post is meant for people who are not much into hatchbacks and prefer family cars, sedans, over them. The sedan segment is as crowded that of small car and with this post we will be comparing a newly launched sedan and a current market ruler. Introducing them to you, we will be comparing 2011 Ford Fiesta and the Volkswagen Vento. There is a lot to talk about these cars so I request you relax yourself and keep reading.
Ford Fiesta Exteriors Vs Volkswagen Vento Exteriors

Comparing the sedans on the looks only is a tricky situation to get into. Reason being, both the cars have their own style statements and there seems to be no clear winner. The Vento is an European model and is attracts the customer by its simplicity whereas the Fiesta is new and more brutal. On one hand where the Vento looks quite elegant, on the other the Fiesta magnetizes you with its sportiness.
Vento has an edgy design and looks very simple with nothing highlighting its presence but the Fiesta has got all that a buyer would expect. Fiesta's headlamps, body lines, big front fender all are very stylish and speak for themselves. The face of the Fiesta is a bit lifted upwards and the windscreen diffuses into the bonnet without taking any sharp turns and all this adds to the sportiness of this car.
Volkswagen Vento Dimensions:
Length (mm):  4384
Width (mm):   1699
Height (mm):  1466
Wheelbase (mm):  2552
Ford Fiesta 2011 Dimensions:
Length= 4291 mm
Width= 1722 mm
Height= 1496 mm
Wheelbase= 2489 mm
Going over the proportions of the two sedans, the Vento leads in length and wheelbase whereas the Fiesta stands higher and wider than the Vento. Summing up what we said above, both these sedans are amazing and have their own distinguishable road presence but since the Vento is a bit older than the Fiesta in terms of looks, Fiesta is our pick.
Ford Fiesta 2011 Interiors Vs Volkswagen Vento Interiors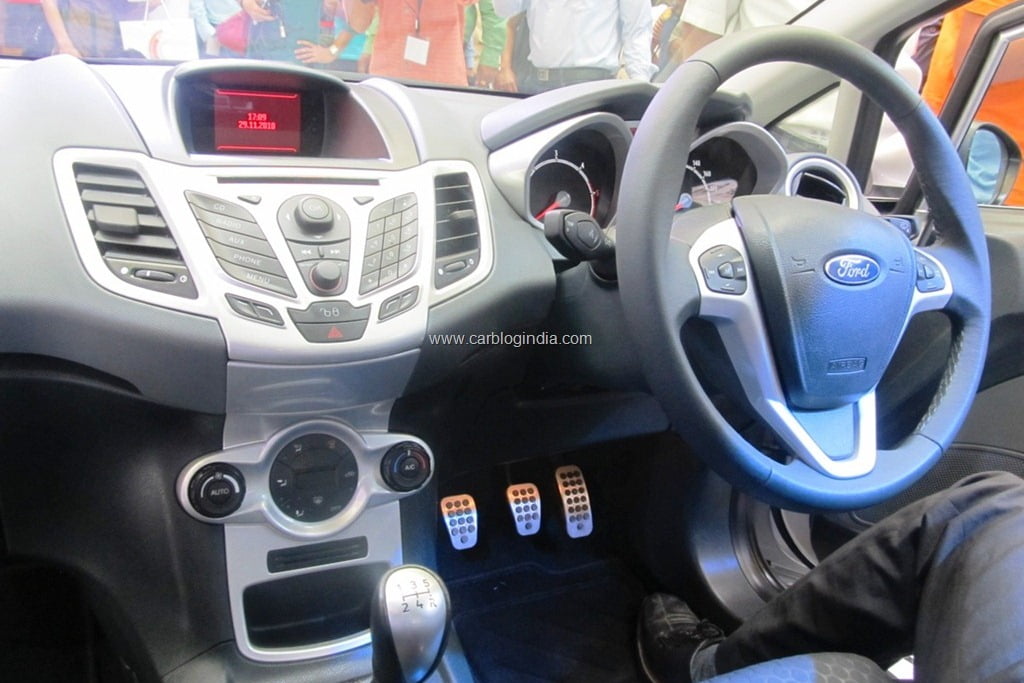 image- Ford Fiesta 2011 Interiors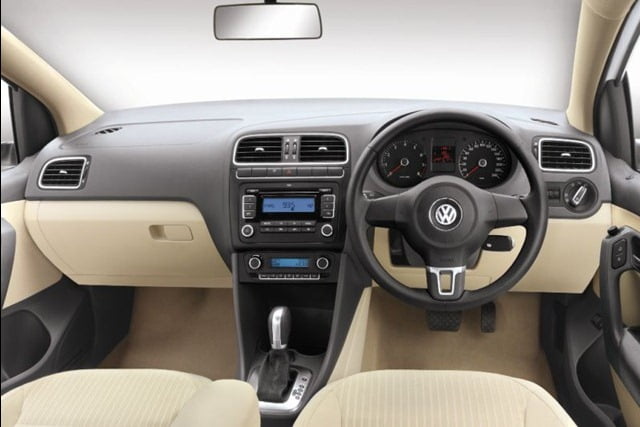 image- Volkswagen Vento Interiors
Moving on into the car, the Fiesta just amazes us with the contemporarily designed dashboard with good quality finish and breathtaking aesthetics. The two tone dashboard of Vento looks good but is very usual and the Fiesta's is way more advanced making you feel you are sitting in a new car. The instrument cluster or the center console of the Fiesta is inspired from mobile phones and hence it has been designed in a similar way with buttons in the middle and a 3.5" high resolution LCD screen on the top of the dashboard. The audio system also gets USB, iPod and Aux-in connectivity.The Vento gets a very conventional, though convenient to use audio system which lacks the above features which is a disappointment.
Taking a look on and around the steering wheel, the Fiesta is a lot more loaded with extremely chunky and beautifully carved RPM and Speed dials with a small digital display in the middle. The car also comes with steering mounted controls for audio and a very useful feature, Cruise Control. The steering wheel of the Fiesta only gets the tilt function but the Vento is offered with a tilt and telescopic one. Talking about the air conditioner, the Vento gets an Automatic climate control along with rear AC vents apart from the four at the front but the Fiesta doesn't have any at the rear.
Safety features include ABS, EBD, front airbags for the driver and the passenger and many other which makes the Fiesta a complete car. The Vento disappointingly doesn't offers EBD and the ABS is available with the Highline top variants only which is not the case with Fiesta since it offers ABS with EBD in all its variants.
Customization is another strong attribute of the Fiesta as the company provides some options like illuminated and leather gear knob, illuminated scuff plates, leather steering wheel, leather vinyl seat covers and a few others. The personalization packs are available in Plum Read and Oceanic Blue colour which give the interior of the car a refreshing and classy look. So for the Interiors it's a win-win situation for the Fiesta.
Volkswagen Vento Petrol Engine Vs Ford Fiesta 2011 Petrol Engine
Volkswagen Vento Petrol Engine Specifications:
Ford Fiesta 2011 Petrol Engine Specifications:
1499 CC Displacement, 4 Cylinder Inline 16 Valve DOHC MPFI Petrol Engine
Ti-VCT (Dual VVTI system)
Max power output of 107.5 BHP@ 6045 RPM
Max Torque of 140 Nm @ 4500 RPM
All Aluminium Engine construction
Despite being powered by a smaller 1.5 Litre petrol engine, the Fiesta produces marginally more power than the Vento but at a higher RPM which means that Vento's engine is slightly more responsive in city road conditions. The torque figures of Fiesta is on the lighter side and lags by 13 Nm from Vento's figures. Fiesta is being offered with a 5- speed Manual Transmission only but the Vento comes in both 6 speed Automatic and 5 speed Manual transmission options. The mileage of the Fiesta is claimed to be 17 KMPL and that of Vento's is 15 KMPL only.
Volkswagen Vento Petrol Price Vs Ford Fiesta 2011 Petrol Price
2011 Ford Fiesta Variants Price(Ex-showroom Delhi)
1.5 TiVCT Petrol Style :  Rs. 8.23 Lakhs
1.5 TiVCT Petrol Trend : Rs. 8.77 Lakhs
1.5 TiVCT Petrol Titanium : Rs. 9.17 Lakhs
1.5 TiVCT Petrol Titanium+ : Rs. 9.42 Lakhs
Volkswagen Vento Variants Price(Ex-showroom Delhi)
Volkswagen Vento 1.6 L Petrol Trendline with Manual Transmission @ Rs. 6.99 Lakhs
Volkswagen Vento 1.6 L Petrol Highline with Manual Transmission @ Rs. 8.23 Lakhs
Volkswagen Vento 1.6 L Petrol Highline with Automatic Transmission @ Rs. 9.21 Lakhs
While the Fiesta comes in four different variants starting from Rs. 8.23 Lakh and culminating at Rs. 9.42 Lakh, the Vento comes in only three variants between Rs. 6.99 and Rs. 9.21 Lakh. This part of pricing, actually differentiates the two completely. The base variant of the Vento is way to cheaper than that of Fiesta's which means that if you are looking for a sedan only and can completely compromise on features then Vento is for you. But we must tell you that the high pricing of the Fiesta is because of ABS, EBD and several other features which come as standard and none of them are available with the standard in Vento base variant.
Another important fact is that the automatic variant of Vento priced at Rs. 9.21 Lakh is cheaper than the top end Titanium+ variant of Fiesta which doesn't sport automatic transmission. But again the Fiesta has plenty of gizmos inside which are certainly not there in Vento's top end variant.
Car Blog India verdict – Volkswagen Vento Petrol Vs Ford Fiesta 2011 Petrol
If you are looking for a car that is new, refreshing, comes loaded with the latest goodies and does not compromises on safety then we would suggest the Fiesta. Contrastingly if you can compromise on safety and other features and do not wish to invest much money in a sedan then Vento is the one for you.
If I were asked to choose one of the above then I would go with the Fiesta Titanium as it is fairly priced at 9.17 Lakh INR and offers a host of amazing features but if you want to have an automatic transmission car since you are paying so much, then Vento Highline Automatic is there at 9.12 Lakh INR. At the end it will all depend on the buyer as how much he or she can shed from the pocket and what they can compromise and want.
Join us for FREE NEWS Updates on our Whatsapp Community or our official telegram channel.