In continuation of our car comparison series on Car Blog India, we are going to compare newly launched hatchback Maruti Swift 2011 new model with the Hyundai i20 which is due for a facelift in coming months. We are comparing the new Maruti Swift 2011 with existing model of Hyundai i20 as the new facelift model details are not released as yet. Also there is no official announcement of the timeline of the launch of new Hyundai i20 in India. We have compared the Diesel variants here – Maruti Swift 2011 Diesel Vs Hyundai i20 Diesel.

Maruti Swift 2011 Exteriors Vs Hyundai i20 Exteriors
Maruti Swift 2011 Dimension
Length = 3850 mm
Width = 1695mm
Height = 1510mm
Wheelbase = 2430
Hyundai i20 Dimensions
Length = 3940mm
Width = 1710mm
Height = 1505mm
Wheelbase = 2525mm
We have already compared the exteriors and as per my opinion, Hyundai i20 look better than Maruti Swift. For detailed exterior comparison, see this.
Maruti Swift 2011 Interiors Vs Hyundai i20 Interiors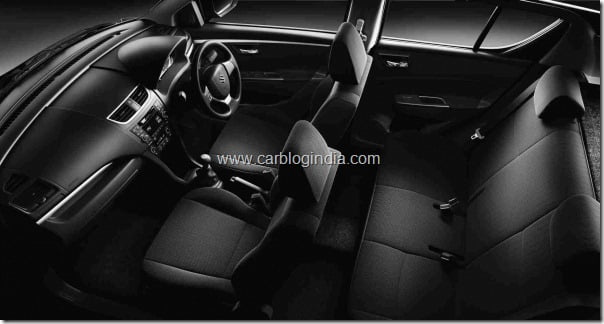 image – Maruti Swift 2011 Interiors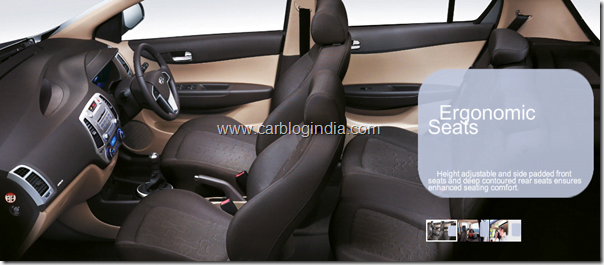 image- Hyundai i20 Interiors
In terms of Interiors also, Hyundai i20 is better than the Maruti Swift. For detailed comparison, see this.
Maruti Swift 2011 Petrol Engine Vs Hyundai i20 Engine
Maruti Swift 2011 Engine Specifications
Improved K12 1.2 Litre MPFI Petrol Engine
Dual VVTI Technology
4 Cylinder, Displacement 1197 CC
Max power of 86 BHP @ 6000 RPM
Max torque of 114 Nm @ 4000 RPM
5 Speed Manual transmission
ARAI Certified mileage of 18.6 KMPL
Engine Specifications of Hyundai i20 Petrol:
4 Cylinder Kappa Engine
1.2 Litre / 4 Cylinder / 16 Valve DOHC
Max Power output of 79 BHP @ 6000 RPM
111 Nm Torque @ 4000 RPM
5 Speed Manual Transmission
ARAI Certified Mileage of 18.50 KMPL
Kerb Weight nearly 1065 Kg
Comparing the petrol engines of Maruti Swift 2011 Petrol and Hyundai i20 Petrol, its clear that new Swift is more powerful and delivers more torque. Fuel mileage of both these cars is very close, with very slight difference. So if I have to pick one of these two cars based on the Engine, Maruti Swift will be a better choice.
Maruti Swift 2011 Petrol Handling and Performance Vs Hyundai i20 Petrol Handling and Performance
Handling is one area where Swift leads the segment with its stiff suspension and precise handling characteristics. While the Hyundai i20 also handles fine, but it does not come up to the level of Swift as i20 is tuned to give more comfort and hence its suspension is softer and does not handle as good as Swift does during cornering at high speeds and other tricky maneuvers.
So if I have to pick between i20 and Swift based on handling, I will pick Swift.
Maruti Swift 2011 Petrol Price Vs Hyundai i20 Petrol Price
All prices mentioned below are ex-showroom Delhi
Maruti Swift 2011 Petrol Price In India
Maruti Swift Lxi Petrol is priced at Rs. 4.22 Lakhs
Maruti Swift Vxi Petrol is priced at Rs. 4.76 Lakhs
Maruti Swift Zxi Petrol is priced at Rs. 5.53 Lakhs
Hyundai i20 Petrol Price in India
Hyundai i20 1.2 Petrol Era is priced at Rs. 4.59 Lakhs
Hyundai i20 1.2 Petrol Magna is priced at Rs. 4.99 Lakhs
Hyundai i20 1.2 Petrol Sportz Option is priced at Rs. 5.27 Lakhs
Hyundai i20 1.2 Petrol Sportz is priced at Rs. 5.42 Lakhs
Hyundai i20 1.2 Petrol Asta is priced at Rs. 5.84 Lakhs
If you are looking for a base variant without much features, in that case Swift Lxi comes at a considerable price difference of about Rs. 40,000 less compared to i20 Era model. However, i20 Era offers better looking Interiors and exteriors but Swift offers better handling. If we compare the top end Zxi variant of Maruti Swift with top end Asta variant of i20, it does come with the safety features like ABS and airbags. Apart from safety features, i20 offers cooled glove box, more premium interiors and more space compared to Swift, but i20 Asta also costs about Rs. 30,000 more compared to Swift Zxi which is again a considerable difference. All in all, i20 does look better, has more space, has more comfort but its costs more too, so it does come at some additional price. On the other hand, Swift scores better on handling and economy rather than on premium looks and comfort. So its really a tough job to compare them on basis of price. So if you want  a comfortable and stylish family car, i20 would be a better option, and if you want a good handling car for spirited driving, decent looks and  decent comfort, moderate luggage space, Swift scores better.
Car Blog India verdict – Maruti Swift 2011 Petrol Vs Hyundai i20 Petrol
If you are an enthusiast who wants to have precise handling over the comfort, features and looks, Maruti Swift is the car for you. Its better to go with the fully loaded variant because of its safety features. If you are on a restricted budget, the lower end variants also give you same handling quality, without fancy features, but reduced safety.
If you want a car mainly for family and comfort and features are higher on your priority, Hyundai i20 will please you better as it has got better Interiors, good build quality, better looks, more interior and boot space, but it will also cost you more, but it will deliver the value in terms of premium looks and interior comfort.
Check out more-