Maruti Suzuki has recently launched its Maruti Swift starting at Rs. 4.22 lakhs ex-showroom Delhi which is all set to compete with the small cars across various brands in India. In our Car Blog India Comparison Series, we start the comparison of Maruti Swift 2011 with the popular small car from Ford India, the Ford Figo. We will separately compared the petrol and diesel variants as the pricing of the petrol and diesel variants make them fall in separate buyer's groups.

Maruti Swift 2011 Exteriors Vs Ford Figo Exteriors
Going by the exteriors, Maruti Swift has a very familiar look which is quite non-contemporary, but we are so used to of seeing it that it looks quite contemporary. In short, there are numerous fans of Swift who love it for its handling and like it for its out of the box looks. We like the changes in the new Swift, viz. improved front fascia, improved rear styling, better looking alloy wheels, larger looks while keeping the overall shape very similar to the old model of Swift.
Maruti Swift 2011 Dimension
Length = 3850 mm
Width = 1695mm
Height = 1510mm
Wheelbase = 2430
Ford Figo on the other hand is more of a contemporary car design with high degree of elegance and appeal. Figo is neither extremely sporty nor it is popular for superb sporty handling, but it has got an elegance and different from the herd looks with it. I am personally not a big fan, but I admire the elegance and looks of Figo the way it look from exteriors. In a compact form factor, it manages to looks reasonably large and low.
Ford Figo Dimensions
Length = 3795mm
Width = 1680mm
Height = 1453mm
Wheelbase = 2489mm
Going by dimensions, Swift is Longer, slightly wider and taller than Figo. So overall, it looks larger. So if you want your car to look compact, Figo is a better pick, however, I would go for Swift if purely based on exteriors.
Maruti Swift 2011 Interiors Vs Ford Figo Interiors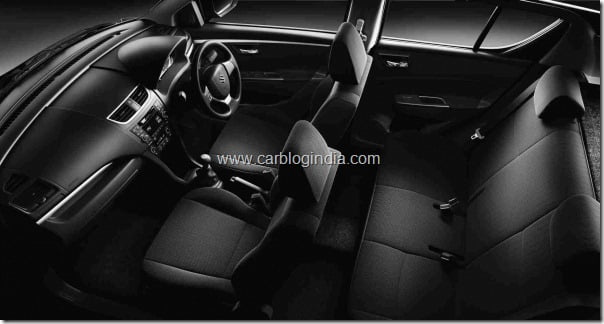 image – Maruti Swift 2011 Interiors
Maruti Swift 2011 new model has improved significantly on the quality and aesthetic appeal. While the colour tone has not changed greatly for the Swift,  the quality of plastics and interior space have improved. The dashboard and console looks much better than the previous generation. So overall, its pleasing to be inside this car and does not feel like a cheap car like the old model fest because of low interior quality. However it does lack some gadgetry like Bluetooth audio and phone pairing which competitors provide.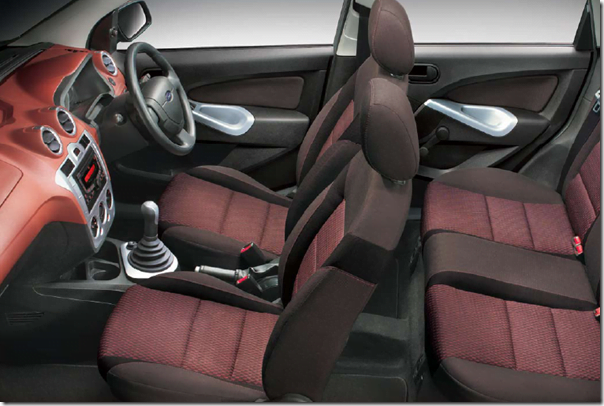 image – Ford Figo Interiors
Ford Figo is known for its spacious interiors and comfort. The interiors are bright and give a good sense of space. The interiors are of good quality and come with modern gadgetry and features. The overall feel of Figo from inside is quite nice and gives you good vale in this segment. However, comparing with Swift, the width of the Figo is slightly lower which may mean less elbow space for three passengers at rear, otherwise, in terms of overall space, Figo seems quite a good car from Inside.
If I have to pick one, I would consider this a tie and would like to consider remaining factors to select between Figo and Swift 2011.
Maruti Swift 2011 Petrol Engine Vs Ford Figo Engine
Maruti Swift 2011 Engine Specifications
Improved K12 1.2 Litre MPFI Petrol Engine
Dual VVTI Technology
4 Cylinder, Displacement 1197 CC
Max power of 86 BHP @ 6000 RPM
Max torque of 114 Nm @ 4000 RPM
5 Speed Manual transmission
ARAI Certified mileage of 18.6 KMPL
Ford Figo Engine / Transmission Specifications
4 Cylinder 4 Stroke 1.2 Litre MPFI Petrol Engine
1196 CC MPFI Engine
Max Power – 71 BHP @ 6250 RPM
Max Torque – 102 Nm @ 4000 RPM
5 Speed Manual transmission
ARAI Certified mileage of 15.6 KMPL
Considering the engine specifications and mileage, K12 Engine of new Swift bets the Figo Petrol.
Maruti Swift 2011 Petrol Handling and Performance Vs Ford Figo Petrol Handling and Performance
Handling and performance is a field, where Swift is the leader. So far in the hatchback segment, there are only few cars which are admired so much for their handling as is Swift. Swift handles quite well with a good power punch and is high revving. The engine is refined and revs to higher RPM without much trouble. The power delivery, control, handling and driver confidence while cornering and while at higher speeds is high.
Ford cars on the other hand are also great cars in terms on handling and Figo is no exception. However, the Figo seems a bit underpowered if you compare it with swift, but in absolute sense, it pulls well.  With sharp and precise handling, Figo stands quite close to Swift 2011 in terms of handling, but does not beat it in this aspect.
So in terms of Handling and performance, my vote goes to Swift 2011.
Maruti Swift 2011 Petrol Price Vs Ford Figo Petrol Price
All prices mentioned below are ex-showroom Delhi
Maruti Swift 2011 Petrol Price In India
Maruti Swift Lxi Petrol is priced at Rs. 4.22 Lakhs
Maruti Swift Vxi Petrol is priced at Rs. 4.76 Lakhs
Maruti Swift Zxi Petrol is priced at Rs. 5.53 Lakhs
NOTE – Above prices of Swift are introductory launch price as on 18 Aug 2011 and maybe revised in coming months.
Ford Figo Petrol Price In India
Price of Ford Figo 1.2L Duratec LXi is Rs. 3.69 Lakhs
Price of Ford Figo 1.2L Duratec EXi is Rs. 4.06 Lakhs
Price of Ford Figo 1.2L Duratec ZXi is Rs. 4.29 Lakhs
Price of Ford Figo 1.2L Duratec Titanium is Rs. 4.67 Lakhs
If you consider the prices of these two cars, the Swift looks overpriced. It commands a premium for the handling and space even though it is not as loaded in features as Figo for the price point. If we compare the top end variant of Figo Titanium Petrol with Swift Vxi variant for being close in price with Figo being about Rs. 9,000 cheaper, you get a lot more features in Figo for lesser price like the Audio system, ABS with EBD, Airbags, Integrated Bluetooth, but what it lacks is the rear power Windows and Automatic climate control.
If you consider the fully loaded Swift with ABS, EBD, Integrated Audio system (no Bluetooth support), Automatic climate control system (which Figo does not offer), its seems pricey with a difference of about Rs. 86,000 above the Maruti Swift. So Figo's aggressive pricing gives it huge advantage with price conscious byers in India.
Car Blog India verdict – Maruti Swift 2011 Petrol Vs Ford Figo Petrol
If you are not on a tight budget and can afford to shell out premium for great handling and Maruti brand and service advantage, go for Swift Zxi.
If you are a value conscious buyer who wants high value for your money with high features, Figo may please you much better in terms of value. You can get a Figo Titanium with all safety features in less than the price of Swift Vxi. Even if you are on a budget and don't care about the features much and want a driver's car with high performance, Swift is your machine. But we recommend to go with safety features, which come at a premium with Swift, so better go for Figo Titanium if Swift Zxi is out of your budget.
check out more-