Tata and Toyota were never into any type of competition with each other as far as the sedan segment was concerned until Toyota launched the new Toyota Etios Diesel. Tata's only player in the premium sedan segment is the new Tata Indigo Manza which is getting a good feedback right now as the latest model is way better than the previous one.
There was no rivalry in this segment for Tata but now Etios Diesel has turned up as the next big thing in the market and therefore the competition is likely to get intense. So in this article we will throwing some light on the pros and cons of both the Manza and Etios Diesel and will try to come to a fair decision as to which one is better.
Toyota Etios Diesel Exterior Vs Tata Indigo Manza Exterior

Tata Indigo series is definitely not very attractive and working on the same Tata has done a good job. It has been transformed into a more elegant machine and the installments which together bring that extra elegance and sportiness include Dual Tone Alloys, Follow Me Home Headlamps, Chrome Strip on fog lamps, chrome strip on hood and boot, chrome inserts on the rub rails and on the either side. chrome inserts on door handles and a many more. In short the chrome is one of the major additions to the not so beautiful body of Manza but interestingly it does its job well.
Etios Diesel alike Etios Petrol is simple yet elegant and has been liked by many. There are not any highlighting features except for alloys, chrome grille and chrome character lines on the sides. It is a good package for a new buyers who believes more in  simplicity than sportiness.
Length = 4265 mm
Width = 1695 mm
Height = 1510 mm
Wheelbase = 2550 mm
Length = 4413 mm
Width = 1703 mm
Height = 1550 mm
Wheelbase = 2520 mm
Analyzing the proportions of both the cars, the Manza is considerably longer and higher than the Etios. Though it falls shorter in terms of wheelbase, the Manza looks slightly bigger than the Etios. On the grounds of looks it is pretty confusing to decide as one is sportier while the other elegant but for me Etios is more likely to get an edge over the other as it is better in terms of overall designing.
Toyota Etios Diesel Interior Vs Tata Indigo Manza Interior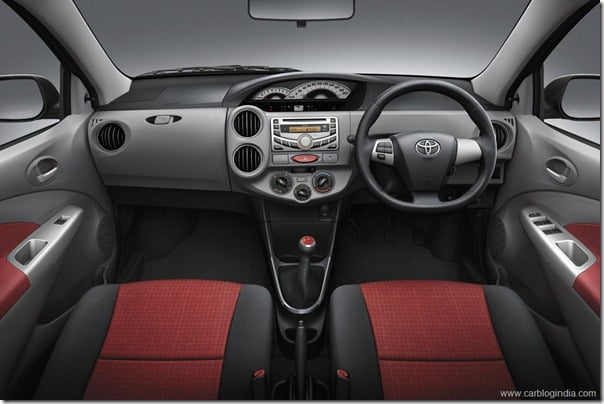 image – Toyota Etios Diesel Interior
image – Tata Indigo Manza Interior
Tatas are always known for their robust cars and interiors do reflect the same. The dashboard is quite simple and old in design but is good in terms of finish.  The overall console instrument panel in this dual tone colour theme feels nice. Etios on the other hand is quite contemporary and sports a new age design. From the AC vents on the extreme sides of the dashboard to the center cluster, everything looks refreshing and new.
Manza comes with features like Driver Information System that displays temperature, fuel consumption and time, steering mounted audio controls, 2 DIN Audio system with USB port and Blue 5 Technology, Dual front SRS airbags, ABS, 460 litres of boot space, height adjustable driver seat, Bluetooth phone pairing system and most importantly best rear seating in its class with 947 mm legroom.
The Etios Diesel comes with ABS with EBD, steering mounted audio controls, 2 DIN DVD audio system with remote, dual SRS airbags, cooled glove box, etc. Overall both are good in features but having a contemporary design, the Etios definitely takes the lead.
Toyota Etios Diesel Engine Vs Tata Indigo Manza Diesel Engine
Tata Indigo Manza Engine Specifications:
Emission Norms : BS3/BS4
Type :  4 Cylinder, CRDI Diesel
Engine Capacity : 1248cc
Max. Power : 90PS @ 4000RPM
Max. Torque : 200Nm @ 1750-3000RPM
5 Speed Manual Transmission
ARAI Certified Mileage of 21.02 KMPL
Toyota Etios Diesel Engine Specifications
1.4 Litre D4D CRDI Diesel Engine
Displacement of 1364 CC
Max Power of 67.07 BHP @ 3800 RPM
Max Torque of 170 Nm @ 1800 to 2400 RPM
5 Speed Manual Transmission
ARAI Certified Mileage of 23.59 KMPL
The Manza has a smaller 1248 CC quadrajet engine which is amazing at performance. No doubt the company has put a lot of efforts and they have been paid off by the reviews of this car's engine. The same produces 89 BHP @ 4000 RPM and delivers its maximum torque of 200 Nm in the range of 1750 to 3000 RPM.
The Etios diesel has an approximately 100 CC bigger engine which is surprisingly behind in maximum power as it only produces 68 BHP at 3800 RPM and also is low on torque. The same produces only 170 Nm which is 30 Nm less than Manza Elan's max torque. Definitely there is no competition in performance of both the cars and the Manza Elan is definitely better.
Toyota Etios Diesel Performance & Handling Vs Tata Indigo Manza Diesel Performance & Handling
Manza performs brilliantly on road and with its small yet powerful engine it comes out truly as a champion. Whether its about taking sharp turns or long out of city drives, the suspension of the car is makes you feel like you are driving a Jaguar. In spite of a bigger engine the Etios is falls short at power and torque which is a bit of let down. But what does impress us is the mileage of the car which is 23.6 KMPL as per ARAI. The Manza loses lags behind the Etios Diesel by about 2.5 KMPL with Manza's ARAI certified mileage of 21.02 KMPL.
Toyota Etios Diesel Price Vs Tata Indigo Manza Diesel Price
Tata Indigo Manza Price
Tata Manza Elan Quadrajet BS III AQUA : Rs 5.91 lakh
Tata Manza Elan Quadrajet BS III AURA : Rs.6.34 lakh
Tata Manza Elan Quadrajet BS III AURA(ABS) : 6.77 Lakh
Tata Manza Elan Quadrajet BS IV AQUA: Rs. 6.16 Lakh
Tata Manza Elan Quadrajet BS IV AURA : Rs.6.60 Lakh
Tata Manza Elan Quadrajet BS IV AURA(ABS) : Rs.7.03 lakh
Tata Manza Elan Quadrajet BS IV Elan : 7.67 Lakh
Toyota Etios Diesel Price
Toyota Etios Diesel GD Variant is priced at Rs. 6.44 Lakhs
Toyota Etios Diesel GD(SP) Variant is priced at Rs. 6.90 Lakhs
Toyota Etios Diesel VD Variant is priced at Rs. 7.41 Lakhs
Toyota Etios Diesel VDX Variant is priced at Rs. 7.87 Lakhs
The Manza is available in both BS III and BS IV engine variants but we will consider the BS  IV models only. We have AQUA standard at 6.16 Lakh followed by AURA at 6.6 Lakh, AURA ABS at 7.03 Lakh and the ELan top end at 7.67 Lakh. Etios starts at 6.44 Lakh for GD, followed by GD special at 6.9 Lakh, VD at 7.41 Lakh and lastly VDX at 7.87 lakh.
Evidently the Manza variant lineup is cheaper than the Etios' line-up by nearly Rs. 30,000 and this accounts for the features that this car lacks. The base variant is deprived of rear power windows, remote control keyless entry, audio system and speakers and many other features. So if one is looking for a car which is good on performance and space and he or she really does not care about safety and convenience then the AQUA standard is for you. Going up the table the AURA does not have Bluetooth pairing feature, airbags, retractor pretensioners etc. though it does have all that was lacking in AQUA. Likewise moving up the top end Elan is loaded with almost everything one would expect from a good sedan.
Convenience is one of the strong points of Etios and its high pricing is well justified as even in the base model one will get power windows, cooled glove box, tilt steering, optional SRS airbags, optional ABS and EBD etc. Keyless entry and engine immobilizer come as standard. The VD and VDX models are heavily loaded with equipment that one cannot resist to get.
Car Blog India Verdict – Toyota Etios Diesel Vs Tata Indigo Manza Diesel
If you are looking for a cheap sedan which compromises a lot on features but at the same time does wonders at performance then you must go with the Tata Indigo Manza. But if you are planning to get a good car which is better on mileage, good at comfort and convenience and also does not compromise on safety then Etios is the one you must opt for.
If I were an aspiring buyer and was considering the above two then I would probably take the Manza AURA or Elan as again they would be more affordable than Etios and still sport all the high end features one would expect.
check out more-