Toyota has launched it Toyota Etios Diesel today with the same D4D engine which powers the Toyota Corolla Altis Diesel in India. The same engine has been modified and re-tuned for Etios Diesel and Liva Diesel. You can check out the details of Etios Liva Diesel and Etios Diesel here. In continuation of our Car Comparison Series on Car Blog India, today we will compare the Etios Diesel with its nearest rival, Maruti Swift Dzire Diesel. We have already compared the Maruti Swift Diesel and Etios Liva Diesel here.

Toyota Etios Exteriors Vs Maruti Swift Dzire Exteriors
Etios Liva as a car looks very elegantly designed, however, it also looks too simple with some chrome garnish giving it a retro element in aesthetic. The contemporary no-nonsense design of Etios looks appealing and attractive because of its simplicity and plain looks. In terms of dimensions, its longer than the Swift and does offer better cabin space and storage. It also runs pretty stable because of a longer wheelbase compared to Dzire.
Overall Length : 4265mm
Overall Width : 1695 mm
Overall Height : 1510 mm
Overall Wheelbase : 2550 mm
Swift Dzire on the other hand, looks kind of not-cool because it is like a longer Swift. While the Swift looks very nice standalone, bit Swift Dzire kind of kills that look with unexpected boot hanging behind it. Front the front, its exactly the same as Swift, from rear, it looks slightly different. Although the Etios and Etios Liva also share similar front, but both look elegant on their own, but when it comes to Swift and Dzire, I personally don't appreciate the looks of Dzire much. Also the cabin space od Dzire is lesser than the Etios.
Overall Length : 4160mm
Overall Width : 1690mm
Overall Height : 1530mm
Overall Wheelbase : 2390mm
If I have a choice of these two cars based only on looks, I would go for Etios Diesel for its better aesthetic appeal.
Toyota Etios Interiors Vs Maruti Swift Dzire Interiors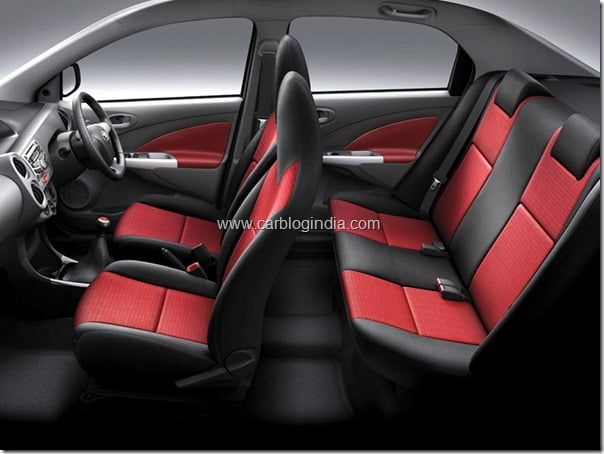 image – Toyota Etios Diesel Interiors
On the Interiors, Etios Liva is spacious, has good quality of plastics, good looking interiors, two tone fabric seats on high end variants and dual tone dashboard with large AC vents placed asymmetric to ensure good airflow in cabin. The rear passenger leg space in Etios Diesel is quite ample for an average built adult and it can also seat three adults in moderate comfort.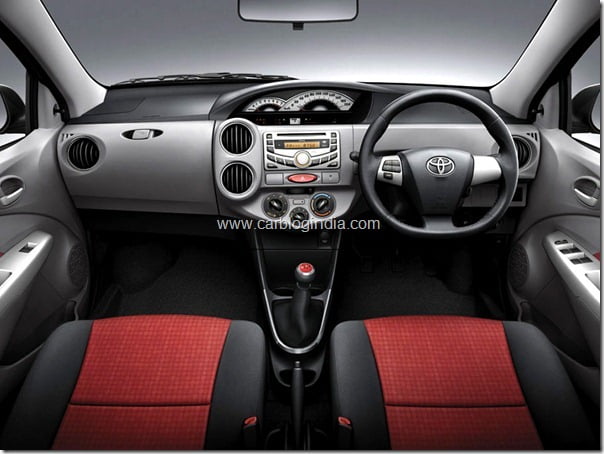 image – Toyota Etios Diesel Dashboard
The dashboard quality, fit and finish of interiors and door trims is quite satisfactory and gives passengers a good feel from Inside.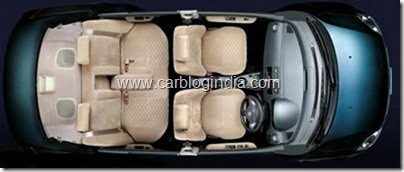 image – Maruti Swift Dzire Interiors From Top
Maruti Swift Dzire interiors look dated compared to the new cars in its segment. The plastic quality is not too goof and the interior feel a little dull. The fit and finish is average and rear legroom is slightly cramped just like with the old Swift. The new Swift Dzire is awaited to be launched in a few month, we hope the problem will be addressed as the new Swift 2011 has improved leg space at rear. Overall, the quality, feel and finish of Dzire interiors is not too impressive.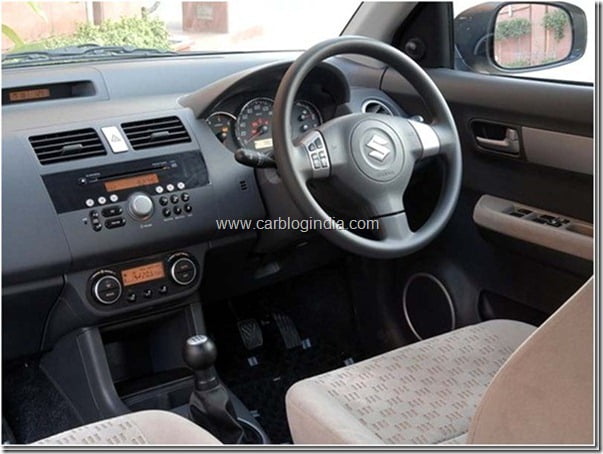 Image – Maruti Swift Dzire Dashboard and Steering Wheel
In terms of Interiors, the Etios is way better than the existing Maruti Dzire (launched in 2008 in India). The new model of Dzire is expected to be based on new Swift, but as of now, Etios Diesel is a clear winner in terms of Interiors with better space, storage and quality.
Toyota Etios Diesel Engine Vs Maruti Swift Dzire Diesel Engine
Maruti Swift Dzire Diesel Engine Specifications
DDiS 1.3 Litre Fiat Multijet CRDI Diesel engine
4 Cylinder, Displacement 1248 CC
Max power of 73.9 BHP @ 4000 RPM
Max torque of 190 Nm @ 2000 RPM
5 Speed manual transmission
ARAI Certified mileage of 21.7 KMPL
Kerb Weight = 1090 Kg to 1115 Kg
Power to weight ratio of   67.2 BHP / 1000 Kg
Toyota Etios Diesel Engine Specifications
1.4 Litre D4D CRDI Diesel Engine
Displacement of 1364 CC
Max Power of 67.07 BHP @ 3800 RPM
Max Torque of 170 Nm @ 1800 to 2400 RPM
5 Speed Manual Transmission
ARAI Certified mileage of 23.59 KMPL
Kerb Weight = 990 Kg to 1005 Kg
Power to weight ratio of  67.2 BHP / 1000 Kg
Looking at the engine specs, its very difficult to select one as the Maruti Dzire Engine by Fiat is very reliable and well renowned, but the Toyota D4D engine is also equally well established. The power delivered by Dzire is more, but additional weight of about 100 Kg offsets that difference bringing the power to weight ratio of both these sedans to same level. I would call this comparison a tie from engine's perspective.
Toyota Etios Diesel Handling and Performance Vs Maruti Swift Dzire Diesel Handling and Performance
Swift Dzire has got the same suspensions DNA as the Swift old model has, which makes it a very good handling car, however, at high speeds, it is kind of unsafe without ABS as the braking may not be very safe on bad roads. The handling, steering feedback and suspension of Dzire is very appreciable.
Etios, with its long wheel base, good suspensions and good feedback steering feels good enough. The handling characteristic of Etios are good in absolute terms, but it does not beat Swift Dzire. So based on handling, Swift Dzire fares better.
Toyota Etios Diesel Price Vs Maruti Swift Dzire Diesel Price
Toyota Etios Diesel Price
The ex-showroom Delhi price of Toyota Etios Diesel is:
Toyota Etios Diesel GD Variant is priced at Rs. 6.44 Lakhs
Toyota Etios Diesel GD(SP) Variant is priced at Rs. 6.90 Lakhs
Toyota Etios Diesel VD Variant is priced at Rs. 7.41 Lakhs
Toyota Etios Diesel VDX Variant is priced at Rs. 7.87 Lakhs
Maruti Swift Dzire Price
The ex-showroom Delhi price of Maruti Swift Dzire Diesel is:
Maruti Swift Dzire LDI BS IV – Rs. 5.85 Lakh
Maruti Swift Dzire VDI BS IV – Rs. 6.36
Maruti Swift Dzire ZDI BS IV – Rs. 7.19 Lakh
Comparing the price and features of these cars, the Swift Dzire Ldi seems to be too lucrative in terms of pricing with the bare bone variant without any features with an aggressive price of Rs. 5.85 Lakhs which is about Rs. 60,000 cheaper than the base diesel variant of Etios Diesel. The reason behind such low pricing is that the Dzire Ldi does not offer many features like tilt Adjustable steering, power windows, central locking, body coloured door handles and outside mirrors, cooled glove box, clean air filter, rear hear restrains, keyless entry etc. However, for a budget buyer, these features are not very important and the Dzire Ldi makes an attractive buy.
However if we compare the fully loaded Swift Zdi variant and compare it with the nearly priced VD variant of Etios Diesel (its priced Rs. 22,000 higher than Dzire Zdi), the features which differ are – the larger 15 inch alloy wheels on Etios, cooled Glove box of Etios, better quality of plastics and interior quality of Etios. However, Dzire Zdi does offer automatic climate control which Etios VD does not offer.
Car Blog India verdict – Toyota Etios Diesel Vs Maruti Swift Dzire Diesel
If you are on a budget and don't want a spend much, Swift Dzire is a very good budget sedan for you, however it may not feel great on interiors, it does handle very well and offers a good value for money.
If you are not on tight budget and can spend some extra bucks, go for Etios VD or VDX as these cars offer better safety, interior space, agility and features at a slightly higher compared to Maruti Swift Dzire.
check out more-