In continuation to our car comparison series on Car Blog India, today we bring you a detailed comparison between the newly launched hatchback Toyota Etios Liva Diesel variant with the popular Ford Figo Diesel which has been selling in good numbers already. The Figo Diesel is a strong competitor for the Toyota Etios Liva Diesel and has been already giving a good competition to the Maruti Swift 2011 Diesel. For a comparison between Figo and Swift, or petrol variants Liva and Figo, check out the below link-

image – Toyota Etios Liva and Ford Figo Exteriors
Toyota Etios Liva Exteriors Vs Ford Figo Exteriors
Toyota Etios Liva Dimensions
Length = 3775 mm
Width = 1695 mm
Height = 1510 mm
Wheelbase = 2460 mm
Ford Figo Dimensions
Length = 3795mm
Width = 1680mm
Height = 1427mm
Wheelbase = 2489mm
Both cars compete well on exteriors looks. While the Figo is  is slightly longer, less wider and less in height compared to the Liva, Figo has a larger wheelbase. The Etios Liva Diesel and Ford Figo Diesel are equally good on exteriors as per my opinion, it depends more on your individual preference which one appeals better to you in terms of looks.
Toyota Etios Liva Diesel Interiors Vs Ford Figo Diesel Interiors
image- Toyota Etios Liva Interiors
In terms of Interiors,  Etios provides good quality of plastics, a very spacious cabin and good ergonomics. The central console on the Etios looks good. The dual tone seat fabric is not available in the Diesel variants (GD), but the dual tone dashboard (black grey) looks elegant.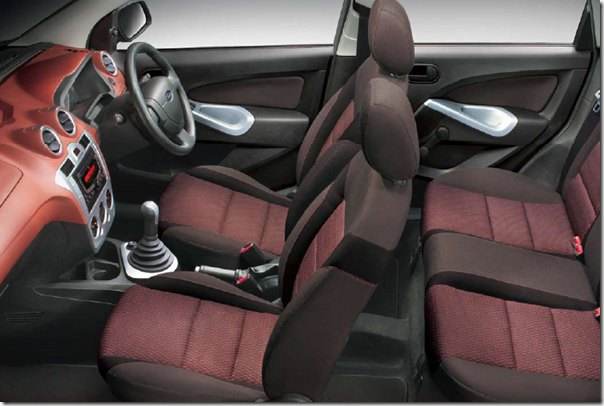 image – Ford Figo Interiors
The interior quality of Figo looks nice but not as appealing as the Etios Liva. The quality of plastics and material on the Figo look just about average. The space however is good and cabin looks quite bright. On the positive side, the Figo offers better audio system with Bluetooth connectivity options.
Going by quality, fit and finish, Etios Liva looks better from Interiors compared to the Ford Figo.
Toyota Etios Liva Diesel Engine Vs Ford Figo Diesel Engine
Toyota Etios Liva Diesel Engine Specifications
1.4 Litre D4D CRDI Diesel Engine
Displacement of 1364 CC
Max Power of 67.07 BHP @ 3800 RPM
Max Torque of 170 Nm @ 1800 to 2400 RPM
5 Speed Manual Transmission
ARAI Certified mileage of 23.59 KMPL
Kerb Weight = 980 Kg
Power to weight ratio of 68.4 BHP / 1000 Kg
Ford Figo Diesel Engine Specifications
4 Cylinder 1.4 Litre Diesel Engine
Displacement 1399 CC CRDI Engine
Max Power – 68 BHP @ 4000 RPM
Max Torque – 160 Nm @ 2000 RPM
5 Speed Manual transmission
ARAI Certified Mileage of 20 KMPL
Kerb Weight = 1090 Kg to 1130 Kg
Power to weight ratio of  61.8 BHP / 1000 Kg
Considering the specifications, the Etios Liva engine seems to be better as it delivers more torque at lower RPM, peak power at lower RPM and also considering the low Kerb weight of Liva, the power to weight ratio comes out to be about 10% better for Liva. This means Liva is more agile and fuel efficient being light in weigh and with a more refined engine.
Toyota Etios Liva Diesel Handling and Performance Vs Ford Figo Diesel Handling and Performance
Figo does very well on handling and performance with its comfortable ride and sharp handling. It may not be the best handling hatch in its segment, but does balance well between comfort and driving pleasure.
Etios on the other hand is also quite agile, but tuned more towards comfort side. Although it will please most of the drives who want a comfortable car for city use with its easy to drive steering and seating comfort, it may disappoint some spirited drivers who would like to go too sporty with it.
In terms of ride and handling, Figo has a slight edge over the Liva.
Toyota Etios Liva Petrol Price Vs Ford Figo Petrol Price
Toyota Etios Liva Diesel Price In India
Ex-showroom Delhi price of Toyota Etios Liva Diesel is:
Toyota Etios Diesel GD Variant is priced at Rs. 5.54 Lakhs
Toyota Etios Diesel GD With Optional Package is priced at Rs. 5.87 Lakhs
Ford Figo Diesel Price In India
Ex-showroom Delhi price of Ford Figo Diesel is:
Price of Ford Figo 1.4L TDCi LXi is Rs. 4.59 Lakhs
Price of Ford Figo 1.4L TDCi EXi is Rs. 4.96 Lakhs
Price of Ford Figo 1.4L TDCi ZXi is Rs. 5.19 Lakhs
Price of Ford Figo 1.4L TDCi Titanium is Rs 5.57 Lakhs
Comparing the two cars on price and vale for money scale, the Etios Liva seems a bit high priced but lets dig deeper into this difference by comparing the features of the Figo TDCi Titanium with Etios Diesel GD which is priced about Rs. 3000 lower than the former.
Figo Titanium comes loaded with full featured integrated audio system with Bluetooth connectivity, SRS airbags, ABS with EBD etc. On the other hand, the Etios Liva GD does not offer any music system, it does offer the ABS with EBD, but the airbags come with the safety package for which you need to spend additional Rs. 33,000. The flip side of Figo is that even the top variant does not offer power windows at the rear. But overall, if you consider Figo, it seems a better value for money package.
Car Blog India verdict – Toyota Etios Liva Diesel Vs Ford Figo Diesel
Comparing the overall aspects of the Liva Diesel and Figo Diesel, its quite clear that Figo is a more practical and value for money small diesel hatchback. So if you are looking for a good value package, Figo is overall a better choice. However, if you are very particular about plastic interior quality and finish, you can go for Liva which has got a more agile performance with a higher mileage, but it comes at more price with less features.
check out more-
Join us for FREE NEWS Updates on our Whatsapp Community or our official telegram channel.