In our car comparison series on Car Blog India, we have compared the Toyota Etios Liva Diesel with many other diesel hatchback available in India. In this article, in continuation, we will compare the Liva Diesel with another Diesel hatchback, the Maruti Ritz Diesel. The Ritz Diesel is a well established Diesel hatch from Maruti, lets see how well it scores on our comparison.

Toyota Etios Liva Exteriors Vs Maruti Suzuki Ritz Exteriors
Toyota Etios Liva Dimensions
Length = 3775 mm
Width = 1695 mm
Height = 1510 mm
Wheelbase = 2460 mm
Maruti Ritz Dimensions :
Length = 3715mm
Width = 1680mm
Height = 1620mm
Wheelbase = 2360mm
On the exteriors, Liva and Ritz both have comparatively simple front fascia. There is nothing too sporty or dynamic in the front fascia of either of these two cars. The side profile of both these cars are comparatively sport while I personally like the rear design of Liva better than the Ritz. While the  Liva is a more contemporary design, the Ritz is a signature tall boy Japanese design. Liva is longer and wider than Ritz while its short in height compared to Ritz. The Liva rides on a longer wheelbase, so feels more planted at high speeds.
If I have to pick one based on the exteriors, I would probably call it a tie as none of these cars impresses me too much in terms of looks, at the same time, both look elegant enough.
Toyota Etios Liva Interiors Vs Maruti Suzuki Ritz Interiors
image- Toyota Etios Liva Interiors
On the interiors, Liva looks good, quite spacious and offers good legroom for 5 adults. The wide rear seat provides decent comfort for three passengers at rear. The quality of plastics, fabrics and interior trims is good. The diesel variant GD comes only with single colour seats, bit does offer two tone (grey-black) dashboard. It also has a cooled glove box which can be used to chill water and drinks on hot days. The AC vents are large and give good cooling effect. All in all, the interior feel of Etios Liva is pleasing.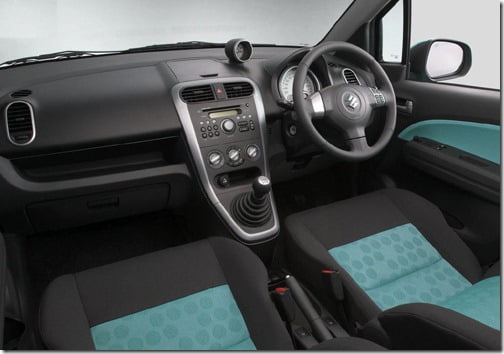 image – Maruti Ritz Interiors
Ritz offers good head room being a tall boy design. It also offers decent leg space for the rear passengers and good elbow space also. The two tone fabric trim not available in the Diesel engine variant as it comes only with the petrol top end model. The quality of plastics on the console and dashboard is decent, but does not look as good as Liva.  The unique placement of tachometer on the dashboard however gives the interiors a sporty look.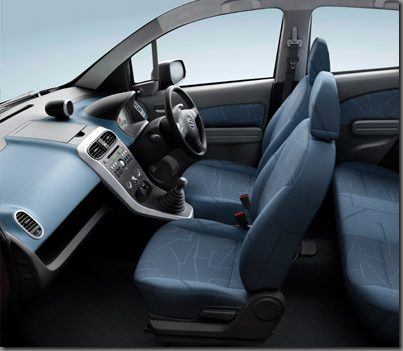 image- Maruti Ritz Interiors
In terms of interiors, both cars offer something good, but we will pick Liva on interiors as it look better, feels better and is more spacious.
Toyota Etios Liva Diesel Engine Vs Maruti Suzuki Ritz Diesel Engine
Toyota Etios Liva Diesel Engine Specifications
1.4 Litre D4D CRDI Diesel Engine
Displacement of 1364 CC
Max Power of 67.07 BHP @ 3800 RPM
Max Torque of 170 Nm @ 1800 to 2400 RPM
5 Speed Manual Transmission
ARAI Certified mileage of 23.59 KMPL
Kerb Weight = 980 Kg
Power to weight ratio of 68.4 BHP / 1000 Kg
Engine Specifications of Maruti Ritz diesel:
4 Cylinder Water Cooled Engine
1248 CC CRDI Multijet Engine
Max Power – 73.4 BHP @ 4000 RPM
Max Torque – 190 Nm @ 2000 RPM
5 Speed Manual transmission
ARAI Certified mileage of 21.1 KMPL
Kerb Weight = 1110 Kg
Power to weight ratio of 66.1 BHP / 1000 Kg
Looking the the engines, these two cars have got very reliable engines. While the Ritz gets the 1.3 Fiat Multi-jet which powers Maruti Swift, SX4 Diesel and many other cars from other brands, the Liva gets the tried and tested D4D which propels the Corolla Altis Diesel, Innova etc. Looking at the absolute figures, the Ritz engine seems better with more power output and torque, but Liva diesel engine does a good job because of low kerb weight. The power to weight ratio of Liva is slightly better than the Ritz Diesel which gives Liva a slight edge, as it also delivers better mileage.
So picking one of these two engines is very difficult, but I would give my vote to Liva Diesel because of a slight benefit of mileage and better power to weight ratio in Liva Diesel.
Toyota Etios Liva Diesel Handling and Performance Vs Maruti Suzuki Ritz Diesel Handling and Performance
Etios Liva handles fairly well with its long wheelbase, low height and good suspension quality. The steering feedback is good, the car is planted during cornering, there is slight body roll toward the rear while high speed cornering. All in all, Live does a good balance between ride quality and handling.
Ritz also handles very well being on the same platform on which Swift is based, however because of a different design, the handling characteristics are not as sharp as that of Swift. Ritz does offer a comfortable ride quality with good quality of suspensions, but since it is a tall boy design, it does not corner as nicely as the Swift. There is some body roll at high speed handling. Since Ritz is quite tall compared to Liva, so the roll and crosswind is more.
On handling and suspensions, Liva is slightly better than Ritz.
Toyota Etios Liva Diesel Price Vs Maruti Suzuki Ritz Diesel Price
Toyota Etios Liva Diesel Price In India
Ex-showroom Delhi price of Toyota Etios Liva Diesel is:
Toyota Etios Diesel GD Variant is priced at Rs. 5.54 Lakhs
Toyota Etios Diesel GD With Optional Package is priced at Rs. 5.87 Lakhs
Maruti Suzuki Ritz Diesel Price In India
Cost Of Maruti Ritz diesel, Metallic Color In Delhi (Ex-Showroom)
Price of Maruti Ritz 1.2 LDI BS-IV is Rs.4.75 Lakhs
Price of Maruti Ritz 1.2 VDI BS-IV is Rs.5.09 Lakhs
Price of Maruti Ritz 1.2 ZDI BS-IV With ABS is Rs.5.28 Lakhs
If we compare the value for money factor of these two cars, we can compare the top end of Ritz Diesel- VDI with ABS which comes at Rs. 5.28 lakhs, which is about Rs. 26,000 cheaper than the Liva GD variant, we can see some differences between these two cars.
Some of the differences between these two include the 60:40 rear split seats and driver seat belt which are available in Ritz VDI but nor in Liva GD. Apart from these, the Liva some with a cooled glove box which Ritz does not offer. The air conditioner of Liva comes with clean air filter which is not there in Ritz. There are more similarities between these two variants than differences as both offer ABS with EBD but do not offer airbags. You can get airbags on GD optional pack (at additional cost of Rs. 33,000), but the same is not available on Ritz diesel in any variant. So on value for money front, both car come very close.
Car Blog India verdict – Toyota Etios Liva Diesel Vs Maruti Suzuki Ritz Diesel
If you are looking for a low cost diesel car and  you don't bother about the safety features (which is not recommended), you can get a Ritz LDi at a much lower price than Liva Diesel. But if you considering to buy a safe diesel hatchback with good interior space, good interior quality and features, Liva is a better choice. It does cost more than Ritz, but does justify the additional cost in terms of the quality and handling it delivers.
check out more-
Join us for FREE NEWS Updates on our Whatsapp Community or our official telegram channel.