Toyota Etios Liva is one potential hatchback in its very segment and recently the company had launched the diesel version of the same. Although a lot was expected from the Liva, it could neither impress us nor the manufacturer with its sales and so to boost the falling numbers, Toyota launched the diesel variant. Reason being that there is enough competition prevailing in the market and with this car maybe the appeal was missing.
With this post we will be continuing our Car Comparison Series On Car Blog India and will compare Volkswagen Polo diesel and the newly launched Toyota Etios Liva diesel.
Toyota Etios Liva Exteriors Vs Volkswagen Polo Exteriors
Toyota and Volkswagen have completely different design tastes. The Etios is typically contemporary with some unconventional design cues. The dashboard with the instrument cluster and AC Vent positioning is different and not seen in many of the cars. But the contemporariness is not reflected on the exterior and makes it look extremely simple. On the top end model one does get rear spoiler and skirting throughout the body but without all this the car is too unattractive to look at.

Volkswagen has put in a lot of efforts on the designing of this car and it definitely is way better in looks than the Etios. The European design with a lot of sharp edges throughout the length of the car is just brilliant. Even the build quality and detailing grabs your attention.
Volkswagen Polo Dimensions
Overall Length : 3970 mm
Overall Width : 1682 mm
Overall Height : 1453 mm
Wheel Base : 2456 mm
Toyota Etios Liva Dimensions
Length = 3775 mm
Width = 1695 mm
Height = 1510 mm
Wheelbase = 2460 mm
The dimensions of the two are at par and except for the length where the Polo is better. Polo's height is also less than the Etios which means that you would sit even lower. The Polo is definitely way too better than the Etios in appearance and no doubt we are going with the Polo.
Toyota Etios Liva Interiors Vs Volkswagen Polo Interiors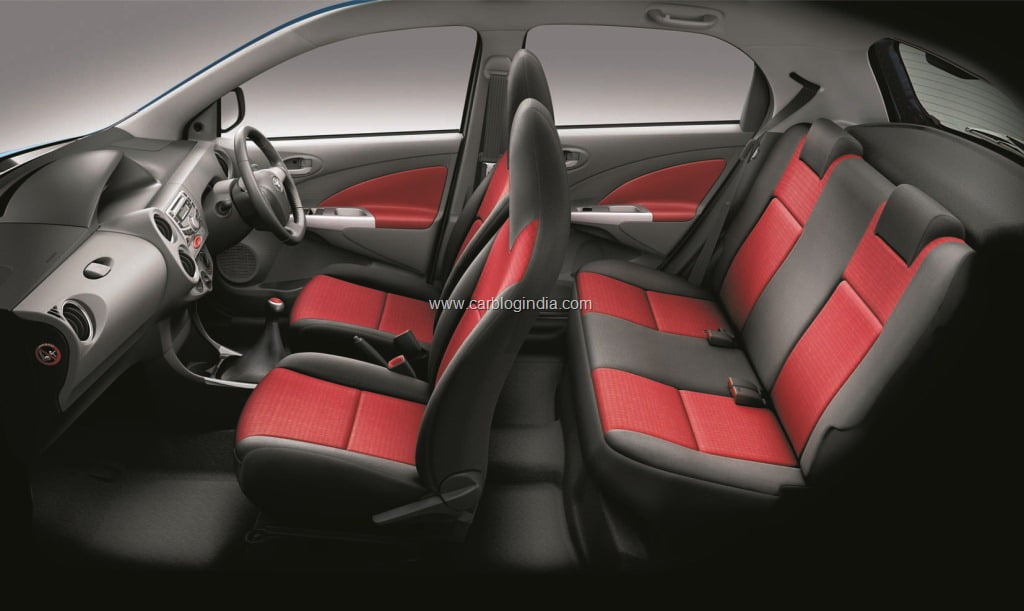 image- Toyota Etios Liva Interiors
Repeating the same what I had mentioned above, the Etios is better in styling and gets a very unique dashboard with the instrument cluster situated in the middle. The plastic quality is fine and most importantly it does not compromise on space. The dual tone fabric is only available with GD diesel variant and looks fabulous.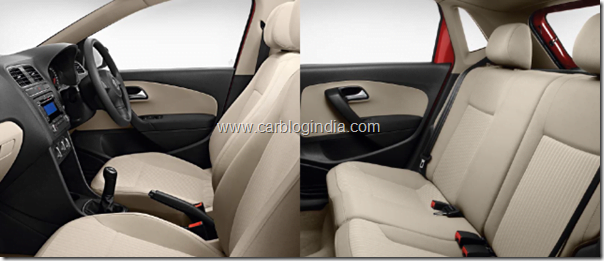 image- Volkswagen Polo Interiors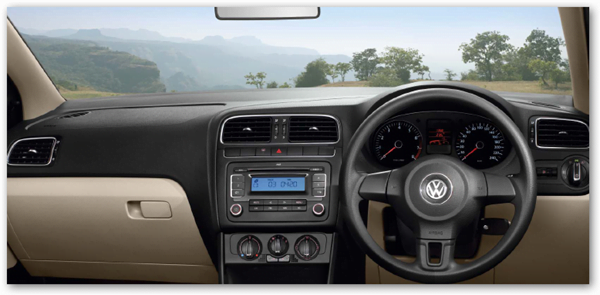 image -Volkswagen Polo Interiors
The Polo is as simple on the inside as the Etios on the outside. The design is again very much European and importantly the overall fit finish and quality of the plastics is very good. In fact it is better than the Etios but when looks are your concern then it may not feel as sporty as the Etios, from inside. Feature wise both are pretty loaded and come with dual airbags, ABS and EBD, large globe boxes, and many other goodies but disappointingly Polo does not come with steering mounted audio controls. But overall everything seems to be perfect and despite having a simple design the Polo is my choice.
Toyota Etios Liva Diesel Vs Volkswagen Polo Diesel Engine Specifications
Toyota Etios Liva Diesel Engine Specifications
1.4 Litre D4D CRDI Diesel Engine
Displacement of 1364 CC
Max Power of 67.07 BHP @ 3800 RPM
Max Torque of 170 Nm @ 1800 to 2400 RPM
5 Speed Manual Transmission
ARAI Certified mileage of 23.59 KMPL
Volkswagen Polo Engine / Transmission :
3 Cylinder
1199 CC CRDI engine
Max Power – 74 BHP @ 4200 RPM
Max Torque – 180 Nm @ 2000 RPM
5 Speed Manual transmission
ARAI Certified mileage of 22.7 KMPL
The Polo's 1.2 Litre engine has never stood up to the car's capabilities and has come as a disappointment but the 1.6 Litre powerhouse is a much better choice. But in spite of being smaller in size the output of the Polo's 1.2 Litre CRDi diesel engine is better than the Etios' 1.4 Litre engine. The former produces 74 BHP and 180 Nm of torque which kicks in at 2000 RPM but the latter's bigger engine feels less confident with 68 BHP and 170 Nm of torque coming between 1800 – 2400 RPM.
Having said that the Etios feels less confident does not mean that the engine is not good, in fact the Etios is much better on the road and the drivability is just awesome. The Polo's 1.2 l heart is the same that comes with the Skoda Fabia too and despite having more power the engine is not responsive at all. Both the manufacturers have built these models with different  thoughts in mind and now it would be a choice that one has to make at individual levels, but for me the Etios takes the lead this time.
Toyota Etios Liva Diesel Performance & Handling Vs Volkswagen Polo Diesel Performance & Handling
The Etios has a better engine which is peppy and makes it a fun to drive car. The suspension is stiff but not as much as Polo's which makes Polo a better car on road bumps. Considering the mileage there is hardly any difference with the Polo standing at 22.7 KMPL and the Etios at 23.59 KMPL.
The handling of on straight highways and corners is definitely better than the Etios. So for ride and handling, Polo gets more marks.
Toyota Etios Liva Diesel Price Vs Volkswagen Polo Diesel Price
Volkswagen Polo Diesel Price In India
Volkswagen Polo Trendline Diesel is priced at Rs. 5.59 Lakh
Volkswagen Polo Comfortline Diesel is priced at Rs. 6.10 Lakh
Volkswagen Polo Highline Diesel is priced at Rs. 7.06 Lakh
Toyota Etios Liva Diesel Price In India
Toyota Etios Diesel GD Variant is priced at Rs. 5.54 Lakhs
Toyota Etios Diesel GD With Optional Package is priced at Rs. 5.87 Lakhs
Pricing of both the cars is strikingly different. The base Etios is available at 5.59 Lakh and comes with almost every feature one would expect in a a good small car whereas this is not the case with the Polo as it it lacks a number of features even in the Trendline model which has been priced at par with the Etios base GD.
The GD Special model with optional features is just 30 k more expensive than the GD and has a handful of those features which were missing in the GD, such as SRS airbags, driver seatbelt warning etc. Though Volkswagen is doing its best by offering many features but considering the price that these come at, the Etios is way better.
Car Blog India Verdict  – Toyota Etios Liva Diesel Vs Volkswagen Polo Diesel
It is definitely a one sided games as the Etios is cheaper, comes with all the high end features, has better engine, better mileage and gets better looking interiors. Contrastingly the Polo is expensive, falls short at some features, has better looks on the exterior and has a less impressive engine .
Now it would completely depend on the buyer as what type of product he or she wishes to buy. If one wants an European model which has an excellent build quality, ride and handling and features do not bother you much then definitely one can consider Polo, which comes at a higher price. But if you want all the safety features, better mileage, better engine etc. at a lesser price and can compromise with the looks then Etios Liva Diesel is a better choice.
check out more-