Honda Jazz 2011 has created a new place with the corrected pricing. The new Jazz comes with a face lift and price cut, what can be better? Well, there are many cars in this segment which are competing hard for clocking higher sales for the automobile companies. In our Car Comparison Series on Car Blog India, we will compare the Honda Jazz 2011 with the Volkswagen Polo Petrol variant, which is a premium small car in India by Volkswagen.

Honda Jazz 2011 Exteriors Vs Volkswagen Polo Petrol Exteriors
Honda and Volkswagen both are respected names in the Global automobile industry. When we look at the Polo, the German design cue are very pronounced. The Polo is very elegantly designed with a contemporary hatch looks while the Honda Jazz on the other hand is compact and rounded design which reflects Japanese design approach of designing for maximum space in a minimum area.  Both cars are very elegantly designed with top notch fit and finish. While the Polo is larger in length, its marginally less wide and high. More planted towards ground with a decent wheelbase. Jazz is taller, more rounded and spacious with its engine section being considerably smaller and rear quite high.
Honda Jazz 2011 Dimensions
Length = 3900 mm
Width = 1695mm
Height = 1535mm
Wheelbase = 2530
Volkswagen Polo Dimensions:
Length: 3970mm
Width: 1682mm
Height:1453mm
Wheelbase:2456mm
I personally like both these cars and its difficult for me to pick one of the two. While Polo looks more elegant and robust, Jazz looks more modern and aerodynamic. I would say its more like a tie.
Honda Jazz 2011 Interiors Vs Volkswagen Polo Petrol Interiors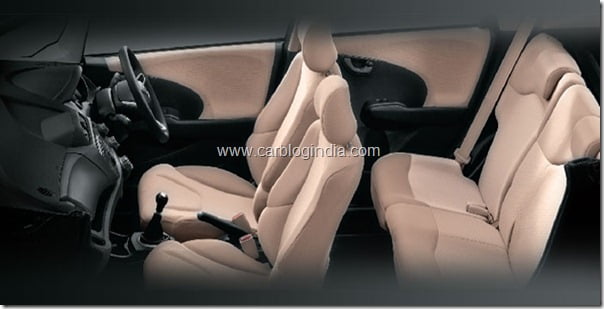 image- Honda Jazz Interiors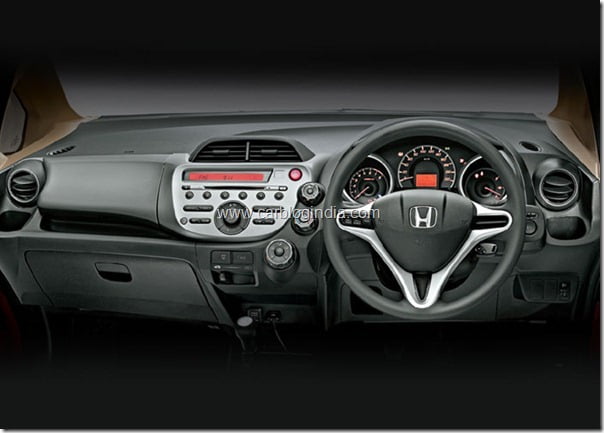 image- Honda Jazz Interiors
Like the exteriors, Honda Jazz Interiors are also very modern and follow a very prominent Japanese design language. The dashboard looks very neat, the seating looks very good quality and comfortable with loads of interior space. Jazz is also wider with enough room for three adults at the rear seat.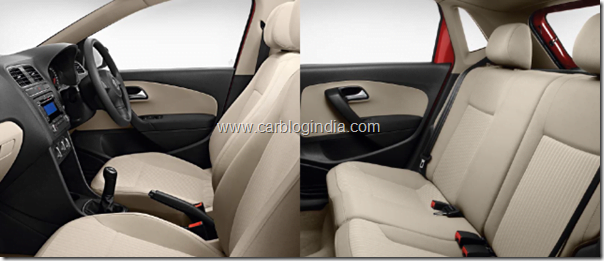 image- Volkswagen Polo Interiors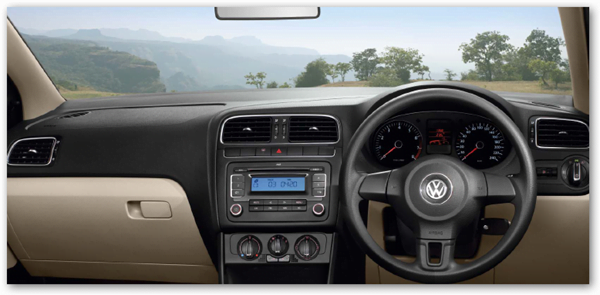 image -Volkswagen Polo Interiors
Polo looks comparatively simple and plain from inside but has high quality of material and a very elegantly designed interiors. It gives a feeling of classy and rich cabin with minimum glitter and dazzle. Polo has the interior which will attract mature and executive segment more, whereas the cabin of Jazz will attract youth more.
If I have to pick one of the two, I would go for Jazz for its space and interior style.
Honda Jazz 2011 Petrol Engine Vs Volkswagen Polo Petrol Engine
Honda Jazz 2011 Engine Specifications
4 Cylinder SOHC i-VTEC Engine
16 Valve (4 per cylinder) MPFI Petrol Engine
Engine Displacement 1198 CC
Max power of 88.8 BHP @ 6200 RPM
Max torque of 110 Nm @ 4800 RPM
ARAI Certified fuel efficiency of 16.7 KMPL
5 Speed Manual transmission
Volkswagen Polo Engine Specifications
3 Cylinder Inline Engine
1198 CC MPFI Petrol engine
Max Power – 74 BHP @ 5400 RPM
Max Torque – 110 Nm @ 3750 RPM
5 Speed Manual transmission
ARAI Certified mileage of 17.2 KMPL
Going by the engine specs, Jazz seems to be more lucrative with higher overall power, but Polo does deliver its peak torque at a lower RPM, so it makes Polo easily drivable as well. Polo also does better on fuel efficiency marginally, but Jazz engine still seems a better choice to me.
Honda Jazz 2011 Petrol Handling and Performance Vs Volkswagen Polo Petrol Petrol Handling and Performance
In terms of handling, Polo is a very nice handling car with low body roll and it performs quite well. The suspension is stiff and it does handle precisely, with a great steering feedback and great ride quality, but its not too agile as it is tuned better fuel efficiency. Honda on the other hand is not less, it also handles very well with its stiff suspension tuning. It does give a strong competition to Polo and slightly lags behind on the ride quality and stability.
All in all, Polo handles slightly better than Jazz, but Jazz is more agile and punchy.
Honda Jazz 2011 Petrol Price Vs Volkswagen Polo Petrol Petrol Price
Honda Jazz 2011 Petrol Price In India
Honda Jazz 2011 S is priced at Rs. 5.50 Lakhs
Honda Jazz 2011 Select is priced at Rs. 5.75 Lakhs
Honda Jazz 2011 X is priced at Rs. 6.06 Lakhs
Volkswagen Polo Petrol Prices
Polo MPFI Petrol Trendline 1.2 Litre  – Rs. 4.57 Lakh
Polo MPFI Petrol Comfortline 1.2 Litre  – Rs. 5.08Lakh
Polo MPFI Petrol Highline 1.2 Litre  – Rs. 6.04 Lakh
If you are looking for a low priced hatchback with great handling, Polo Trendline will be a better choice for you, but it does lack safety features like airbags and ABS. However, if you are looking for a car with safety features, performance and great handling, Honda Jazz is quite a value for money. If we consider the prices and safety features, Honda Jazz base variant does offer ABS, Airbags and other safety features at Rs. 5.5 Lakhs which are only available in the top end Polo. So the Polo seems a bit pricier now, but comparing the top end variants of the two cars, which virtually cost almost the same, the Jazz looks like a better package with reclining rear seat, spacious interiors and luggage space, 60:40 split rear seat, power folding outside mirrors with turn indicators mounted on them. In terms of gadgetry, the top end Jazz X is more value for money.
Car Blog India verdict – Honda Jazz 2011 Petrol Vs Volkswagen Polo Petrol Petrol
If you are not on a budget and want a premium hatch with lots of space, great handling and decent ride comfort and quality, Honda Jazz is an apt choice.
On the other hand, if you are looking for a lower priced car with great build quality and interior space and agile engine are not on your priority list, Polo is a good choice with great handling and comfort.
Yes, there are many other eligible rivals for both Polo & Jazz like the new Swift 2011 and Hyundai i20, you can check out more useful comparisons at the below links-