The 2011 Maruti Swift is already out with advance bookings of over 50,000 units which clearly expresses the level of popularity of the car. This would be the perfect time to compare the same with another strong, though less selling competitor, the Volkswagen Polo. In this post in Car Blog Series On Car Comparison, we will compare the Maruti Swift 2011 Petrol with Volkswagen Polo Petrol.
Maruti Suzuki Swift 2011 Exteriors Vs Volkswagen Polo Exteriors
The new 2011 Maruti Swift is a refreshed design which is sparkling enough to attract anybody's attention. The headlamps, tail lamps, rear and front fenders everything has been revised simply to give it a new look. The grooming has given more meaning to the car and instead of being a cute small car, like the older swift, the new Swift looks aggressive.
The roof is also chopped off and the new body lines are strong enough to express its presence. The overall appearance looks quite converging towards the rear making it more stylish now.
We have been seeing the Polo for quite some time now which is all European in design and looks as aggressive as it was at the time of its launch. The perfectly sharpened body lines, edgy exteriors impresses you right away. Despite being old by comparison to the new Swift, the Polo is nowhere behind brings a smile to your face instantly.
2011 Maruti Swift Dimensions:
Length = 3850 mm
Width = 1695mm
Height = 1510mm
Wheelbase = 2430
Volkswagen Polo Dimensions:
Length: 3970mm
Width: 1682mm
Height:1453mm
Wheelbase:2456mm
Proportion wise the Polo is marginally ahead in length and wheelbase but in width and height, the Swift takes the lead. In terms of looks and overall appeal, the decision is in favor of the Swift as it is quite new and refreshing but the Polo isn't far behind.
Maruti Suzuki Swift 2011 Interiors Vs Volkswagen Polo Interiors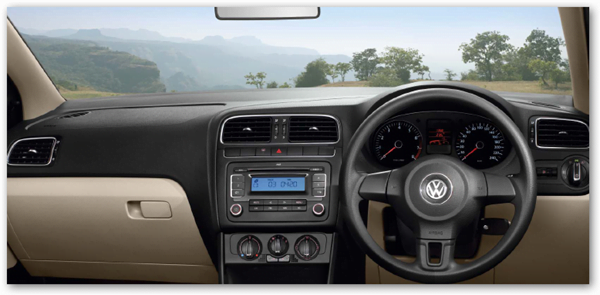 image -Volkswagen Polo Interiors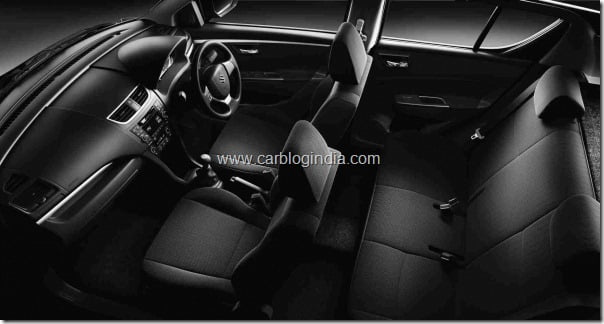 image – 2011 Maruti Swift Interiors
First going over the Polo's interiors, its really feels elegant because of its simple design. As always, Maruti's are never up to the mark when it comes to quality and new Swift proves it yet again. Polo is significantly better on the inside, with better quality interiors and nice fit and finish. The Swift gets no drastic improvements on the inside and in spite of a tweaked contemporary design, it is too familiar for the buyers.
The legroom and headroom has been improved in the Swift but it still can't beat the Polo. Also the larger boot space of Polo makes it the ultimate choice for families who love to travel with more luggage. Features of the Swift include dual airbags, ABS, electric mirrors, steering-mounted audio controls, AUX-in and USB support and climate control. Despite being a good car, the Polo lacks some of the above features.
Maruti Suzuki Swift 2011 Petrol Engine Vs Volkswagen Polo Petrol Engine
Maruti Swift 2011 Engine Specifications
Improved K12 1.2 Litre MPFI Petrol Engine
Dual VVTI Technology
4 Cylinder, Displacement 1197 CC
Max power of 86 BHP @ 6000 RPM
Max torque of 114 Nm @ 4000 RPM
5 Speed Manual transmission
ARAI Certified mileage of 18.6 KMPL
Volkswagen Polo Engine Specifications
3 Cylinder Inline Engine
1198 CC MPFI Petrol engine
Max Power – 74 BHP @ 5400 RPM
Max Torque – 110 Nm @ 3750 RPM
5 Speed Manual transmission
ARAI Certified mileage of 17.2 KMPL
Technically speaking the Swift overtakes the Polo in terms of performance stats.The 1.2 Litre petrol engine delivers a better peak power of 86 BHP compared to 74 BHP of Polo's 1.2 Litre unit. The torque also is marginally ahead at 114 Nm. Fuel economy is another plus point of Swift as it offers 18.6 KMPL whereas the Polo stands below at 17.2 KMPL. One might feel the difference in power of both the cars as the Swift is ahead with an additional 12 BHP but the torque won't be much distinguished as the Polo delivers the peak torque at 3750 RPM whereas the 114 Nm torque of Swift comes 250 RPM later at 4000 RPM.
Maruti Swift 2011 Petrol Handling and Performance Vs Volkswagen Polo Petrol Handling and Performance
Maruti Suzuki has always been known for its products which are good at driving. So the Swift continues the legacy with its 1.2 Litre engine. It is quite responsive, precise and good at turns making it a complete driver's car and the electronic power steering enhances the behavior of the car on the road. It sprints from 0 to 100 KMPH in 12.6 seconds.
Volkswagen Polo's 3 cylinder engine is less impressive in front of Swift's powerhouse. The torque and power figures are just not right when compared to Swift and make you feel underpowered. Being less powerful the car also takes two seconds more( at 14.3 seconds) to complete the 0 to 100 KMPH sprint.
2011 Maruti Suzuki Swift Petrol Price Vs Volkswagen Polo Petrol Price
Volkswagen Polo Petrol Prices
Polo MPFI Petrol Trendline 1.2 Litre  – Rs. 4.57 Lakh
Polo MPFI Petrol Comfortline 1.2 Litre  – Rs. 5.08Lakh
Polo MPFI Petrol Highline 1.2 Litre  – Rs. 6.04 Lakh
Maruti Swift 2011 Petrol Price In India
Maruti Swift Lxi Petrol is priced at Rs. 4.22 Lakhs
Maruti Swift Vxi Petrol is priced at Rs. 4.76 Lakhs
Maruti Swift Zxi Petrol is priced at Rs. 5.53 Lakhs
Pricing is quite interesting here with the Polo starting at 4.57 lakh and the Swift at 4.22 Lakh, almost 25,000 cheaper than the Polo. Going up the middle Comfortline variant of the Polo is priced at 4.93 Lakh which is again nearly 20 k more expensive than the Swift VXi. The top of the line, feature packed variants also show a considerable price difference with the Swift placed at 5.53 Lakh mark and the Polo at 6.04 Lakh. All in all the Swift certainly is very competitive in pricing as well, therefore i support the same.
Car Blog India Verdict – 2011 Maruti Suzuki Swift Petrol Vs Volkswagen Polo Petrol
I would love to keep the conclusion short and simple. The swift is new, more spacious, more powerful, good at performance, good in terms of new features on the inside, delivers a better mileage and has been priced very competitively with a minimum difference of 25,000 INR. Though a good car, the Polo is more expensive, less on features and also not comparable to the Swift in performance, handling and mileage.
Being a Maruti, the after sales services is a great advantage as with its wide nationwide network the company offers service on every street. Volkswagen definitely has to do a lot of homework on improving its sales network and service quality. Concluding the comparison, i must admit that Maruti once again dominates the hatchback segment and Swift is the one you should look forward to.
check out more-