Honda has refreshed it small car Honda Jazz in India with a 2011 new Facelifted version. Moreover, the new pricing has made Jazz more attractive buy in the premium hatchback segment in India. Earlier with its pricing, Honda Jazz did not attract much of buyers in a price sensitive market like India, but now the situation seems to have changed. In our car comparison series on Car Blog India, we will compare Honda Jazz with Hyundai i20 premium hatchback which has been a strong competent in this space for a long time.

Hyundai i20 Exteriors Vs Honda Jazz Exteriors
Hyundai i20 Dimensions
Length = 3940mm
Width = 1710mm
Height = 1505mm
Wheelbase = 2525mm
Honda Jazz 2011 Dimensions
Length = 3900 mm
Width = 1695mm
Height = 1535mm
Wheelbase = 2530
Hyundai i20 carries modern and sculpted looks by Hyundai. The sharp and large headlamps, chrome grille, large front fascia gives a very sporty and attractive appearance to Hyundai i20. The overall shape and design of the i20 looks very classy and premium. The curves on the i20 are elegant and make it looks sophisticated and stylish.
Honda Jazz on the other hand is also very attractive, it doesn't have too many sharp lines, but still it has a very distinct and non-contemporary styling which make it look different. The aerodynamic water drop kind of fluidity and subtleness give it a very attractive exterior.
If I have to pick one of the two, it will be a very difficult decision, I would probably give it a tie and not score any one ahead of other in terms of exterior looks.
Hyundai i20 Interiors Vs Honda Jazz Interiors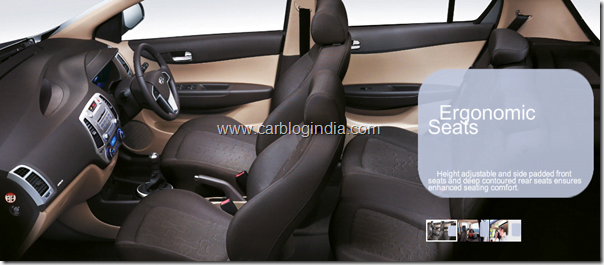 image- Hyundai i20 Interiors
In terms of Interior quality and gadgetry, Hyundai i20 is probably one of the best premium hatchbacks in India in its price segment. The dashboard design, seat fabric, door trims, information display and every other interior detail looks classy and upmarket. The brown beige interior combination is soothing and give the car a spacious look. The width of the car from inside is one of the best in segment and i20 can comfortably seat 3 adults in the rear seat.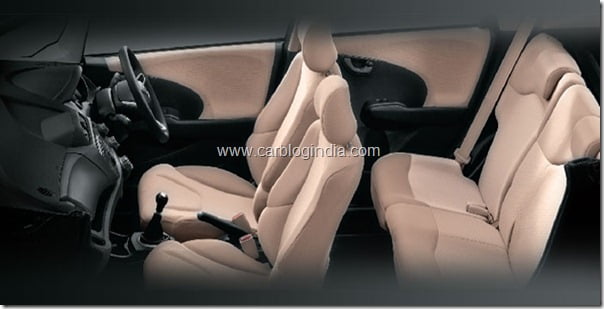 image- Honda Jazz Interiors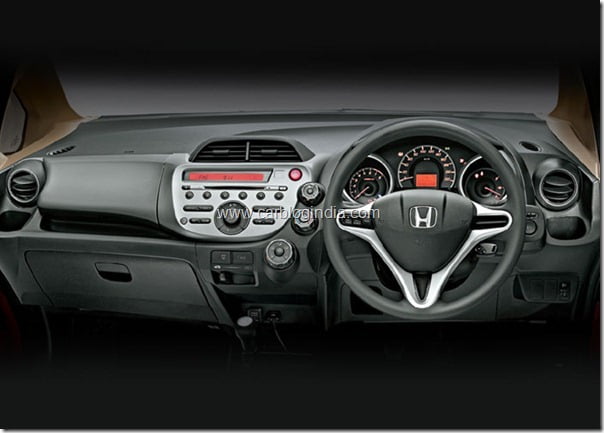 The design and build quality of Honda Jazz interiors is also very attractive. The dashboard is not symmetric when it comes to the controls on the central console, which give it a quite different and modern look on the inside, The placement of AC vents, overall design, two tone beige black interior and build quality is quite good. Intelligent packaging of the car provides lots of Interior space by allotting less space for engine compartment and more for cabin. The interiors feel roomy with lots of leg space and head room for tall drivers.
If I have to pick one of these two cars based on Interiors, I would choose i20 for its classy and upmarket feel, but would pick Jazz for its spacious interiors. So it's a tough pick, everyone has a different need from a car, so I would call it a tie.
Hyundai i20 Petrol Engine Vs Honda Jazz Engine
Engine Specifications of Hyundai i20 Petrol:
4 Cylinder Kappa Engine
1.2 Litre / 4 Cylinder / 16 Valve DOHC
Max Power output of 79 BHP @ 6000 RPM
111 Nm Torque @ 4000 RPM
5 Speed Manual Transmission
ARAI Certified Mileage of 18.50 KMPL
Kerb Weight nearly 1065 Kg
Honda Jazz 2011 Engine Specifications
4 Cylinder SOHC i-VTEC Engine
16 Valve (4 per cylinder) MPFI Petrol Engine
Engine Displacement 1198 CC
Max power of 88.8 BHP @ 6200 RPM
Max torque of 110 Nm @ 4800 RPM
ARAI Certified fuel efficiency of 16.7 KMPL
5 Speed Manual transmission
Comparing the engine specifications, the Jazz has got better max power at slightly higher RPM. The refined Jazz engine is smooth and performs quite well. On the other hand, the i20 provides as much torque as the Jazz at lower RPM which makes it easier to drive in congested city traffic. The fuel efficiency of Honda Jazz is lesser compared with the i20. Considering almost similar kerb weight, both are quick cars. So if you have power on your mind, Jazz is better, but if you have mileage on your mind, i20 is slightly better.
Hyundai i20 Petrol Handling and Performance Vs Honda Jazz Petrol Handling and Performance
Hyundai i20 is known for its soft suspensions and comfortable ride, but when it comes to handling, it slightly lags behind because of the fact that it does not handle too sharply while high speed cornering because of its softer suspension.
Honda Jazz on other hand handles quite well at higher speeds and gives better confidence to the driver because of its stiffer suspensions and better handling characteristic.
So if you want a car with soft and comfortable ride and moderate handling, i20 will be a better choice, however, for more precise and sharp handling and for driving enthusiasts, Jazz will be more pleasure to drive.
Hyundai i20 Petrol Price Vs Honda Jazz Petrol Price
Hyundai i20 Petrol Price in India
Hyundai i20 1.2 Petrol Era is priced at Rs. 4.59 Lakhs
Hyundai i20 1.2 Petrol Magna is priced at Rs. 4.99 Lakhs
Hyundai i20 1.2 Petrol Sportz Option is priced at Rs. 5.27 Lakhs
Hyundai i20 1.2 Petrol Sportz is priced at Rs. 5.42 Lakhs
Hyundai i20 1.2 Petrol Asta is priced at Rs. 5.84 Lakhs
Honda Jazz 2011 Petrol Price In India
Honda Jazz 2011 S is priced at Rs. 5.50 Lakhs
Honda Jazz 2011 Select is priced at Rs. 5.75 Lakhs
Honda Jazz 2011 X is priced at Rs. 6.06 Lakhs
Considering the price, Hyundai i20 starts at a much affordable price at its lower variants because if the fact that these variants don't come with safety features like airbags and ABS. So if you are not looking for safety features (we recommend to go for safety features), then Hyundai i20 may fit your needs better. But if you want a value for money car with good safety features, you should consider Sportz or Asta variants of i20. If we consider the price bracket and compare i20 Asta petrol with Honda Jazz Select, the two car come very close in features except some extras which are not available in Jazz like the automatic climate control, cooled glove box etc. while on the other hand Jazz provides which i20 does not provide like the reclining rear seats, 60:40 split seats at rear, dual glove box, distance to empty display, instant and average fuel consumption display, seat belt height adjust etc. If you consider the top end Jazz X which comes at approx. Rs. 22,000 premium to i20 Asta, you can get Blue black interiors, driver seat height adjust, auto folding outside rear view mirrors etc. as additional features.
Car Blog India verdict – Hyundai i20 Petrol Vs Honda Jazz Petrol
For a premium car buyer, price may not be the first priority, but features and comfort are probably the top priorities. If you want a comfortable car with lots of features and classy interiors, good mileage, Hyundai i20 petrol is a better pick for you.
If you want a good quality car with lots on Interior space, good handling and soothing interiors and powerful engine, Honda Jazz is the car for you. But these two cars are very close in competition, one being better in one aspect and other being good in some other.
check out more-