In our Car Comparison Series on Car Blog India, we have already compared the 2011 Maruti Swift petrol and Volkswagen Polo petrol in one of our recent posts and now it is time to compare the CRDI diesel engine variants of the same.
Maruti Swift 2011 Exteriors Vs Volkswagen Polo Exteriors
The Swift is in existence for a couple of years and well know how popular it is. The popularity continues with the new and upgraded Swift which now gets a sharper front fascia with sharper and headlamp and new fender. From the sides also the car is slightly different from the earlier model and is more pronounced. The roof has been chopped off so as to give car a sportier appearance. Going towards the rear, the car again gets clearer tail lamps, rear bumper and a revised boot door.

Despite being more than a year old model, the Polo still has that very charm of conservative yet classy European styling. From the very sharp front fender and headlamps to the side profile having parallel yet nice body lines, up till the rear all looks much elegant and unique. The attraction of Polo does not die in front of the all new Swift, in fact the exterior features of the Polo are still more appealing to me than Swift's features.
Length = 3850 mm
Width = 1695mm
Height = 1510mm
Wheelbase = 2430
Volkswagen Polo Dimensions:
Length: 3970mm
Width: 1682mm
Height:1453mm
Wheelbase:2456mm
Not being entry level hatchbacks, the proportions do matter a lot. In length and wheelbase, the Polo is ahead of the Swift whereas the latter beats the former in overall width and height. This means that you will get, if not much, enough legroom in the Polo whereas the Swift will offer more headroom.
Maruti 2011 Swift Interiors Vs Volkswagen Polo Interiors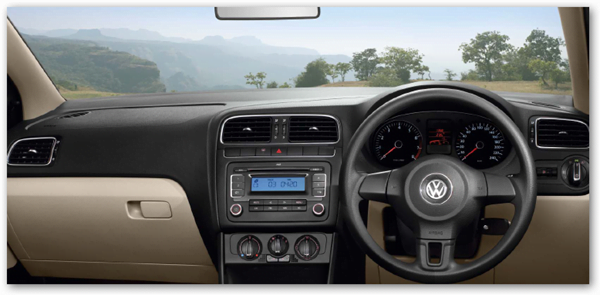 image -Volkswagen Polo Interiors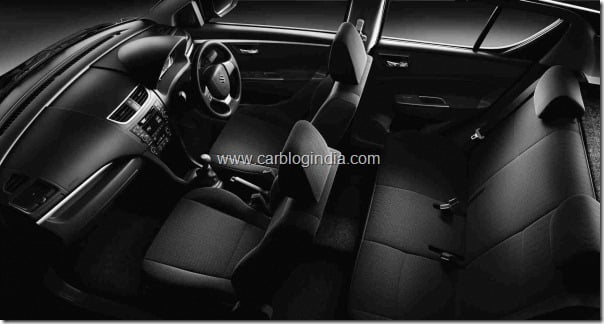 image – 2011 Maruti Swift Interiors
Quality has been the utmost concern of buyers and the Swift disappoints once again. The interiors though are improved and provide more room, the fit and finish is again not up to the mark, Volkswagen has never compromised on quality and the interiors of Polo speak out the same. The Swift has been revised on the inside also and gets a more stylish dashboard but the look is too familiar and resembles the older swift to a much greater extent.
The new Swift is certainly ahead in features and offers dual airbags, tilt steering,  ABS, electric mirrors, steering-mounted audio controls, AUX-in and USB support and climate control. The Polo gets tilt and telescopic steering wheel, automatic climate control and many other similar to Swift but the audio system of the Polo lacks USB and AUX-in support and likewise a handful of other features are absent as well.
Maruti Swift 2011 Diesel Engine Vs Volkswagen Polo Diesel Engine
Maruti Swift 2011 Diesel Engine Specifications
Re-Tuned DDiS 1.3 Litre Fiat Multijet CRDI Diesel engine
4 Cylinder, Displacement 1248 CC
Max power of 73.5 BHP @ 4000 RPM
Max torque of 190 Nm @ 2000 RPM
5 Speed manual transmission
ARAI Certified mileage of 22.9 KMPL
Volkswagen Polo Engine / Transmission :
3 Cylinder
1199 CC CRDI engine
Max Power – 74 BHP @ 4200 RPM
Max Torque – 180 Nm @ 2000 RPM
5 Speed Manual transmission
ARAI Certified mileage of 22.7 KMPL
The diesel category is one of most rapidly emerging one as most of the developers are now shifting towards diesel engine cars and soon petrol powered cars will become less in number. The Swift's engine displaces 1248 cc and deliver maximum power of 73.5 BHP and peak torque of 190 Nm which comes into play around 2000 RPM.
The Polo gets a slightly smaller 1.2 litre engine capable of producing 74 BHP of maximum power and 180 Nm of peak torque. Alike the Swift, Polo's peak torque kicks in at 2000 RPM.
Maruti Swift 2011 Diesel Performance & Handling Vs Volkswagen Polo Diesel Performance & Handling
We have seen above that the Swift gets a marginally bigger engine which produces 0.5 BHP less than Polo's 1.2 litre heart but beats the Polo in terms of torque. The same produces 190 Nm which is 10 Nm more than Polo's peak torque.
Considering fuel economy, the mileage of both the vehicles is at par with Swift standing at 22.9 KMPL and Polo at 22.7 KMPL, so I guess fuel consumption would not be an issue anymore. Now you must be wondering what may distinguish these vehicles ? It's the driving pleasure and handling where these two are different. The Polo has a stiff suspension and is certainly not a driver's car whereas the Swift has always amazed us with its performance and it still continues to do so. So considering the engine, performance and handling our verdict goes in favor of the 2011 Swift.
Maruti Swift 2011 Diesel Price Vs Volkswagen Polo Diesel Price
Maruti Swift 2011 Diesel Price In India
Maruti Swift Ldi Diesel is priced at Rs. 5.17 Lakhs
Maruti Swift Vdi Diesel is priced at Rs. 5.61 Lakhs
Maruti Swift Zdi Diesel is priced at Rs. 6.38 Lakhs
Volkswagen Polo Diesel Price In India
Volkswagen Polo Trendline Diesel is priced at Rs. 5.59 Lakh
Volkswagen Polo Comfortline Diesel is priced at Rs. 6.10 Lakh
Volkswagen Polo Highline Diesel is priced at Rs. 7.06 Lakh
Pricing is where the Swift certainly beats the Polo. The Swift starts at 5.17 Lakh and goes up to 6.38 Lakh for the top of the line Zdi variant. The Polo starts at 5. 6 Lakh, nearly Rs.40,000 more, and HIghline top end variant is  priced at 7.06 Lakh which is a whopping Rs. 60,000 more than Swift's ZDi top end. Features like front and rear fog lamps, ABS, dual front airbags, chrome interior trims, 15 inch alloy etc. come with the top of the line Polo Highline. The Swift Zdi equips 15 inch alloy wheels, audio system with AUX-in and USB support, New gen ABS with EBD, chrome trims on the inside and a lot of other things.
But the Polo lacks AUX-in and USB support and automatic climate control. The base the middle variants of both the cars are more or less the same in terms of features but not in quality and price. The pricing of the Polo is way too much for a buyer considering the swift along with it and hence will definitely fall behind in the race. The difference of at least Rs. 40,000 is too much for a hatchback from the same segment and people who wish to compromise with quality will definitely go with the Swift. Also the driving pleasure that Swift offers is quite impressive and Polo does feels dull in front of it, so at the end the Swift is the clear winner.
Car Blog India Verdict – Maruti Swift 2011 Diesel Vs Volkswagen Polo Diesel
In terms of quality the Polo is certainly ahead and has got a simple yet powerful European design, The Swift comes with a little tweaking on the inside and outside rendering it with a look which was already expected and also offers not so good quality interiors.
Talking about the features only the Swift does come with a few new gadgets which are good enough for a facelift model but the Polo is still behind with not so cool features. Pricing of the Swift again gives Polo at tough run for its money as it way too affordable by comparison with Polo and also the people who wish to get the best features in their car will not pay an additional 60 k to get a Polo and instead would go with the very reliable Swift.
If you ask me personally, I would consider buying the Swift as it is new, refreshing, and also good at features, though it compromises on the quality. The Polo could only get in the race if it is priced near to the Swift which is not the case right now. So I recommend the new Swift.
check out more –
Join us for FREE NEWS Updates on our Whatsapp Community or our official telegram channel.