Chevrolet launched the Chevrolet Beat Diesel in India on 25th July 2011 which was heavily anticipated by the media as well as aspiring buyers. So with the new Chevrolet Beat Diesel entering the market we are sure the competition will be a lot tougher and to know which car stands out in the small car segment, there is no better approach than a comparison. We will continue with the CarBlogIndia Car Comparison series here.
Today we will be comparing Chevrolet Beat Diesel and Ford Figo and we will begin with the exteriors first.
Chevrolet Beat Diesel Vs Ford Figo Diesel Exteriors
The Figo and Beat are the hottest cars of the hatchback segment and have their own fan following. Beat is a cute looking car with very expressive body lines and curves whereas the Figo is a rugged looking car and has got the essence of a family car.

Both have a distinguished front with the Figo having a very sleek grille and big headlights whereas the Beat has a bolder grille with sharper headlamps. The Figo looks quite simple from the front but the Beat is very stylish with  beautiful headlamps carved along the bonnet shut lines. The Beat is a tall car with its nose leaning towards the front and the Figo's bodylines are parallel to the ground giving it a balanced stance. Another important exterior feature in the Beat is the very sporty roof rails which are absent on the Figo.
Ford Figo Dimensions :
Length = 3795mm
Width = 1680mm
Height = 1453mm
Wheelbase = 2489mm
Chevrolet Beat Dimensions:
Length = 3640 mm
Width = 1595 mm
Height = 1520 mm
Wheelbase = 2375 mm
The Figo' proportions are quite interesting and it is appreciably wider, longer  and also has a longer wheelbase than the Beat but the latter is definitely taller than Figo which means the passengers will get more headroom in Beat than in Figo. So in terms of looks and overall design I would go with the cuter Beat but if any of you want to drive a low riding car which is aggressive then go for Figo.
Chevrolet Beat Diesel Vs Ford Figo Diesel Interiors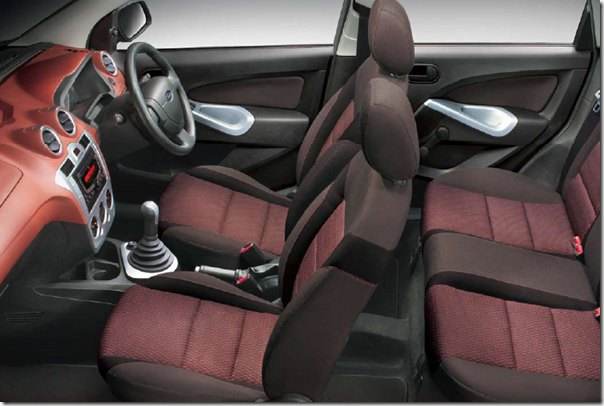 image – Ford Figo Interiors


image – Chevrolet Beat Interiors
The Ford is just so simple from inside with nothing attractive enough whereas Chevrolet has worked sincerely on the interiors and the Beat certainly looks very contemporary and beautiful. The Figo is claimed to have best-in-class boot space, air conditioning and ride & handling, the Beat is not far behind though.
Coming to the features, the Figo comes with dual front airbags, ABS with EBD, Engine Immobilizer, Intelligent central locking, Bluetooth connectivity and a few others. The Beat also comes with ABS, Dual Airbags, central locking, Auto AC, audio system with USB and AUX-in connectivity, steering wheel with silver accent unlike the plain steering wheel of Figo and many others.
The only disappointment that the buyers would face is that features like ABS, alloy wheels and dual airbags in Beat Diesel are optional even in the top end variant and one has to pay some extra amount of money to get them whereas in Figo Titanium, which is the top variant, all these features are available at no extra cost. But if one wants to go for the Beat Options pack which includes all the optional features, the cost will fall extremely close to Figo Titanium.
But overall the fit and finish and quality wise, the Beat takes the lead.
Chevrolet Beat Diesel Engine Vs Ford Figo Diesel Engine
Ford Figo Engine / Transmission :
4 Cylinder
1399 CC CRDI Engine
Max Power – 68 BHP @ 4000 RPM
Max Torque – 160 Nm @ 2000 RPM
5 Speed Manual transmission
ARAI Certified Mileage of 20 KMPL
Chevrolet Beat Diesel Engine:
1.0 L XSDE SMARTECH Diesel Engine
Engine Displacement 936 CC
3 Cylinder light weight engine
Max Power of 57.7 BHP @ 4000 RPM
Max Torque of 150Nm @ 1750 RPM
Low-end peak torque of 100 Nm @1250 Nm
ARAI Certified Mileage of Chevrolet Beat Diesel is 24 KMPL
The Figo sports a big 1.4 Litre engine producing 68 BHP of peak power which delivers a better top speed in comparison to Beat's smaller 1.0 Litre engine generating approximately 58 BHP which is 10 BHPs less. But the best part is the 150 Nm torque of Beat which kicks in early at 1750 RPM and also delivers a low end torque of 100 Nm at 1250 RPM. Figo produced 160 Nm which comes at 2000 RPM. After analyzing the above mentioned performance figures we can conclude than the Beat is more peppy and fantastic for city roads and also delivers best-in-class ARAI certified mileage of 24KMPL.
Chevrolet Beat Diesel Price Vs Ford Figo Diesel Price
Ford Figo Diesel Price:
Price of Ford Figo 1.4L TDCi LXi is Rs. 4.47 Lakhs
Price of Ford Figo 1.4L TDCi EXi is Rs. 4.73 Lakhs
Price of Ford Figo 1.4L TDCi ZXi is Rs. 4.97 Lakhs
Price of Ford Figo 1.4L TDCi Titanium is Rs 5.20 Lakhs
Chevrolet Beat Diesel prices in India, ex-showroom Delhi are as follows:
Chevrolet Beat Diesel PS is Priced at Rs.4.29 Lakhs
Chevrolet Beat Diesel LS is Priced at Rs. 4.59Lakhs
Chevrolet Beat Diesel LT is Priced at Rs. 4.99 Lakhs
Chevrolet Beat Diesel LT Options pack is Priced at Rs. 5.45 Lakhs
Both the cars are quite competitive in terms of pricing with the Figo starting at 4.47 Lakh INR with its base LXi variant and touches 5.3 Lakh INR for its top end Titanium variant. Contrastingly the Beat Diesel is priced marginally lower with base variant PS starting at 4. 29 Lakh INR, a 18,000 INR difference with Figo's base variant, and reaches 5.45 Lakh INR for its top end variant with optional packs which is 15,000 more than Figo Titanium.
In fact all the variants of Beat Diesel are priced lower than Figo's mainly because it is one of the toughest competitors for the former. The EXi variant, next to the base, is priced at 4.72 Lakh INR but the Beat beats it again with LS variant at 4.6 Lakh INR. The story remains the same for the Figo ZXi and Beat LT. At last it's the battle between the top end variants where Beat lags by an appreciable amount of 15,000 after including all the optional features which are available with the Figo Titanium at 5.3 Lakh INR only.
Car Blog India Verdict – Chevrolet Beat Diesel Vs Ford Figo Diesel
Now it is in your hands whether you opt for Figo or Beat. Since if we consider the looks you might want a low sitting car with aggressive looks which points at Figo whereas one could also consider a cute looking car with a good height, like the Beat. If you talk in terms of driving and fuel economy then Beat will amaze you with its smaller yet peppy engine and the best so far mileage.
On the interiors again the Beat slams the Figo with very contemporary designing for the dashboard as well as the seats. In terms of features both are at par with extremely minute differences. But if we consider the pricing the Figo is interesting only with its top end variant Titanium where all the features could be bagged for 5.3 Lakh INR whereas the Beat Diesel leads Figo with all the other variants.
If I was to buy a good hatchback will all the features then I would go with the Beat LT with optional pack because it is more stylish, has a good road presence and most importantly if you are opting for a good car a price difference of 15,000 is not much. But one thing you must keep in mind is that Beat can not accommodate 5 healthy adults as comfortably as Figo can as it has more interior space.
check out more-
Join us for FREE NEWS Updates on our Whatsapp Community or our official telegram channel.