In this video, you could get an idea of how much will it cost you to get your Ford EcoSport diesel service done after completing 60,000 km. Many Ford cars owners are getting worried about what the service experience will be like after the company decided to stop manufacturing cars in India. Ford will not sell passengers cars in India anymore and will only offer niche products like Mustang, Mach E and Raptor Pickup trucks as imports in the future. Ford has over 1 million customers in India and it has promised to keep offering the service for the vehicles for a long time. This YouTuber decided to film his experience of getting his SUV serviced to tell the audience if anything has changed at the service centres. Check out the details here.
Also read: Latest Ford Ecosport Recall Drive Shows Company's Commitment to India!
Ford EcoSport Diesel Service Cost
The EcoSport owner had driven his SUV for 60,000 km and is taking the vehicle to the service centre at the beginning of the video. He also mentions some issues with his brakes and rattling noise in the cabin during mornings which he needs to discuss with the workshop officials. After reaching the service centre, he was given an estimate of around Rs 7,600 including the labour charges and spare parts. He got the SUV back in about 3-4 hours and was satisfied by the work that was done on the vehicle. That included things like oil change, diesel filter change and the regular service along with thorough work done on the brakes, lubrication and fixing the noise by installing a rubber component on the axle of the SUV. The YouTuber is very happy seeing that the service element of Ford has not changed even after the company left India. In the end, the total service cost of the Ford EcoSport diesel after 60,000 km was a mere Rs 6,200.
Also read: Ford EcoSport 4WD Spied in Chennai But Here's Why We're Not Excited!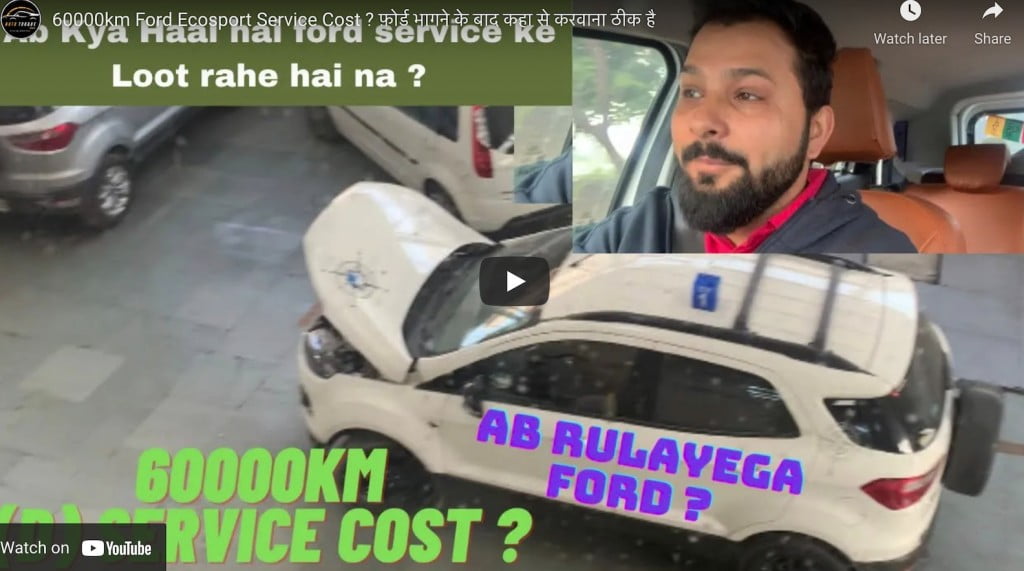 Specs
Prior to being discontinued, the EcoSport came with the options of a 1.5-litre naturally aspirated petrol engine good for 120 hp and 149 Nm and the 1.5-litre diesel engine makes 100 hp and 215 Nm of peak power and torque respectively. There are options of either a 5-speed manual or a 6-speed automatic gearbox. It rivalled the likes of Nexon, Sonet, Venue, Brezza, XUV300 and more. As mentioned before, the service and warranty of the company will also continue for quite some time. We are glad to see the recent recall of the Ford EcoSport for the DPF issue and are impressed by this commitment.
Also read: Watch Ford EcoSport Saving IDIOT Biker From Fatal High-Speed Crash!
Join our official telegram channel for free latest updates and follow us on Google News here.