We recently shared with our readers that Nissan is working on reviving Datsun brand in a couple of markets including India. As per the latest report, Nissan is planning to showcase products from Datsun sub-brand at the 2014 Auto Expo. And later during the second half of the year 2014, Nissan will officially launch Datsun India Small Cars in the market.
The very first Datsun product to enter our market will be a low cost small car/ hatchback that will rival the likes of Maruti Alto K10, Chevrolet Spark and Hyundai Eon. Renault–Nissan alliance Chennai plant which currently produces Nissan Micra, Nissan Sunny and Renault Pulse will be responsible for the development of this small car too. The company is also said to be developing a diesel engine specifically for the Datsun India small cars.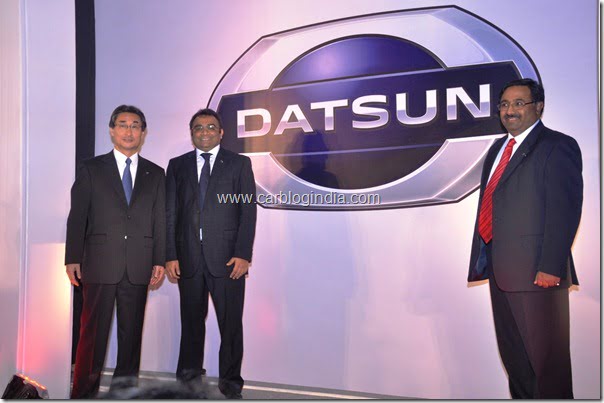 image – New Datsun Brand Logo For Datsun India Small Cars
Takayuki Ishida, the new MD and CEO of Nissan's Indian operations, said the company wants to produce "mass volume" vehicles under the Datsun stable which is a brand aimed at emerging economies. Nissan CEO Carlos Ghosn had announced the revival of the Datsun brand last month and said it will be launched in markets like India , Russia and Indonesia. The Datsun nameplate was discontinued by the Japanese maker in 1981, and is now being revived for rapidly-growing economies
"The Datsun cars will be launched around the second half of 2014, and we are targeting to showcase them at the Delhi Auto Expo at the beginning of the year. The pricing will be between Rs 2 lakh and Rs 4 lakh. This is the only way we can ensure that the cars are produced at a competitive price," Ishida said. He said in line with the trend in the Indian market, the company is also looking at developing a small diesel engine to be fitted on its hatchback. "While the development is being done by Nissan, we are seeking a lot of support from companies outside our fold for access to technology and keeping costs low."
"R&D in India is very competitive and the development of the vehicles will be done in Chennai, apart from Japan. While the platform development work will not happen at Chennai, some parts of the interiors and the exteriors will be done in India."
So far Nissan has invested around Rs. 3000 crore in India and may invest more as Datsun is a significant brand and it wishes to launch a range of low-cost products. Check out some more Nissan India news here. Do stay tuned to us for latest updates on Datsun India small cars by signing up for our free email newsletter and like our official Facebook Page.