Nissan Motor Co., Ltd., today announced the return of the Datsun brand and confirmed it will be coming to India in 2014. Nissan President and CEO, Carlos Ghosn, detailed the Datsun brand's launch plans, which focus on optimistic up-and-coming customers in high-growth countries such as India, at a press briefing held earlier today at Nissan's global headquarters in Yokohama, Japan. Datsun vehicles will be sold in India, Indonesia, and Russia from 2014.
Datsun brand cars will be low priced and county specific cars for India, Russia and Indonesia. The Datsun India car range will consist of a small car under Rs. 4 Lakh price tag which falls in the highest selling car segment in India. These cars will be fuel efficient, modern as well as affordable for entry level customers who are looking for buying their first affordable car or those looking for an upgrade from two wheeler to a car. Datsun India cars will give competition to the segment leading Maruti Alto small car and other small cars like Maruti Wagon R, Hyundai i10, Chevrolet Beat etc. The small cars by Datsun are expected to be in price range of Rs. 2 Lakhs to Rs. 3 Lakhs in the Alto segment and Rs. 3 Lakhs to Rs. 4 Lakhs in Wagon R and Hyundai i10 segment.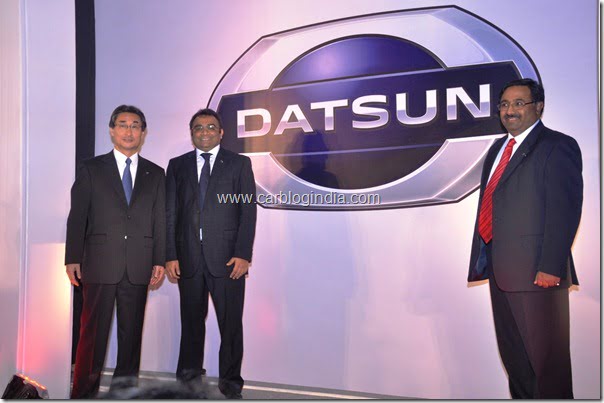 image – From Left to Right – Mr. Kiminobu Tokuyama – MD & CEO – Nissan Motor India Pvt. Ltd., Mr. Ashwani Gupta – Program Director – Control Corporate Plan Group – Datsun India Business Unit and Mr. Dinesh Jain – CEO – Hover Automotive India (Nissan's Sales, After sales, Marketing & Dealer Development Partner in India) at the unveiling of the Datsun brand in India
The Datsun India brand will play an important part in "Nissan Power 88," a comprehensive, six-year business plan that will accelerate the company's growth across new markets and segments. Focused on business expansion in growth markets, Datsun will meet the rapidly growing needs of demanding customers in line with Nissan's vision of mobility for all. The cars will be designed to meet distinct local customer needs, featuring the latest technology, and built locally in India for Indian roads.
Ashwani Gupta, program director of Nissan's newly-created Datsun India Business Unit quoted:
"Datsun is an important part of the heritage of Nissan. We will offer our customers in India modern and spirited cars that they will be happy and proud to own—at an affordable price."
During the launch event, Nissan CEO Carlos Ghosn quoted:
"What we are doing with the Datsun brand is bringing products, which are affordable, modern, generous, fuel-efficient, and well adapted to the specific request of each market. You are going to see these products starting from 2014, so it's going to impact the second half of Power 88, in 2014 – 2016. You are going to see this product mainly in three countries at the beginning, particularly within Power 88, as we said, Indonesia, India and Russia. They are going to be very affordable but modern products for users who are really eager to buy a car, but can't buy something decent today."
The Power 88 means 8% of the global market share of the car market by Nissan group with 8% profitability by year 2016. For Nissan, the Japanese earthquake and Thailand floods have affected their growth in past two years. Nissan is looking forward to overcome it in coming 3 to 4 years with Power 88 strategy. Nissan Sunny global sedan has proved to be a well selling product for Nissan globally with more than 2.84 lakh units sold already. Nissan India is also strengthening its presence in India by ramping up dealership and service network across India. Datsun cars in India will be produced in Orangadam plant in Chennai for which the plat capacity will be enhanced to produce 4 lakh car units annually.
Nissan group is putting special focus on fast developing economies like India, Indonesia and Russia as these countries are showing rapid growth in car sales from past some years and Nissan does not want to miss out on this opportunity to expand its presence in these countries with affordable and reliable modern small cars.
Check out more-