It is incredible what people are willing to do to exact their revenge.
In a fit of anger, a businessman in Delhi burns a Maruti Ertiga in a parking lot.
That caused 25 cars parked in the parking lot to catch fire.
In a shocking chain of events, a businessman in Delhi burns a parked Maruti Ertiga to exact his revenge due to some personal dispute. However, it backfired as the other 25 cars parked in the parking lot also caught fire and were reduced to ashes. It is simply unbelievable what people are willing to do sometimes just to hurt the other person. This case highlights what could go wrong when you attempt such a malicious act without worrying about the consequences of your actions. Here are the details of this bizarre case.
You may also like: Drunk Maruti Ertiga Driver Kills a Pedestrian While Trying to Drift
You may also like: Owner Sets His Bike on Fire to Avoid Paying Challan
Businessman Burns Maruti Ertiga
The video has been uploaded by Prateek Singh on his YouTube channel. He generally puts out content related to road safety and the importance of buying cars with high safety ratings. But this time around, the content of the video is quite unique. As per the information in the video, a fire was reported in a parking lot in Delhi's Subhash Nagar at around 3 AM. It engulfed around 25 cars. The condition of the vehicles is beyond recognition. It looks like no one attended to them and the cars were destroyed completely.
Later on, when the CCTV footage was checked, it was found that someone had deliberately burnt the Maruti Ertiga. It was discovered that he had some personal grudge against the owner of the Ertiga. To get his sweet revenge, he ended up lighting the MPV on fire. However, he didn't fathom the consequences of this idiotic act. The burning Ertiga took other cars in its fury and 25 cars were reduced to ashes.
Miscreant Caught
After seeing the entire episode through the CCTV, the miscreant was caught. The investigation is underway and the accused will be trialled as per the law. We can only hope that such acts don't happen again. The most saddening part is the fact that people lost their entire cars who had nothing to do with either of these men. Do share your thoughts on this.
You may also like: Skoda Slavia Catches Fire, Zac Hollis Assures Immediate Help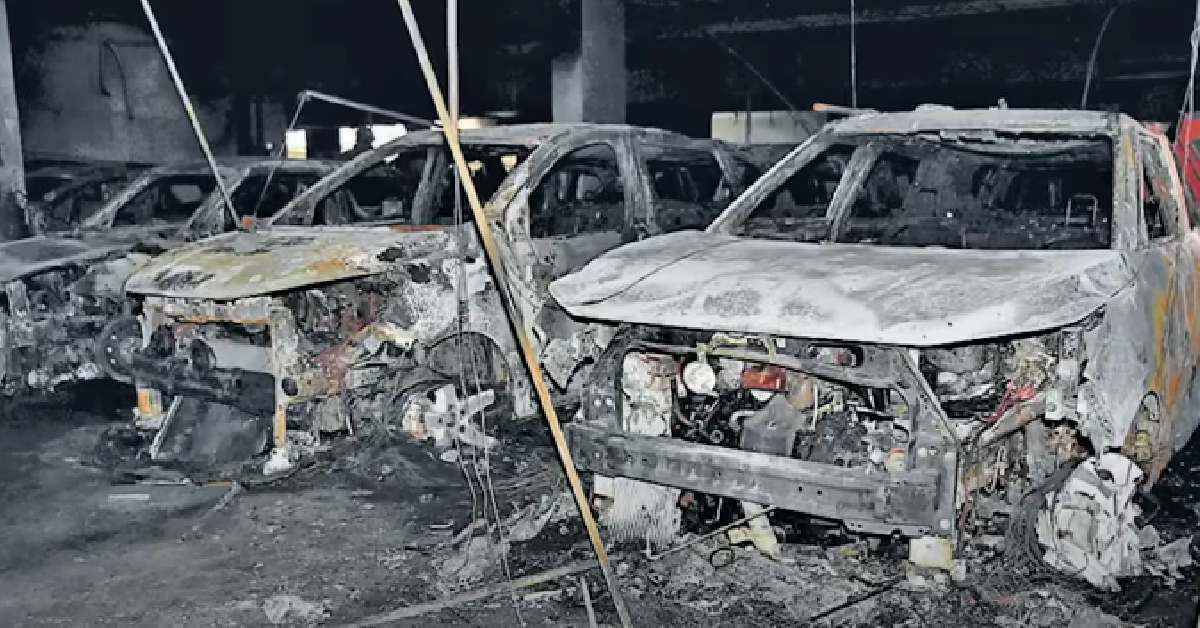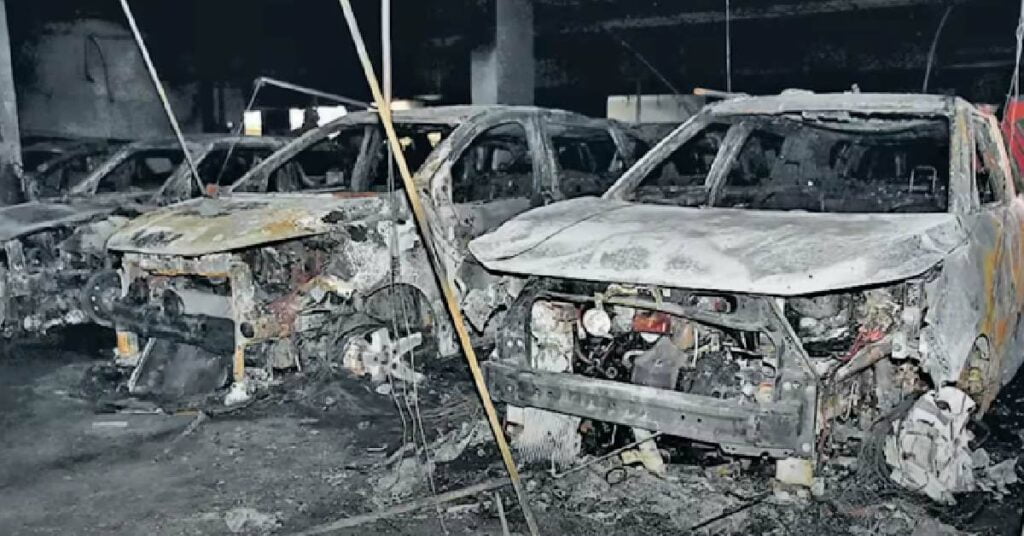 You may also like: Upset Over Unpaid Dues, Bihar Labourer Sets House Owner's Mercedes on Fire
Disclaimer- The embedded videos/ external content is/are being used as a convenience and for informational purposes only; they do not constitute an endorsement or approval by Car Blog India of any of the products, services, and /or opinions of the corporation or organization or individual. Car Blog India bears no responsibility for the accuracy, legality, and/or content of the external site or for that of subsequent external videos/ external content. Contact the external publisher for answers to questions regarding its content.