Honda's much speculated and awaited small car Honda Brio has finally been launched in India and since the car has been targeted at the entry level segment, it does need to be compared with the current market leaders in order to come to a fair decision on which one is better and why.
In this post which is a small part of our car comparison series on Car Blog India, we would compare the Honda Brio and the Maruti Wagon R and find the best car of the two.
Honda Brio Exteriors Vs Maruti Wagon R Exteriors
Honda has built the Brio on an entirely new platform and the new design speaks for the same. Large protruding oval shaped headlamps, chrome garnish on the grille , all glass rear boot door, nice triangular tail lamps are some of the highlighting things on the body of this car. A closer look tells that with the new design the company has added a flavor of charm which was earlier seen only in the Honda Jazz and hence there is no doubt that this new hatchback will not impress you. Moreover if you want to give your Brio some extra oomph with minor cosmetic modifications, you need not go to a nearby accessory shop and instead Honda will offer you with two packages, complete enough to make your car distinct. To read more about these optional packages click here.
The Wagon R is one of the most successful car in India and its popularity is still prevailing. The 2011 model brought a newer look with a bolder appearance incorporated with cosmetic modifications like crystal clear headlamps, roof rails,side skirting, fog lamps, chrome garnish etc., but even then the overall look remained the same old Wagon R one.
Maruti Wagon R Dimensions
Length: 3595 mm
Width:  1475 mm
Height: 1700 mm (LXi, VXi with roof rails), 1670 mm-(LX without roof rails)
Wheelbase: 2400 mm
Honda Brio Dimensions
Length 3610 mm
Width 1680 mm
Height 1500 mm
Wheelbase 2345mm
The Brio is longer and significantly wider than the Wagon R, giving you enough room around your shoulders but if talk about the headroom, the Wagon R is still the segment leader and is the tallest of them all. The wheelbase of Wagon R is also somewhat longer than Brio's. Now considering the looks and the room on the ground of proportion, I would not like choose the old fashioned Wagon R and will go with the Brio.
Honda Brio Interiors Vs Maruti Wagon R Interiors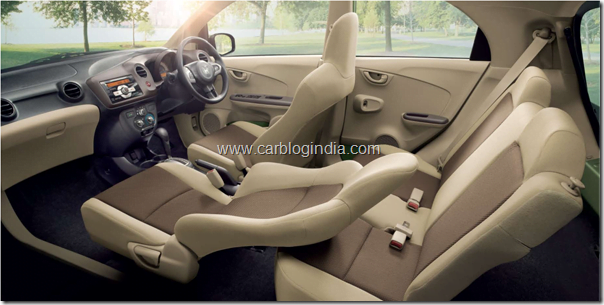 image- Honda Brio Interiors
image- Maruti Wagon R Interiors
Brio's interiors are completely new  and very much refreshing. One could definitely say that it's a modern car from the inside. The dashboard gets a two tone colour theme with new AC vent design. The audio system gets a new design which is very simple and even a three year old can understand the functions. Steering mounted audio controls is another feature which every buyer would like to have. The interiors as expected are comfortable and have been designed to give the passengers a soothing ride. Features include Integrated two-din audio system with USB, iPod and Aux input (No CD support), Manual Air conditioning, ABS , EBD  and Airbags for Safety, Power Windows, Central Locking, Electrically adjustable outside rear view mirrors, Tachometer, LCD display for Trip meter, odometer and fuel economy, ECO Mode driving indicator, Folding rear seat for additional luggage space etc.
The Wagon R being a Maruti is way behind in terms of plastic quality and does not stand a chance to compete with Brio on that. Besides this the goods of the car include Dual Tone Dashboard in Silver and black, Improved plastic quality, New design dashboard with improved instrument cluster design, Three-Arm Steering wheel, Larger Air-conditioning ducts, Centralized music console with factory fitted stereo, Audio system with CD / MP3 / Axially Audio Input for iPods, Spacious glove box, Newly designed gear knob with Silver-Black color combination, ABS with EBD, airbags etc. The design of the dashboard is new but looks average with nothing to amaze you.
Honda Brio Petrol Engine Vs Maruti Wagon R Petrol Engine
Maruti Wagon R Petrol Engine Specifications
New KB-Series 1 Litre MPFI Petrol Engine
Displacement 998CC
Max Power – 67 BHP @ 6200 RPM
Max Torque – 90 Nm @ 3500 RPM
5 Speed Manual Transmission
Fuel Consumption – around 18.9 KMPL as per ARAI ratings
Honda Brio Petrol Engine Specifications
1.2 Litre 4 Cylinder i-VTEC Engine
Engine Displacement 1198 CC
Max power of 86.8 BHP @ 6000 RPM
Max torque of 109 Nm @ 4600 RPM
5 Speed Manual transmission
ARAI certified mileage of 18.4 KMPL
The Brio gets a bigger 1.2 Litre engine generating 87 BHP of power and 109 Nm of torque and it is the same engine that comes with the Honda Jazz. The Wagon R has a smaller 1.0 litre engine producing just 67 BHP and 90 Nm of torque. The mileage of both the car's is also very much comparable as the Wagon R and Brio have ARAI certified mileage of 18.9 and 18.4 KMPL respectively.
Honda Brio Petrol Performance & Handling Vs Maruti Wagon R Petrol Performance & Handling
The Brio is a masterpiece and move brilliantly on the road. The NVH levels, the refinement of the engine, the driving comfort is just excellent and the Jazz's powerful engine is enough to impart amazing driving dynamics to the car.
The Wagon R has satisfactory performance but when it comes to handling its quite average and does not feel very confident. So in terms of performance and handling the Brio takes the lead.
Honda Brio Petrol Price Vs Maruti Wagon R Petrol Price
The prices of Honda Brio Ex-Showroom Delhi are as follows:
Honda Brio E is priced at Rs.3.95 Lakhs
Honda Brio S is priced at Rs. 4.35Lakhs
Honda Brio S (Option Pack) is priced at Rs. 4.90 Lakhs
Honda Brio V is priced at Rs. 5.10 Lakhs
The New Wagon R Ex-Showroom Price in Delhi are as follow :
Price Of New Wagon R Lx is Rs. 3.38 Lakhs
Price Of New Wagon R Lxi is Rs. 3.68 Lakhs
Price Of New Wagon R Vxi is Rs. 3.93 Lakhs
Price Of New Wagon R Vxi with ABS is Rs. 4.24 Lakhs
The Brio has been priced very competitively but its still not competitive enough with the legendary Marutis. The Wagon R starts at 3.38 Lakhs and ends at 4.24 Lakhs with its VXi top end model with ABS. Contrastingly the Brio starts at 3.95 Lakhs and ends at 5.10 Lakhs with the Brio V top end model. Brio is definitely pricier because of its powerful engine, more space, plastic quality and top notch design and engineering and also the features it offers.
Car Blog India Verdict-Honda Brio Petrol Vs Maruti Wagon R Petrol
The Wagon R is a legend in the small car market and inspite of some of the disappointing features like inferior plastics, handling etc. it has managed to clock 10 Lakh units and still counting. If you talk in general about the overall features and pricing the Wagon R is a good choice as you can get more for less. Alike Wagon R the Brio also offers all the features with the top end model only which is almost 1 Lakh more expensive than the Wagon R VXI and therefore the Wagon R wins.
But if you are considering the driving pleasure, sense of refreshment, comfort etc. then Brio would be a far better choice. So now it is a choice of individuals whether they would go with the same old yet successful Wagon R or would like to spend a little more and take home a new and better to drive Brio.
check out more-