Mahindra & Mahindra has shown its amazing potential in the premium car segment with its latest addition Mahindra XUV500. We have already compared the same with the most obvious competitors, the Toyota Innova and Tata Aria but potential buyers, before making a decision, will also consider one of its sibling, Mahindra Scorpio.
Mahindra XUV500 Exteriors Vs Mahindra Scorpio Exteriors
Mahindra has come a long way with the XUV500 and this shows in the design of the car. It is full of aggression and masculinity and has a beautiful design. From the front profile with a nice grille and sporty fender to the side profile having dynamic curves, all seems to be so full of brutality. The converging roofline at the rear again adds a lot of character to the car and all in all it is by far the most sporty SUV in its segment.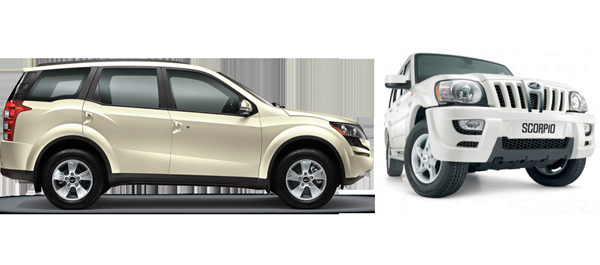 image – Mahindra XUV500 (Left) and Mahindra Scorpio (Right)
The Scorpio has been revised over time and the latest iteration is quite meaningful. New multi-focal headlamps, road armour bumpers, bonnet air scoop, integrated footsteps, side cladding with Scorpio embossing, sporty fog lamps are some of the highlights. On the design front, the car is quite boxy having a typical SUV design but fortunately it is appealing enough.
Mahindra XUV500 Dimensions
Length = 4585 mm
Width = 1890 mm
Height = 1785 mm
Wheelbase = 2700 mm
Mahindra Scorpio Dimensions
Length: 4430 mm
Width: 1817 mm
Height: 1975 mm
Wheelbase: 2680 mm
The XUV is significantly longer and wider than the Scorpio. The former also has a marginally longer wheelbase which accounts for a little bit of more space for your legs but the Scorpio provides better headroom since it is significantly taller than the XUV.
Mahindra XUV500 Interiors Vs Mahindra Scorpio Interiors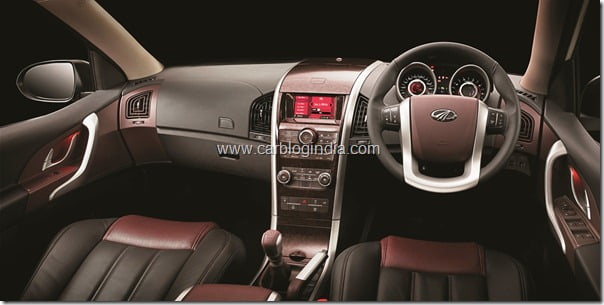 Image-Mahindra XUV500 Interiors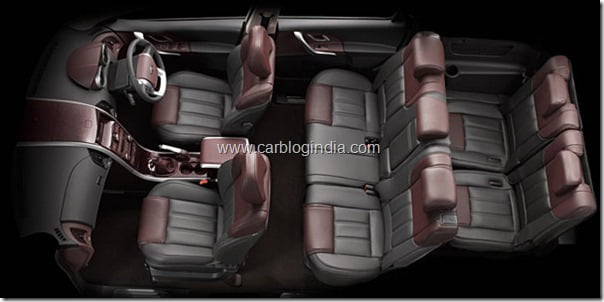 Image-Mahindra XUV500 Interiors
The XUV is very sporty on the outside and the interiors reflect that element of sportiness blended with aggression. The waterfall central console, amazingly done instrument cluster, dual tone colour theme with silver garnish on dashboard and door trips together add enough attraction.Though the plastic quality might not disappoint you a bit, considering the features it offers it will surely blow you away. Laptop storage compartment in the glove box, conversation mirror and sunglass holder, voice command activated control, a 6 inch touchscreen infotainment system with GPS navigation and iPod connectivity, 6 airbags, steering mounted buttons for audio control and Cruise Control, ABS with EBD, ESP with rollover mitigation, Hill Hold and Hill Descent control, foldable 2nd and 3rd row seats, premium leather upholstery are some of the important features.
The car despite being applauded for all these offered features, is not as comfortable in the third row as one would expect but since Mahindra is offering too much with the car, it is worth neglecting.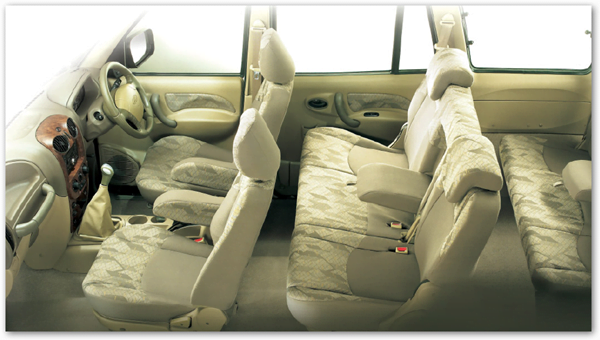 Image-Mahindra Scorpio Interiors
The Scorpio being an old model, is not much inspiring on the inside. The central console including the whole dashboard is quite ordinary with nothing to explore. Some of the highlighting features include dual airbags, ABS, Bluetooth enabled for your phone, tyre-tronics for latest updates on tyre pressure and temperature, speed alert, intellipark, cruise control, rain and light sensors for wipers and headlamps, automatic transmission etc.
Scorpio alike its younger sibling XUV, disappoints on legroom available in the third row of seats but overall its a satisfactory package.
Mahindra XUV500 Diesel Engine Vs Mahindra Scorpio Diesel Engine
Mahindra XUV500 Diesel Engine Specifications
2.2 Litre mHawk Diesel Engine
Transverse CRDI Diesel Engine
Variable Geometry Turbocharger
Max power of 140 BHP @ 3750 RPM
Max Torque of 330 Nm @ 1600 to 2800 RPM
6 Speed Synchromesh Cable Shift manual transmission
4 Wheel Drive and 2 Wheel Drive Options
ARAI certified mileage of 15.1 KMPL
Mahindra Scorpio Diesel Engine Specifications
2.2 Liter mHawk Turbocharged CRDe diesel engine
Max power of 120 BHP @ 4000 RPM
Max Torque of 290 Nm @ 1800-2800 RPM
5 Speed Manual/ 6 Speed Automatic
4 Wheel Drive and 2 Wheel Drive Options
ARAI certified mileage of 12.05 KMPL
Both the cars sport a 2.2 Litre mHawk diesel engine but the XUV's unit is a little more powerful and has better torque. The Scorpio's unit develops 120 BHP and 290 Nm whereas the XUV's powerhouse has an improved 140 BHP and 320 Nm. Interestingly the RPM levels of the XUV are also much better than Scorpio making it more responsive than the latter.
Fuel efficiency has always been a concern of Scorpio having a certified figure of 12 KMPL only but the XUV beats the sibling here as well with a certified impressive mileage of 15 KMPL.
Mahindra XUV500 Diesel Performance & Handling Vs Mahindra Scorpio Diesel Performance & Handling
The XUV is a driver's car and one would love to be behind the steering wheel. The off-road capabilities are just amazing and even in the city and on highways it does a brilliant job.
The Scorpio is good in terms of driving dynamics but the handling is not that good. Once again the XUV leads its older sibling.
Mahindra XUV500 Diesel Vs Mahindra Scorpio Diesel Price
Mahindra XUV500 Diesel Price Ex-Showroom Delhi
Mahindra XUV500 W6 4×2 is priced at Rs. 10.80 Lakhs
Mahindra XUV500 W8 4×2 is priced at Rs. 11.95 Lakhs
Mahindra XUV500 W8 4×4 is priced at Rs. 12.88 Lakhs
Mahindra Scorpio Diesel Price Ex-Showroom Delhi
Mahindra Scorpio VLX BS IV 2WD-HE is priced at Rs. 10.42 Lakhs
Mahindra Scorpio VLX BS4 2WD-HE with Air Bag is priced at Rs. 10.62 Lakhs
Mahindra Scorpio VLX BS4 4WD-HE is priced at Rs. 11.40 Lakhs
Mahindra Scorpio VLX BS4 4WD-HE with Air Bag is priced at Rs. 11.60 Lakhs
The Scorpio's comparable BS IV compliant VLX models start at 10.42 Lakhs with the 4 wheel drive with Air bag top end VLX model priced at 11.60 Lakhs.
Mahindra XUV500 W6 4×2 Vs Mahindra Scorpio 2WD HE with Air bag
Both these models are 2 wheel driven and have a price difference of 20 K only and there is an appreciable difference in the features of the two. The Scorpio is offered with all the possible features as VLX is the top end one whereas the W6 XUV does not have tyre-tronics and alloy wheels. Most of the other features are common.
Mahindra XUV500 W8 4×2 Vs Mahindra Scorpio 4WD HE with Air bag
These two models are again very closely priced with a difference of 30 K but there is a significant difference in the number of features here. With the extra 30 K on the XUV one would get alloy wheels, 6 inch touch screen infotainment system, 6 airbags, tyre-tronics, GPS navigation etc. which are not available in the Scorpio but it is to note that the Scorpio here is a 4 wheel drive whereas the XUV is a two wheel drive one.
Car Blog India Verdict-Mahindra XUV500 Diesel Vs Mahindra Scorpio Diesel
Both the cars are good in their own way. On one hand where XUV offers breathtaking and class leading features, the Scorpio on the other is priced well in accordance with the customers' expectations. The XUV despite being priced over the Scorpio justifies with better features, performance and handling whereas the Scorpio is a typical box shaped SUV which is not impressive on performance.
Now if you want a simple and affordable SUV with a rugged built and fair number of features, go with the Scorpio. But if you can shed some extra money to get some of the best features in this segment, better looks and impressive performance then go for the XUV.
check out more-