Toyota is ruling the premium SUV segment with the Toyota Fortuner ever since the car was launched and in spite of its high pricing it is still able to get an appreciable average sales of 900 units per month. But soon it's charm may get dull as now we have a cheaper alternative in the form of Mahindra XUV500.
There is a natural inclination of a car buyer towards a better value for money deal, which seems to be the Mahindra XUV500, but still lets ignore the price tag for a while and do a comparison more influenced by the character of the car and the features that come with the two.
Mahindra XUV500 Exteriors Vs Toyota Fortuner Exteriors
Image-Mahindra XUV(left) and Toyota Fortuner (right)
Mahindra, as I have said before, has worked really hard on this SUV to make it the next most liked car and it is definitely moving towards it. The looks of the car are very impressive. The body lines, curves, overall aggressive styling is brilliant. The signature grille with nicely done headlamps give character to the car and flared wheel arches along with the the body lines enhance the same character.
The Toyota Fortuner is a fairly old model but in spite of this the aggression levels are well maintained. The body is quite compact yet bulky with nice curves and minimum body lines. The ground clearance which is quite good makes it look huge. The overall appearance of the Fortuner is of a typical traditional SUV with a solid built way better than that of XUV's.
Mahindra XUV500 Dimensions
Length = 4585 mm
Width = 1890 mm
Height = 1785 mm
Wheelbase = 2700 mm
Toyota Fortuner Dimensions
Overall length (mm) : 4695
Overall width (mm): 1840
Overall Height (mm): 1850
Wheelbase (mm): 2750
In terms of proportions the Fortuner is better as it is longer, taller and also has a better wheelbase. The XUV is only ahead in width thereby leaving Fortuner a step ahead.
Mahindra XUV500 Interiors Vs Toyota Fortuner Interiors
Image – Mahindra XUV interiors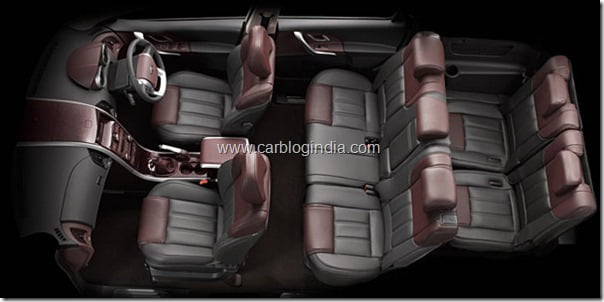 Image – Mahindra XUV interiors
XUV is a modern car and this is expressed by the interior styling and features. The leather upholstery, two tone colour theme on the dashboard and door trims, latest gizmos etc. will leave you spellbound. In terms of features one would get Laptop storage compartment in the glove box, conversation mirror and sunglass holder, voice command activated control, a 6 inch touchscreen infotainment system with GPS navigation and iPod connectivity, 6 airbags, steering mounted buttons for audio control and Cruise Control, ABS with EBD, ESP with rollover mitigation, Hill Hold and Hill Descent control, foldable 2nd and 3rd row seats, premium leather upholstery, tilt and telescopic steering column etc. The plastic quality and the legroom in third row may not be impress you but overall it is very much acceptable.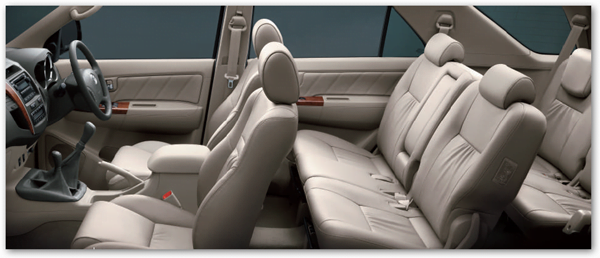 Image-Toyota Fortuner Interiors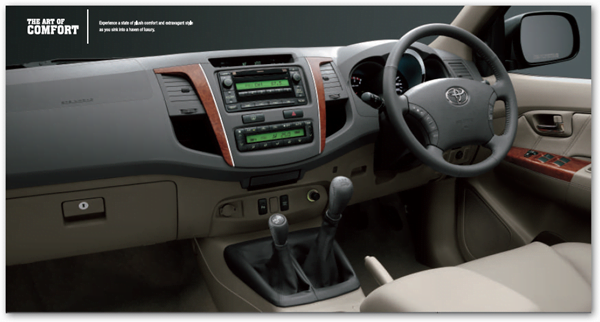 Image-Toyota Fortuner Interiors
Toyota has done a very disappointing job on the inside of Fortuner as they have modified the Innova's dashboard, made it black and fitted the same into Fortuner. We certainly expected some innovative design but unfortunately the manufacturer has not amazed us as far as the interiors are concerned. On the features front it comes with GOA Body, SRS Airbags (Driver + Passenger), ABS, Back Sonar, Immobilizer, Dual Auto A/c (with Rear Air Conditioner Switch & Ceiling Vents for 2nd & 3rd Rows), Power Steering with Audio & MID Control Switches on Steering Wheel, Power Windows with Driver Side Auto Up-Down, Tilt Steering Column, 2 DIN 6CD Changer (MP3, WMA), AM&FM Audio System with 6 Speakers, Keyless Entry, Power Door Lock, MID (Multi Information Display), Optitron Combimeter with Illumination control, Chrome Inside Door Handles, Wood Finish Panels etc. The plastic quality is better and also the space in the third row is slightly more than XUV.
Mahindra XUV500 Diesel Engine Vs Toyota Fortuner Diesel Engine
Mahindra XUV Diesel Engine Specifications
2.2 Litre mHawk Diesel Engine
Transverse CRDI Diesel Engine
Variable Geometry Turbocharger
Max power of 140 BHP @ 3750 RPM
Max Torque of 330 Nm @ 1600 to 2800 RPM
6 Speed Synchromesh Cable Shift manual transmission
4 Wheel Drive and 2 Wheel Drive Options
ARAI Certified mileage of 15.1 KMPL
Toyota Fortune Diesel Engine Specifications
Type: D-4D Diesel with Intercooler Turbocharger, 4 Cylinders In-line
Valve Train: 16 Valve DOHC
Displacement (cc): 2982 cm³
Fuel Supply System:  Common-Rail type
Max. Output: 170 BHP @ 3600 rpm
Max. Torque: 343 Nm @ 1400-3400 rpm
ARAI certified mileage of 12.55 KMPL
The Fortuner has a significantly bigger 3.0 Liter engine which is capable of producing 170 BHP of power and 343 Nm of torque in the range of 1400-3400 RPM. The gets a smaller 2.2 Liter engine capable of developing an appreciable 140 BHP and 330 Nm of torque. So Fortuner is definitely ahead but when it comes to mileage the XUV overtakes the former. XUV has a certified mileage of 15 KMPL as against Fortuner's 12.55 KMPL.
Mahindra XUV500 Diesel Performance And Handling Vs Toyota Fortuner Diesel Performance And Handling
Mahindra needs an applaud for the brilliant engine and suspension it has put in the XUV which lets the same show its reflexes on all types of terrains. Whether its bumpy or curvy or a straight road XUV does all like a charm.
But the Fortuner is still the ruler in the off-road category. The real off-road feel of the Fortuner is excellent and the tough instinct is awesome. All in all though the XUV is just near, the Fortuner is still the leader in performance and handling.
Mahindra XUV500 Diesel Price Vs Toyota Fortuner Diesel Price
Mahindra XUV500 Price Ex-Showroom Delhi
Mahindra XUV500 W6 4×2 is priced at Rs. 10.80 Lakhs
Mahindra XUV500 W8 4×2 is priced at Rs. 11.95 Lakhs
Mahindra XUV500 W8 4×4 is priced at Rs. 12.88 Lakhs
Toyota Fortuner Price Ex-Showroom Delhi
Toyota Fortuner is priced at Rs. 20.45 Lakhs
No doubt the Fortuner is very pricy when compared with the XUV500 and there is no way it could be compared with the same in terms of pricing but we must remind you that XUV offers a number of great features which are not present in Fortuner making it much better value for money.
Car Blog India Verdict-Mahindra XUV500 Diesel Price Vs Toyota Fortuner Diesel
I believe the verdict is too simple to take but i would still like to mention the pros and cons of both the vehicles so that you understand the two more closely. The XUV is loaded with features, has six speed gearbox, offers better safety features, is value for money and has great mileage. Some bad things about the same include literally no boot space and inferior plastic quality.
The Fortuner on the other is a typical SUV with amazing off-roading manners, better ride quality and brilliant built but at the same time lacks in terms of features and is nearly 7 Lakhs costlier than XUV.
check out more-