The newly launched Honda City is being appraised all over and we are busy bringing you the relevant comparisons. After comparing the City with Hyundai Verna Fluidic, a detailed comparison between new Honda City and Maruti SX4,  its time to move to the next competitor in the list in our car comparison series on Car Blog India. Lets compare the New Honda City 2011 with Volkswagen Vento.
2011 Honda City Exteriors Vs Volkswagen Vento Exteriors
The previous City has been restyled to meet the changing tastes of Indian customers. The new City is more inviting and amazing as ever before and the credit is to be given to additional features like rear view mirrors with Turn Indicators, New Design 10 Spoke Alloy wheels, Premium Chrome Front Grille, New Design rear bumpers with Reflectors,increased ground clearance, Sporty new Front Bumper and Rear Combination Tail Lamps.

image – New Honda City 2011 (left) and Volkswagen Vento (right)
Volkswagen has effectively injected the European styling in the Indian auto industry with the introduction of Volkswagen Polo and Vento. The look of Vento is brilliant and the charm is unmatched. The design has been kept extremely simple with minimum dynamic lines.
2011 Honda City Dimensions
Overall Length 4440 mm
Overall Width 1695 mm
Overall Height 1485 mm
Wheelbase 2550 mm
Volkswagen Vento Dimensions
Length (mm):  4384
Width (mm):   1699
Height (mm):  1466
Wheelbase (mm):  2552
Vento and City are very much at par in terms of proportions and its hard to say which one is better. All we can compare them is on looks where the City seems to get the edge with its restyling.
2011 Honda City Interiors Vs Volkswagen Vento Interiors
image-2011 Honda City Interior
The City is a very comfortable car and Honda has made it better with the addition of new features. The plastic quality is once again exceptional and the fit & finish is brilliant. New added features are Cruise Control, Better Quality Seat Fabrics, Blue Meter Graphics, Chrome garnished central console, Chrome door handles and silver linings on interior door trims, New Integrated audio system starting from E Variant with USB, iPod support with remote control, Aux-input, MP3, AM/FM Radio and speed based volume compensation, dual front SRS airbags, ABS with brake assist, EBD, G-CON, ECU immobilizer system, rear defogger etc.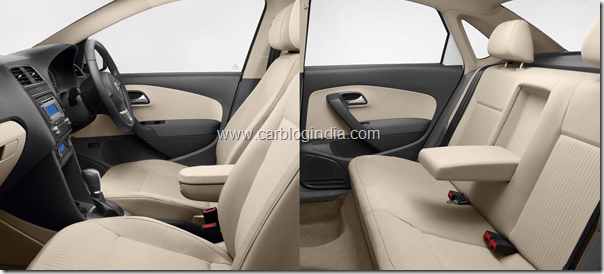 image-Volkswagen Vento Interior
Vento's interiors are really good in terms of quality and fit but the number of features are less. Volkswagen has concentrated less on this part. Features on the inside include ABS, dual Airbags, Electronic Immobilizer, Body Colored Dorr handles & ORVM, CD / MP3 Player with 4 speakers, Electronically adjustable Outside rear view mirrors, Automatic Climate Control, Air conditioning Vents at Rear and Front, Remote Central Locking, Height Adjustable Driver Seat, adjustable Steering Wheel.
Considering the space and looks and features, City is leading with a small margin. Vento is equally good but it lacks some features.
2011 Honda City Petrol Engine Vs Volkswagen Vento Petrol Engine
2011 Honda City Petrol Engine
SOHC 4 Cylinder 16 Valve i-VTEC VVTI Engine
PGM-FI 1.5 Litre MPFI Petrol Engine
Displacement 1497 CC
Max Power of 118.4 BHP @ 6600 RPM
Max Torque of 145 Nm @ 4800 RPM
5 Speed Manual Transmission or 5 Speed Automatic with Grade Logic Control with torque converter
ARAI tested mileage of 16.8 KMPL
Volkswagen Vento Petrol Engine
The City has a more powerful engine which provides better power and almost equal torque. Mileage wise there is again a very small difference of 1 KMPL taking the City ahead. Undoubtedly the City has a better and more refined engine over Vento and therefore City is our pick.
2011 Honda City Petrol Handling & Performance Vs Volkswagen Vento Petrol Handling & Performance
City has always been known for its good handling and driving characteristics but Vento, unlike other cars, is a tough competitor and is also popular because of its good road manners imparted by its stiff suspension. If comfort is to considered City beats the Vento yet again, but in handling, Vento is sharper than City.
2011 Honda City Petrol Price Vs Volkswagen Vento Petrol Price
New Honda City price in India Ex-Showroom Delhi:
Honda City 2011 Corporate  MT is prices at Rs. 6.99 Lakhs
Honda City 2011 E MT is prices at Rs. 7.70 Lakhs
Honda City 2011 S MT is prices at Rs. 8.20 Lakhs
Honda City 2011 V MT is prices at Rs. 8.70 Lakhs
Honda City 2011 V AT is prices at Rs. 9.42 Lakhs
Honda City 2011 V MT with Sunroof is prices at Rs. 9.50 Lakhs
Honda City 2011 V AT with Sunroof is prices at Rs. 10.22 Lakhs
Volkswagen Vento Price In India Ex-Showroom Delhi:
Volkswagen Vento 1.6 L Petrol Trendline with Manual Transmission at Rs. 6.99 Lakhs
Volkswagen Vento 1.6 L Petrol Highline with Manual Transmission at Rs. 8.23 Lakhs
Volkswagen Vento 1.6 L Petrol Highline with Automatic Transmission at Rs. 9.21 Lakhs
Honda City Corporate MT Vs Volkswagen Vento Trendline
City Corporate is a newly launched and most basic model with minimum features. Please do not take the word minimum literally as Honda is providing all the safety features including airbags, ABS and EBD with the same model. This could be a plus point for Honda as the Trendline Vento is not offered with any of these. So definitely the City is the winner.
Honda City S MT Vs Volkswagen Vento Highline Manual
The highline is the top end model and comes with all the features and is priced at 8.2 Lakhs. The closest City variant to this is the City S priced at 8.2 Lakhs. Here is where the City lags as the Vento is offered with all the mentioned features at the price of City S. But the catch is that City's features are better but since the Indian automobile segment is price conscious, Vento takes the lead here.
Honda City V AT Vs Volkswagen Vento Highline Automatic
V City automatic is priced at 9.4 Lakhs in comparison to Vento's Highline Automatic at 9.21 Lakhs. Considering the features both get all the amazing features but City is certainly better in all senses. So even if you are spending a little extra for City, it is worth it.
CarBlogIndia Verdict-2011 Honda City Petrol Vs Volkswagen Vento Engine
The battle is extremely difficult to win since both the cars have their own charisma and strong points. Vento is solid and is priced at par with the very elegant and popular Honda City. Though at some points Volkswagen seems to be taking the lead, but overall as a package Honda as always proved itself.
Since both the cars are praiseworthy I would definitely suggest you to go take a test drive and feel the cars personally. That will help you decide better. But if you ask us City would be our choice even if it is slightly pricier.
check out more-