The car comparison series on Car Blog India moves a step ahead with this comparison post where we will try to find out, of Nissan Sunny diesel and and Skoda Rapid diesel, which sedan is better.
Skoda Rapid Exteriors Vs Nissan Sunny Exteriors
The two cars are quite different as far as the fundamentals of design are concerned. Talking about the Rapid first, it is a Vento with a plastic surgery done. The whole body is shared with Volkswagen Vento and only the front gets a drastic change. Rapid is a Skoda Fabia based sedan, therefore the front is of Fabia whereas the rest has been taken from Vento.
image – Skoda Rapid (Left) and Nissan Sunny (Right)
The Nissan Sunny is a completely new design yet its overall profile matches with that of Nissan Teana, because its an elder sibling. The fit, finish and appearance is really upmarket and it does get your attention.
Skoda Rapid Dimensions:
Length = 4386 mm
Width = 1699 mm
Height = 1466 mm
Wheelbase = 2552 mm
Nissan Sunny Dimensions
Overall Length: 4425 mm
Overall Width: 1695 mm
Overall Height: 1505 mm
Overall Wheelbase: 2600 mm
Sunny is bigger in wheelbase, length and height and there is no doubt it is more spacious. As far as looks are concerned the Rapid is quite sporty and rigid while the Sunny has more of elegance.
Skoda Rapid Interiors Vs Nissan Sunny Interiors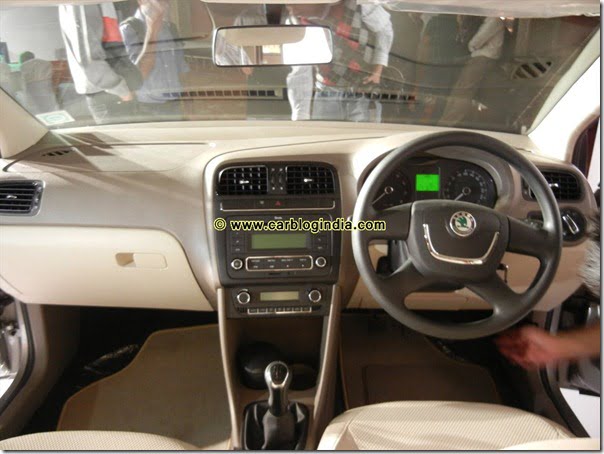 image – Skoda Rapid Interiors
Skoda never compromises on plastic quality and comfort and Rapid is no exception. What is disappointing about the car is its appearance on the inside. The car shares most of the interior sections, dashboard, instrument panel with Vento and except for the steering wheel, all looks resembling. Highlighting features offered include front and rear fog lamps, rear windscreen defogger, dual air bags, head adjustable front seatbelts and head restraints, ABS with dual brake assist, fuel supply cut-off in crash, Engine immobilizer, front and rear center armrest, 2DIn audio system with password lock and large format display with card reader and AUX-in support, Automatic climate control, dual rear air conditioning vents etc.

image-Nissan Sunny sedan Interiors
Nissan has done a goof job with the introduction of Sunny. Apart from good looks it offers spacious interiors and appreciable features which include ABS + EBD + Brake Asset, Engine immobilizer, Driver airbag(All models), Front Passenger airbag, Anti Theft Device with alarm, Front Fog lamps(XV), Door Ajar warning, Speed Sensing Auto Door Lock, Rear Defogger, Electrically Folding Outside Mirror(XV), Electrically Adjustable Outside Mirror, Drive Computer, Tachometer, Integrated Audio system with 4 speakers and AUD-in support, Chrome plated inside door handles, Electric Power Steering, Steering tilt adjustment, Auto AC with filter – XL and XV, Rear Comfort Fan(Specifically for Indian model), Driver Power Window with Auto down and Anti-Pinch Function, Boot Lamp, Remote Keyless Entry, Intelligent Key with Push Button Ignition(XV only) etc.
If space, comfort and features are considered, the Sunny is marginally ahead of Rapid.
Skoda Rapid Diesel Vs Nissan Sunny Diesel Engine
Skoda Rapid Diesel Engine Specifications
Engine Type- 1.6 Litre TDI high pressure direct injection
Max Power- 105 BHP @ 4400 RPM
Max Torque – 250 Nm @ 1500-2500 RPM
Transmission Options – 5 Speed Manual Transmission
ARAI certified mileage of 20 KMPL
Kerb Weight = 1205 Kg
Nissan Sunny Diesel Engine Specifications
8 Valve K9K CRDI Diesel Engine
4 Cylinder SOHC Engine
Displacement 1461 CC
Fuel Efficiency 21.64 KMPL
Max Power 85 BHP @ 3750 RPM
Max Torque 200 Nm @ 2000 RPM
5 Speed Manual Transmission
Kerb Weight 1092 to 1097 KG Kg
If performance is what you like then Rapid is the one you should go for. Rapid's engine develops 105 BHP of power and 250 Nm of torque which is ahead of Sunny's 85 BHP and 200 Nm. Mileage is also not a concern for these two as Sunny offers 21.64 KMPL whereas Rapid delivers 20 KMPL.
Skoda Rapid Diesel Performance & Handling Vs Nissan Sunny Diesel Performance & Handling
The Skoda Rapid has a stiff suspension which might feel slightly bumpy on bad roads. The Sunny is definitely more comfortable but when it comes to handling and driving dynamics, then Rapid surely impresses you.
Skoda Rapid Diesel Price Vs Nissan Sunny Diesel Price
Skoda Rapid Diesel Ex-showroom Delhi
Skoda Rapid Active 1.6 TDI CR : Rs 7.95 Lakhs
Skoda Rapid Ambition r1.6 TDI CR : Rs 8.29 Lakhs
Skoda Rapid Elegance 1.6 TDI CR : Rs 9.19 Lakhs
Nissan Sunny Diesel Price Ex-Showroom Delhi
Nissan Sunny XL Diesel is priced at Rs. 7.98 Lakhs
Nissan Sunny XV Diesel is priced at Rs. 8.78 Lakhs
Skoda Rapid Active Vs Nissan Sunny XL
The Active is the most basic version of Rapid and lacks many features. On the other hand Sunny XL which is priced same, offers most of the features like automatic climate control, steering mounted controls, ABS EBD, airbags etc. So the clear winner has to be Sunny Xl and not Rapid active.
Skoda Rapid Ambition/Elegance Vs Nissan Sunny XV
The Sunny XV is the top end model with loads of features and is equally loaded as the Rapid Elegance top end but there is a difference of nearly 40 k between the two. Skoda also offers a mid range Ambition variant which is low on features by comparison to Elegance but again if you are going to spend 8.3 Lakhs on Rapid Ambition, why not buy the Sunny XV at 50 k extra.
Car Blog India Verdict- Skoda Rapid Diesel Vs Nissan Sunny Diesel
Sunny is a value for money car and offers good features at less cost. The Rapid is slightly pricier for the same number of features but it compensates with its more powerful engine. So if you need comfort and features for somewhat lesser, go for Sunny. But if you are a die hard performance lover, I would suggest that Rapid could fulfill your requirements better.
check out more-
More Related News