With the entry of Nissan Sunny in the Diesel sedan segment, the competition surely has risen and cars like Volkswagen Vento, Toyota Etios need to be very careful as Sunny is extremely potent and value for money car. The petrol version was launched a few months back which really created a stir because of its pricing and yesterday the company has launched the diesel version of it.
This article in in continuation to our car comparison series on Car Blog India. Through this post we would aim at coming to a conclusion on whether the Nissan Sunny diesel is better or the Volkswagen Vento diesel.
Nissan Sunny Exteriors Vs Volkswagen Vento Exteriors
image – Nissan Sunny (left) and Volkswagen Vento (right)
Big headlamps, chrome garnish around the grille, Nissan Teanatype of side profile are the key features on the exterior of Sunny. Although not much efforts have gone into the design of Sunny and the overall appearance have been kept simple, it looks elegant enough. One of the most important and noticeable thing about Sunny is that despite being an entry level sedan, it looks upmarket and seems to be belonging to an upper premium segment. All the credit for this is to be given to its extremely good built featuring one of the best fit and finish in its class.
The Vento has been existent for quite some time now and is a tough competitor in terms of road presence and built. These are some of the strong attributes of Vento which is a Volkswagen Polo based sedan. Typical European styling is what draws your attention and in terms of looks it is definitely better than Sunny.
Nissan Sunny Dimensions
Overall Length: 4425 mm
Overall Width: 1695 mm
Overall Height: 1505 mm
Overall Wheelbase: 2600 mm
Volkswagen Vento Dimensions:
Length (mm):  4384
Width (mm):   1699
Height (mm):  1466
Wheelbase (mm):  2552
In proportion the Vento is shorter in height and wheelbase but in length it is better. Vento is definitely better in looks and if these are two be compared on the grounds of appearance, the Vento takes the lead.
Nissan Sunny Interiors Vs Volkswagen Vento Interiors

image- Nissan Sunny Interiors
Sunny's interiors are that of Micra's since they are based on Nissan V-Platform. They both share the same dashboard, instrument panel and central console and there is nothing unique about it.  Features include ABS + EBD + Brake Asset, Engine immobilizer, Driver airbag(All models), Front Passenger airbag, Anti Theft Device with alarm, Front Fog lamps(XV), Door Ajar warning, Speed Sensing Auto Door Lock, Rear Defogger, Electrically Folding Outside Mirror(XV), Electrically Adjustable Outside Mirror, Drive Computer, Tachometer, Integrated Audio system with 4 speakers and AUD-in support, Chrome plated inside door handles, Electric Power Steering, Steering tilt adjustment, Auto AC with filter – XL and XV, Rear Comfort Fan(Specifically for Indian model), Driver Power Window with Auto down and Anti-Pinch Function, Boot Lamp, Remote Keyless Entry, Intelligent Key with Push Button Ignition(XV only) etc.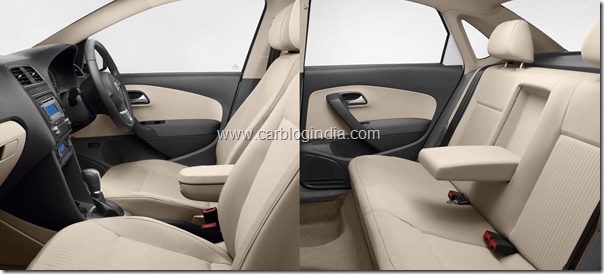 image- Volkswagen Vento Interiors
The Vento is as European on the as on the interiors. It has two tone dashboard with beige interiors. The designing is simple and quite nice and features include Sunglass Storage Inside Glove-box, Foldable roof handles, Front and Rear Seat Arm-rests in center, Cup-holders, Livon Fabric Upholstery, Body Colored Bumpers, Chrome Front Grille, Fog Lamps, Tinted green strip on windshield, ABS, dual Airbags, Electronic Immobilizer, Body Colored Dorr handles & ORVM, CD / MP3 Player with 4 speakers, Electronically adjustable Outside rear view mirrors, Automatic Climate Control, Air conditioning Vents at Rear and Front, Remote Central Locking, Height Adjustable Driver Seat, Adjustable Steering Wheel etc.
Nissan Sunny Diesel Engine Vs Volkswagen Vento Diesel Engine
Nissan Sunny Diesel Engine Specifications
8 Valve K9K CRDI Diesel Engine
4 Cylinder SOHC Engine
Displacement 1461 CC
Fuel Efficiency 21.64 KMPL
Max Power 85 BHP @ 3750 RPM
Max Torque 200 Nm @ 2000 RPM
5 Speed Manual Transmission
Kerb Weight 1092 to 1097 KG Kg
Power to weight ratio of 77.6 BHP per 1000 Kg
Volkswagen Vento Petrol Engine Specifications:
4 Cylinder inline DOHC Engine
Displacement 1598 CC
Fuel Efficiency 20.5 KMPL
Max Power 103.6 BHP @ 4400 RPM
Max Torque 250 Nm @ 1500 to 2500 RPM
5 Speed Manual Transmission
Kerb Weight 1190 to 1220 Kg
The Sunny gets a smaller and less powerful engine but has a marginally better mileage of 21.64 KPML. It generates 85 BHP and 200 Nm in comparison to Vento's 103.6 BHP and 250 Nm. Having a more powerful engine in the sedan category is definitely advantageous and therefore Vento is ahead.
Nissan Sunny Diesel Performance & Handling Vs Volkswagen Vento Diesel Performance & Handling
With no doubt the Vento has a stiffer and better suspension and the ride quality is good. Even at around sharp bends the Vento is better. The Sunny has a softer and more comfortable suspension but owing to better power & torque figures and better suspension the Vento is once again ahead.
Nissan Sunny Diesel Price Vs Volkswagen Vento Diesel Price
Volkswagen Vento Variants Price(Ex-showroom Delhi)
Volkswagen Vento 1.6 L Diesel TrendLine is priced at Rs. 8.17 Lakh(approximately)
Volkswagen Vento 1.6 L Diesel HighLine is priced at – Rs. 9.44 Lakh(approximately)
The Nissan Sunny Ex-showroom Delhi prices are as below:
Nissan Sunny XL Diesel is priced at Rs. 7.98 Lakhs
Nissan Sunny XV Diesel is priced at Rs. 8.78 Lakhs
Since there are only two models, we will compare them one on one.
Nissan Sunny XL Vs Volkswagen Vento Trendline
Unlike the petrol variants which do not come with essential features, the diesel variants are offered with most of them. So it would be smarter to consider what you don't get with the XL and Trendline variants than considering what you do get. The Trendline does no have alloy wheels, body coloured door handles, chrome inserts on the exterior, rear, center armrest, superior fabric upholstery, interior chrome inserts etc. On the safety front the Trendline Vento does not get ABS (Anti-lock Braking System), Dual airbags, driver and co-driver side, Fog lights, Anti-theft system with interior surveillance and back-up alarm and Pinch-guard safety for all 4 power windows.
The XL Sunny does not offer electric folding outside mirror, alloy wheels, fabric and chrome inserts on the interiors, intelligent key with push button ignition, and front fog lamps. All in all with the price difference, the Sunny seems to be a better deal as the Volkswagen lacks a number of features at almost the same pricing, which Sunny offers. Therefore undoubtedly the Sunny XL is the winner.
Nissan Sunny XV Vs Volkswagen Vento Highline
The Vento Highline and Sunny XV do come with all the above mentioned features but the pricing of the two has a major difference of over Rs 45,000. So once again the Sunny wins.
Car Blog India Verdict-Nissan Sunny Diesel Vs Volkswagen Vento Diesel
Vento has a clear advantage because of its looks, handling and performance and powerful engine. If features are to me considered there is not much difference between Vento and Sunny. So if someone wishes to own a more powerful car that is good in looks and can shed some extra money go for Vento.
On the contrary if you want all the features at a lesser price and want comfort and can sacrifice looks then Sunny is the best car out there in the market.
check out more-
More Related News