Nissan has finally entered the competition with the new Nissan sunny sedan and we have been comparing it with each of the potential competitors in our car comparison series on Car Blog India and now continuing the same we will compare the Sunny petrol with Volkswagen Vento petrol today.
Nissan Sunny Exteriors Vs Volkswagen Vento Exteriors
Sunny is a since piece of work and the simple yet elegant design shows the same. Big headlamps, chrome garnish around the grille, Nissan Teana type of side profile, are some of the characteristic features. On the outside the build quality and finish is appreciable and the first impression does make you assume that it belongs to an upper segment. Sunny is not an eye candy yet it is attractive enough to bring a smile to your face.
The Vento, which is a Polo sedan, is a masterpiece and even after existing in the market for quite some time now, it still carries a unique charm. The beautiful and sharp body of the Vento expresses the aggressive designing cues that Volkswagen has adopted. Sporty skirting, a typical European designing, well shaped fenders add a lot of substance to the car and make it look marvelous.
Volkswagen Vento Dimensions:
Length (mm):  4384
Width (mm):   1699
Height (mm):  1466
Wheelbase (mm):  2552
Nissan Sunny Dimensions
Overall Length: 4425 mm
Overall Width: 1695 mm
Overall Height: 1505 mm
Overall Wheelbase: 2600 mm
The Vento is shorter in terms of height and wheelbase but is slightly lengthier. Overall going by the dimensions it seems that the Sunny is slightly ahead in terms of space. But if you consider the looks then definitely Vento is better.
Nissan Sunny Interiors Vs Volkswagen Vento Interiors

image- Nissan Sunny Interiors
Sunny has derived most of the parts on the inside from Nissan Micra as both are based on the Nissan V-Platform. The well built and finished dashboard with a circular AC cluster is unique and looks nice. It is quite spacious on the inside and also gets two rear fans for passengers sitting at the back. Other features include ABS + EBD + Brake Assist, Engine immobilizer, Driver airbag(All models), audio system with AUX- in connectivity, Auto AC, Front Passenger airbag(XL and XV only), Anti Theft Device with alarm(XL and XV) etc..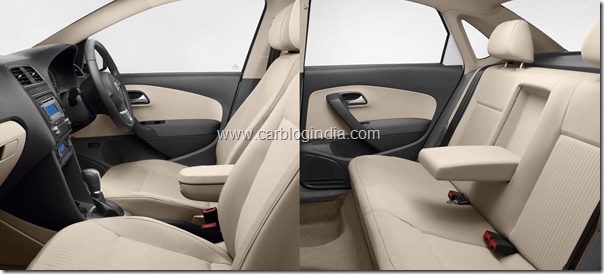 image- Volkswagen Vento Interiors
The Vento is typically European and classy in styling. It has two tone dashboard with beige interiors. The designing is simple and quite nice. In terms of space, the Vento is also satisfactory. Some of the highlighting features include ABS, dual Airbags, Electronic Immobilizer, CD / MP3 Player with 4 speakers, Electronically adjustable Outside rear view mirrors, Automatic Climate Control, Air conditioning Vents at Rear and Front, Remote Central Locking, Height Adjustable Driver Seat, tilt and telescopic steering wheel etc.
Nissan Sunny Petrol Engine Vs Volkswagen Vento Petrol Engine
Nissan Sunny Petrol Engine Specifications
Type: HR15DE, DOHC 16 Valves, 4 Cylinder
Displacement(cc): 1498
Maximum Power: 98.6 BHP @ 6000 RPM
Maximum Torque: 134 Nm @ 4000 RPM
Transmission: 5 Speed Manual
ARAI Certified Mileage of 16.95 KMPL
Kerb Weight = 998 Kg to 1027 Kg
Power to weight ratio of 97.6 BHP / 1000 Kg
Volkswagen Vento Petrol Engine Specifications:
The Sunny gets a smaller and less powerful engine but has a marginally better mileage of 16.95 KPML. It generates only 99 BHP and 134 Nm. The Vento develops 105 BHP and 153 Nm of torque but has a mileage of 15 KMPL only. If you consider the power to weight ratio, Sunny comes out to be at advantage with the light Kerb weight.
Nissan Sunny Petrol Performance & Handling Vs Volkswagen Vento Petrol Performance & Handling
The Sunny is good for city driving and has got a fairly good suspension. The ride is also comfortable but you may feel less confident around sharp bends.
The Vento gets a very stiff suspension which is amazing for sporty driving and high speed maneuver. The car is also good at corners but is less comfortable than the Sunny in terms of ride comfort.
Nissan Sunny Petrol Price Vs Volkswagen Vento Petrol Price
Volkswagen Vento Variants Price(Ex-showroom Delhi)
Volkswagen Vento 1.6 L Petrol Trendline with Manual Transmission at Rs. 6.99 Lakhs
Volkswagen Vento 1.6 L Petrol Highline with Manual Transmission at Rs. 8.23 Lakhs
Volkswagen Vento 1.6 L Petrol Highline with Automatic Transmission at Rs. 9.21 Lakhs
The Nissan Sunny Ex-showroom Delhi prices are as below:
Nissan Sunny XE Petrol is priced at Rs. 5.78 Lakhs
Nissan Sunny XL Petrol is priced at Rs. 6.88 Lakhs
Nissan Sunny XV Petrol is priced at Rs. 7.68 Lakhs
The Sunny is well priced as the base model starts at just 5.68 Lakh. The top end model has been priced around Rs. 7.68 Lakh which comes with all the features one would want to have in a luxurious sedan. The Vento starts at Rs. 7 Lakh which is comparatively high and also the Highline Manual comes at a whopping 8.23 Lakh, a 1.23 Lakh difference than the base. Since the Sunny does not come with an automatic option, we would not like to compare the Highline Automatic.
Car Blog India Verdict-Nissan Sunny Petrol Vs Volkswagen Vento Petrol
I believe with the Sunny, Nissan has come a long way and the pricing is just so inviting. Feature wise it is no where less than the Vento but definitely even the Base Sunny is better than the Base Vento.
Sunny is a better choice as it fuel efficient, spacious, comfortable and also has better features. With Sunny you get more value in terms of features, more space and a better power to weight ratio. One on the major downside compared to Vento is that Sunny does not match up to the driving dynamics of the Vento.
On the contrary if you are a fan of German engineering and can afford to spend more to get a Volkswagen made car with better road dynamics, Vento would suit you better.
check out more-