While it is not common to drag race two huge SUVs, powerful modern engines and monocoque construction allows for something like this nonetheless. Let us see who comes out on top.
We came across a video showing a drag race between a Mahindra XUV700 and the Alturas G4. To make things fair, both these SUVs are diesel variants. While the Alturas G4 is a full-size 7-seat SUV, the XUV700 is a mid-size 7-seat SUV. However, the XUV700 is a bit lighter and also has a bit more power. Both these SUVs will have the AC switched off and the drive mode set to the most sporty mode. Will it work to its advantage or will the bigger SUV take home the prize and bragging rights, let us find out?
Also read: Watch First Ever Mahindra XUV700 With Luxurious Custom Interior!
Drag Race of the Mahindras – XUV700 vs Alturas
The duo starts the race in the most sport settings of both the SUVs. In the first attempt, the Mahindra Alturas G4 has a better start and zooms ahead at launch. However, after crossing the speed of around 90 km/h, the XUV700 overtakes the big SUV with conviction. The drivers repeat the race but the result remains unchanged. In the next phase, the drivers swap the SUVs. In this case, the launch of the XUV700 was great which is why it remained significantly ahead of the G4 throughout the drag strip. The XUV700 won in the second attempt too. But what is more impressive is the sheer domination that it exhibited in these attempts. The more powerful engine and a lighter body contribute to these results.
Also read: Order Mahindra XUV700 Now, Get Delivery in Mid-2023!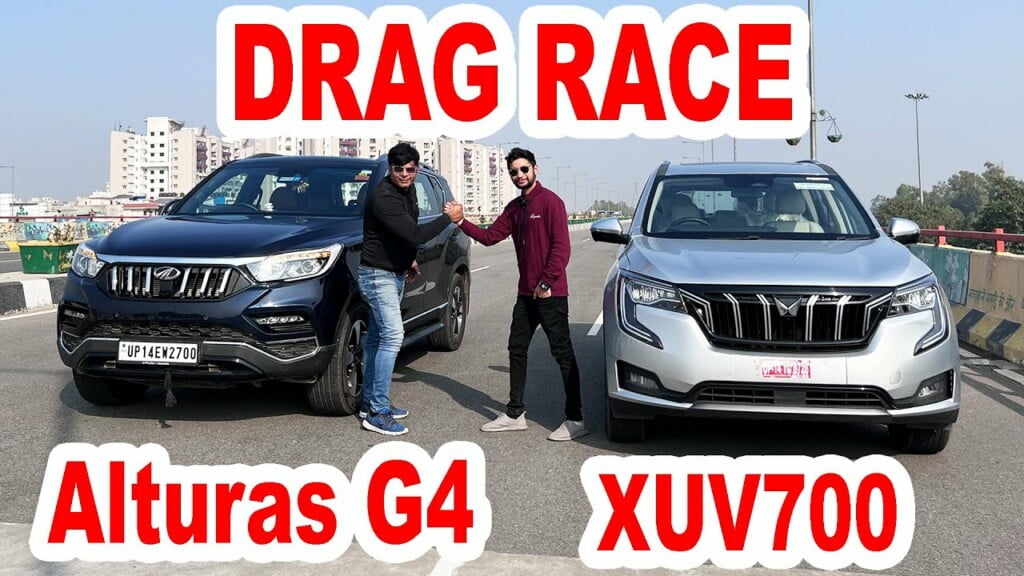 Specs Comparison
Both these SUVs are powered by Mahindra's 2.2-litre diesel engine. While the Alturas G4 makes 180 PS and 420 Nm of peak power and torque, the XUV700 makes 185 PS and 420 Nm (450 Nm in the automatic variant) respectively. There are options of either a 6-speed manual or an automatic transmission. The top trims of both these SUVs come with a 4×4 drive system. The prices of the Alturas G4 range between Rs 28.77 lakh and Rs 31.77 lakh, ex-showroom. The XUV700 retails from Rs 12.49 lakh and goes all the way up to Rs 22.99 lakh, ex-showroom. Both these SUVs offer great propositions in their respective segments.
Also read: FIRST EVER Mahindra XUV700 AX7 Petrol Ownership Review
Join us for FREE NEWS Updates on our Whatsapp Community or our official telegram channel.