When your car rolls off into a ditch or gets stuck somewhere, you call a tow truck. These people in Kerala however resorted to an elephant to pull a Maruti 800 out of a ditch.
If you have ever called a tow truck to pull your car out of some precarious situation where you have put it, what's the car that usually shows up? Its either a Mahindra Bolero pickup, an Isuzu pickup truck or even a Tata Magic pickup perhaps. But here we have an example of elephant power instead of horsepower, well literally. Elephants have been used in India since ancient times to carry heavy load and with domestication for hundreds of years, they have even learnt a thing or two about rescuing cars perhaps, in this case a Maruti 800.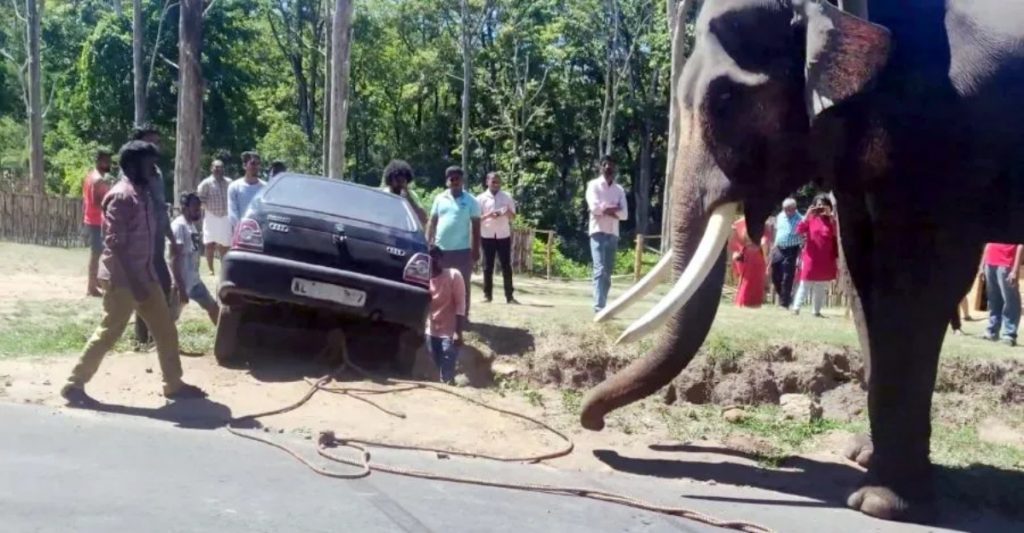 This particular incident took place in Kerala where a Maruti Suzuki 800 rolled off into a ditch head down. It most certainly had to be towed out as the ditch was quite deep and there was no other way it could have made its way out. The scene looks like it was in some rural area and the people came up with an ingenious solution. Instead of calling for a tow truck, the people resorted to an elephant.
The elephant can be seen trying to pull the car out of the ditch using a rope. This is a fully grown adult elephant and it gives the car a couple of light pulls to understand the force that is really needed. After a couple of tries, the elephant single-handedly pulls the car out of the ditch with just one powerful pull with its trunks. Elephants can easily lift from 300kg to about 500kg of weight just using their trunk but the car is certainly heavier than that. The car at least weighs about 700kg but the animal has no problem whatsoever in pulling the car out.
Also Read : This Hyundai Verna Crashes Into A Wall Of Qutub Minar; Goes Up In Flames
This is not a one-off event where an animal has been used for such a task. We have seen several incidents in the past where elephants have been used to pull out even heavier vehicles like a Scorpio or even light trucks in some cases. It is a common sight in India to find domesticated elephants being used for such tasks. They are highly intelligent animals and can be trained to lift heavy weights and even do tasks done by heavy automotive machinery. Elephants are also widely used for transportation in several parts of the country.
Also Read : Watch The Hyundai i20 N Being Tested On a Frozen Lake in Sweden!
However, such things are not really the natural course of actions for such an animal. There are regular encounters of humans and elephants in the many green corridors across India and there have been several instances where these animals have even attacked vehicles. Domestication of such wild animals certainly have a deep impact on the animal's mental health as well. Fortunately, there are many wildlife rescue organizations who strike tirelessly to save such wild animals from domestication.