Recently, the Lamborghini Urus Performante was launched with a 666hp power. Now, the 2023 Ferrari Purosangue comes with 715 bhp power.
The 666hp Lamborghini Urus Performante made a splash last month. It is powered by a 4.0-litre twin-turbocharged V8 engine that offers 666hp of power and 850Nm of torque. The super SUV comes with a top speed of 306kph. It can go from 0-100kph in 3.3 seconds. The new Lamborghini has already set a record in the production SUV category at the Pikes Peak International Hill Climb. Now, the 2023 Ferrari Purosangue has stolen its thunder as it comes with even more power. Let's take a look at a quick Ferrari Purosangue vs Lamborghini Urus Performante comparison.
You May Also Like: This Lovely Ferrari F430 Spider Was a Humble Hyundai Accent in Past Life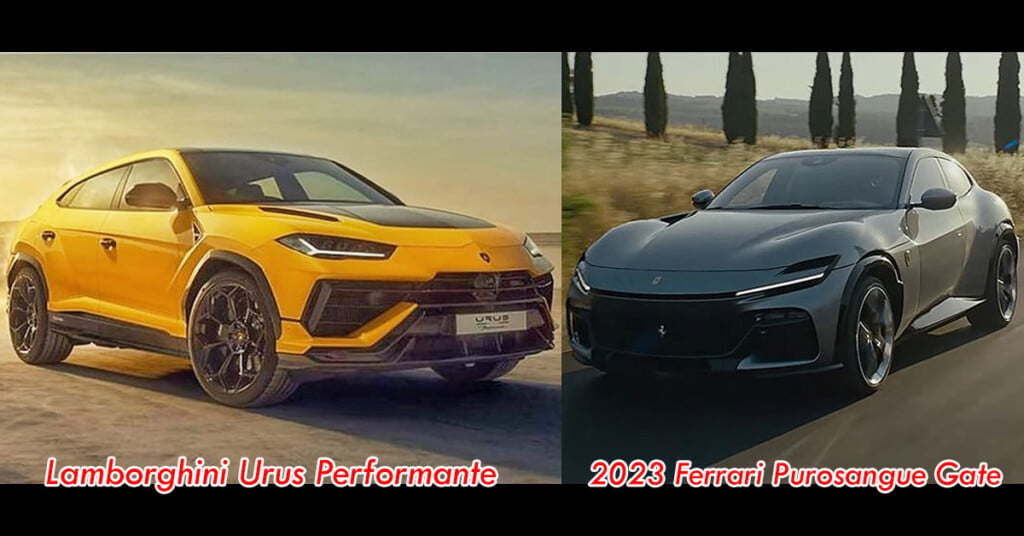 You May Also Like: Famous Lamborghini Urus Owners from Bollywood – Ranveer Singh to Badshah
Ferrari Purosangue vs Lamborghini Urus Performante
The 2023 Ferrari Purosangue is powered by a naturally-aspirated 6.5-litre V12 engine that offers 715 bhp of power and 716 Nm of peak torque. It is paired with 8-speed dual-clutch transmission. The new sports cars also get two-speed front power transmission. It comes with a top speed of 310 kmph (faster than the Urus by 5 kmph). You can go from 0-100 kmph in 3.3 seconds. The new model weighs only 2,033 kg. Thanks to a carbon fibre roof, it has a low centre of gravity. The newly-developed Multimatic active suspension system can automatically adjust the pitch and roll.
In terms of design, the Ferrari Purosangue features a radical look. However, it is essentially a more practical sports car. The hunkered-down appearance is complemented by the pronounced wheel arches and a stout rear section. The rear doors open with a 79-degree swing. The cabin comes with many luxury features including a larger screen on the passenger side. Along with adjustable rear seats, the car gets 373 litres of boot capacity. The ride height can be adjusted up by 30 mm from the standard 180 mm ground clearance.
You May Also Like: Anand Mahinda UNHAPPY With Video of Indo-Americans in Gold Ferrari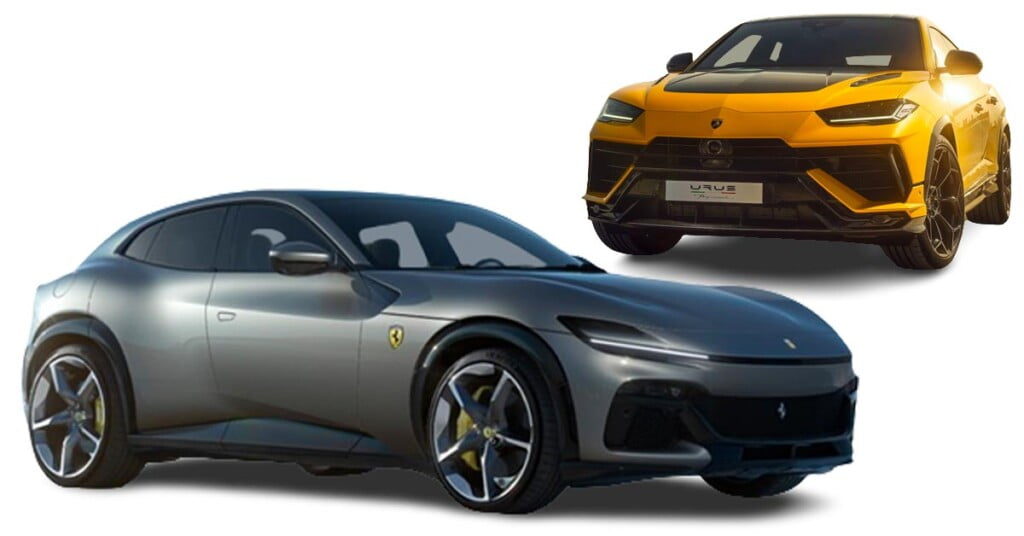 Prices
The four-door Ferrari is expected to launch with an eye-watering price tag of USD 4,00,000. It will arrive in India next year. The Lamborghini Urus Performante is priced at USD 2,60,000 (approx Rs 2.07 crore). Hence, the latter clearly holds an edge over the former in this part of our Ferrari Purosangue vs Lamborghini Urus Performante comparison. As of now, there is no confirmation about the Indian price tag or launch date. The super-SUV gets a carbon fibre bonnet with prominent lines and two functional air vents.
Additional highlights include a carbon fibre roof, optional 23-inch alloy wheels, and a new hexagonal design for the seats. The new rear spoiler aids downforce by 38 per cent. Compared to the previous model, the new car is 20mm lower, 16mm wider and 25mm longer. You can choose from multiple drive modes – Strada, Sport, Rally, and Corsa modes. The new Rally mode is aimed at dirt roads and is tuned to have a bit of oversteer.
Join our official telegram channel for free latest updates and follow us on Google News here.