Here is a rare instance of a Ford Aspire testing the build quality of a Tata Harrier. Both Ford and Tata are known for manufacturing tough and strong products.
In a bizarre turn of events, a Ford Aspire owner collides with a Tata Harrier, putting the build quality of the SUV to test. Tata is renowned for making safe and strong products which are also reflected in the safety ratings of its cars. It gave us the first made-in-India 5-star safety rated Nexon back in 2017. It has grown to number 2 spot in our market because of such safe products. On the other hand, Ford also used to make strong and safe products but has stopped manufacturing in India in 2021. Let us see what happens when the products of these two carmakers collide.
You may also like: Tata Harrier's Dashcam Shows SCARY Driver's POV of Contact With Truck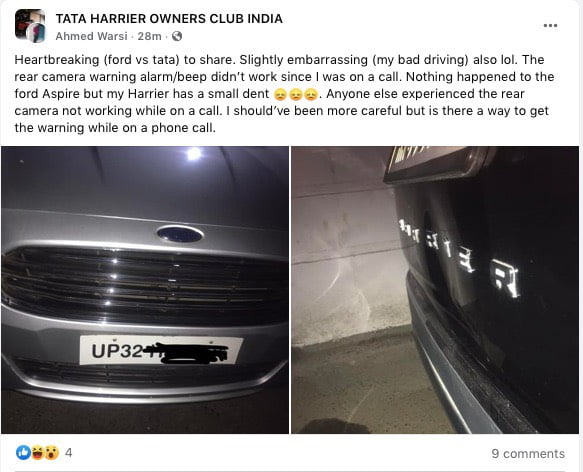 You may also like: Tata Harrier (NCAP – NA) Turns Turtle But Keeps All Safe!
Aspire Tests Build Quality of Harrier
The incident has been shared by the owner of Tata Harrier on Facebook. He confesses that he was a bit careless while driving. He was on the phone while reversing and somehow there was no beep from the reverse parking sensor and camera. The Harrier hit the parked Aspire but luckily, not a high speed. However, the boot of the Harrier seems to have suffered a minor dent.
Interestingly, the Aspire looks like there is hardly any mark of the crash. This is a bit surprising but it is also common knowledge that parts like boot and fenders of cars are made up of plastic to give the desired shape. It is not possible to mould the metal sheet so much to create intricate design patterns. That could be the reason why Harrier suffered the brunt of the impact compared to the Aspire. Modern cars come with plenty of safety equipment and strong bodies. While buying a new car, people take into consideration the safety aspect and build quality of the vehicle.
You may also like: Range Rover-Inspired Tata Harrier R-Edition is lit!
People have become aware of the relevance of safer cars. More and more lives could be saved if cars come with stronger bodies and with safety equipment. the government is also pushing tirelessly towards coming up with new policies to force carmakers to build better cars. Let us know your thoughts on this Ford Aspire testing the build quality of the Tata Harrier.