Ford India looks all set to consolidate its foothold in the ever-expanding Indian car bazaar. While much of this strong growth comes at the back of an updated, more competitive product portfolio, the manufacturer continues to focus on improving its 'After-Sales Services'. Recently, at an event held at Ford Technical Training Centre, Manesar, N Prabhu, Vice-President, Ford Customer Service Operations outlined the manufacturer's multi-tier strategy to attract new customers through a best-in-class after-sales experience whilst offering an outstanding experience to its existing clientele. Here, in this post, you can find highlights of Ford's blueprint for industry-leading after-sales experience.
New Ford Endeavour Review | New Ford Figo Review | Ford Figo Aspire Review
Vast Sales Network
Ford India enjoys a vast sales and service network with 376 outlets across 290 cities. Other than this, Ford India also offers 'satellite' service centers at many Tier-3 and Tier-4 cities of the country. These sub-level service centers ensure that local Ford India customers don't need to face the inconvenience of driving down to the service outlets situated at the nearest Tier-II or Tier-I city by providing all service facilities locally. Another highlight is the launch of new Quick Lane service outlets. Ford Quick Lane service ensures that the waiting period for a customer during the servicing of his Ford vehicle is confined to 45 minutes.
Ford Credit India finances both dealer inventory and consumer purchases. 185 outlets of the Ford Assured, on the other hand, offer complete peace of mind as all cars from Ford Assured are refurbished in state-of-the-art workshops and are sold with flexible warranty options of 20,000 km/1 year on Ford cars as well as select non-Ford vehicles.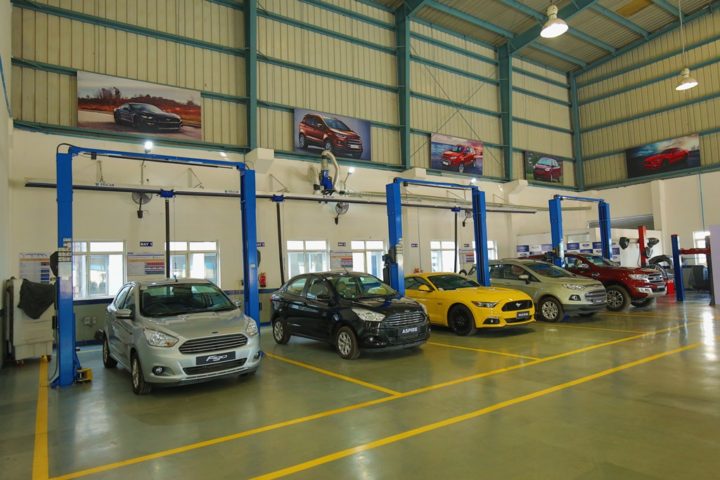 Ford Service Price Promise
Ford India has also come up with the new 'Ford Service Price Promise', whereby Ford customers in India can get to know the exact service price of his or her Ford vehicle on an official website before dropping it at the service center. Using the Cost Calculator, customers today carry a print out of the web quote and get treated to complete trust and transparency with their service experience at any Ford dealership. Talking about this initiative, Mr. Prabhu has said,"By providing details about their vehicle (age of the vehicle, kilometres run etc), the cost of service can be ascertained through all customer touch points such as Ford's Service Cost Calculator and dealer website, menu board at all dealerships, service reminders, and Ford Mobile App."
Competitive Maintenance Cost
Ford India claims that maintaining its new cars, namely the new Endeavour, new Figo and the Aspire, is significantly cheaper than most other cars in their respective segments. Ford India believes that this would help dismiss the false notion of Ford cars being relatively pricier to maintain. It maybe noted that the company has been working with its supplier base to achieve high levels of localization on its new products. This has, in turn, helped the manufacturer to attain a competitive service cost while maintaining a high quality.
Sub Assembly Levels for Repairs
Repairs at 'sub-assembly levels' leads to considerable savings in repair costs. For instance, the new Figo boasts of over 800 sub-components, which, when compared to just 200 sub-components of the old Figo', increases the chances of repairing a component instead of replacing it.
Genuine Parts Distributors
Ford has appointed many genuine parts distributors at key locations across the country. Currently, Ford India has distributors in Delhi, Rajasthan, Punjab, Uttar Pradesh, Gujarat, Goa, Daman & Diu, Maharashtra, Karnataka, Kerala, Tamil Nadu, AP, Telangana, West Bengal, and Guwahati. These ensure easy availability of Ford Genuine Parts to multi-brand workshops and even to a 'roadside' mechanic.
ASSET
Built in partnership with Industrial Training Institute (ITI), Ford has been setting exclusive technical training corner within the premises to train students on Ford technology as part of Motor Mechanic Vehicle (MMV) curriculum. In 2016, Ford has launched ASSET centers across 14 cities in India; one each in Kochi, Bangalore, Pune, Mumbai, Mohali, Chennai, Sonepat, Jaipur, Hyderabad, Kolkata Cuttack, Lucknow, Ahmedabad, and Bhopal.
Vehicle Personalization Centre
The Vehicle Personalization Center provides vehicle customization options to customers to make their Ford cars look 'distinctly theirs.' The option is currently available on Ford EcoSport.
Ford India has been working to improve the after-sales service experience since the launch of the very popular Ford EcoSport in 2013. And now, looking at the company's effort, it would be safe to assume that Ford cars maintenance is bound to get the most competitive in its segment. Stay tuned to Car Blog India for more on the Ford cars maintenance.