This image here shows Ford recalling its cars for inspection related to the DPF issue. There have been many complaints from Ford car owners regarding the DPF issue in the diesel variants. Ford has installed DPF (Diesel Particulate Filter) to tackle the emissions to comply with the BS6 emission norms that were set in place last year. However, there are quite a few issues with the cleaning of this DPF. This is creating a lot of problems for the owners. Now, Ford might actually recall the affected vehicles in diesel variants to fix this issue because the emission norms will be compromised otherwise. Here are the details of this report.
Also read: Ford's Exit From Indian Market to Cost It WHOPPING Rs 5,000 Crore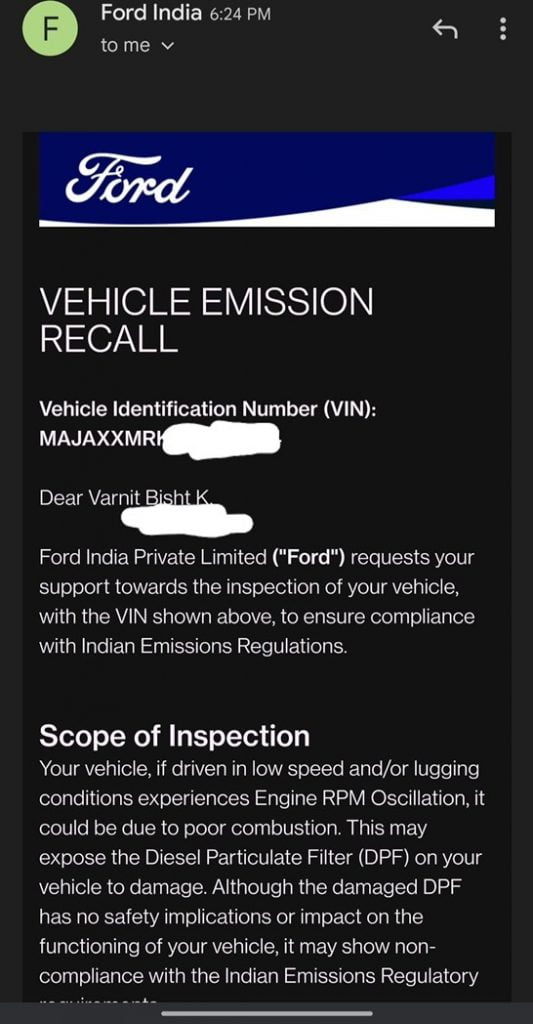 Ford Cars Recalled for DPF Issue
To clean the DPF, one needs to drive the vehicle at around 60 km/h and 2500 RPM for about 25 minutes. This, as one could imagine, is not a feasible solution in everyday driving conditions. As a result, the diesel cars often show the DPF error on the instrument cluster. The car has to be taken to the service centre where the DPF cleaning is done manually by the mechanics. This is causing worry among the owners as no one has so much time to keep cleaning the filter every month (sometimes every week). Hence, many customers have been vocal about their concerns on social media to get a permanent solution. Finally, the time might have come.
Also read: LEAKED! Ford India's C-SUV Looked Better Than Mahindra XUV700, Caused JV Breakup
This image shows that Ford has taken cognizance of the matter. It has officially recalled this vehicle to inspect the DPF of the car. Ford also informs the owner that there is no impact of this on the vehicle. If you are experiencing engine oscillations at low speeds, the reason could be poor combustion. This could potentially expose the DPF and damage it. There are no safety implications of this. However, your car might start to emit higher polluting exhaust gases than normal. This will infringe the India Emissions Regulatory body. Hence, the vehicle will be inspected by Ford to ensure that it isn't the case. This is a great opportunity to get your Ford cars checked for such kind of issue.
Also read: Will You Buy DISCONTINUED Ford Freestyle With Rs 1.40 Lakh Discount?