If you get discounts worth Rs 1.40 lakh on the Ford Freestyle, would you buy it? This is an interesting conundrum considering the fact that Ford no longer manufactures cars in India. Although it has promised to keep offering services to the customer for the foreseeable future, will it be the case on the ground? The answer to that is NO. We have already seen ever since the company left India, that many dealerships are beginning to shut down. Now, obviously, some service centres are still there will offer maintenance and spare parts availability, but it won't be as it was before. The number of such workshops will reduce drastically. In fact, the smaller cities are losing the dealerships rapidly and people are having to travel to bigger cities to get their cars serviced. This is rather cumbersome. But what if you get irresistible discounts on the Ford Freestyle? Will you still buy it?
Also read: Ford Freestyle Owner Has 'Worst' Experience With Dealership Soon After Carmaker Suspends Production!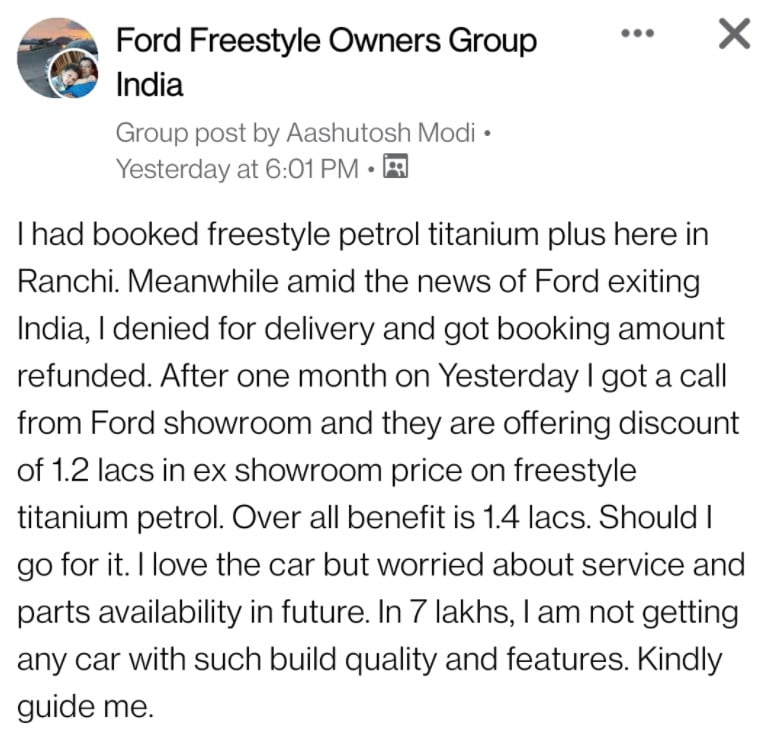 Would You Buy Ford Freestyle With Discounts Worth Rs 1.40 Lakh?
This confusion has been raised by a guy who had booked the Freestyle before Ford announced its exit plan. He then had to cancel the booking because of the same concerns as mentioned above. However, no he received a phone call from the dealership. They were informing him about discounts on the Freestyle worth around Rs 1.40 lakh. This is a huge offer considering the car costs between Rs 7.28 lakh and Rs 9.03 lakh, ex-showroom. The question arises that is it too tempting an offer for a car with great build quality to refuse? The guy has asked for the opinions of other members of the Facebook group.
Also read: Ford Freestyle Completely Crushed Between Buses Keeps Occupant Safe
Well, we agree that it is a great deal. There is no clear answer to this. The thing to consider here is the location of the place where you will be using the vehicle primarily. If you are in a small city with just one Ford dealership around, then we would suggest you not go for it as the service will become an issue in the future. You can't keep travelling to other cities just for a basic maintenance check or routine service. However, if you live in a big city and there are various Ford service centres in your vicinity, then you could think of going for it. It is obvious that you are considering the Freestyle only because you are already a fan of Ford products. Therefore, if it is something you love and is feasible with the service network, this is the best time to buy a Ford product.
Also read: Pics of Last Ford Car Produced in India Leave Us Teary-Eyed!
Join our official telegram channel for free latest updates and follow us on Google News here.