A Ford Freestyle owner describes his dealership experience as the "worst". Ford had earlier announced to stop manufacturing all cars in India. It will still be operational in our market with niche imported products like the Mustang, Mach-E and Ranger/Raptor pickup trucks in the future. Also, the American carmaker promised to keep offering maintenance service and spare parts availability for the foreseeable future. This is done to appease the growing concern among over a million Ford car owners in India. They were worried about the consequences of the Ford group exiting India. Still, a large number of dealerships are shutting down and the service centres will be numbered. The customers alone are left to face the brunt of this predicament. Here is one such example.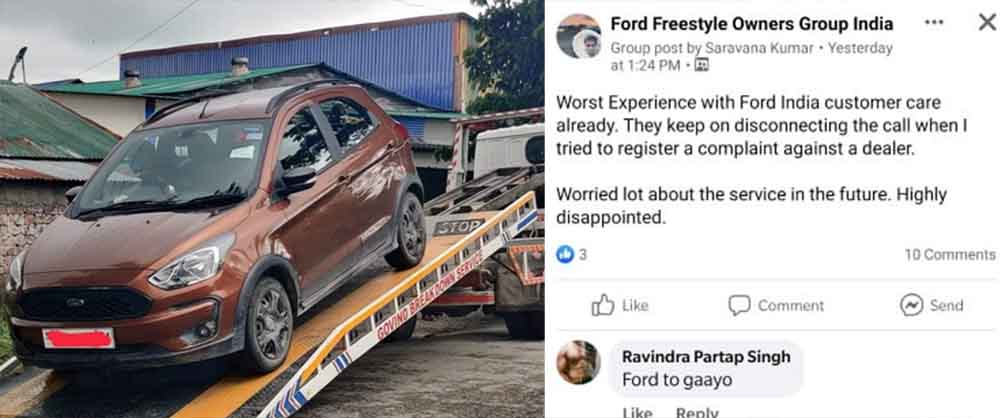 Also read: Ford Freestyle Completely Crushed Between Buses Keeps Occupant Safe
Ford Freestyle Dealership Experience
A certain Saravana Kumar posted on the Ford Freestyle Owners Group India Facebook page explaining his plight. He tried connecting to the customer care service of Ford to register a complaint. However, his call was being disconnected every time. He wanted to lodge a complaint against the dealer. The reason for this is still not clear. The point is that if the customer care service remains inaccessible to the Ford car owners, how will they ever get in touch with the company to report their concerns or demand assistance. This is already a warning sign and raises questions about what might happen in times to come since this incident took place just after a month of Ford announcing its exit. How will it be able to keep up the promise of service to the customers for at least 10 years?
Also read: Latest Ford EcoSport Crash Yet Again Shows Why We'll Miss This SUV!
This is simply one of many instances reported by Ford customers. The problem is DPF in diesel cars from Ford continues to be a challenge for Ford. It has not found any solution for the same and the owners are facing a nightmare taking care of that. Add to that the service woes and people might have no other option than to sell their cars. But considering the overall scenario, not many people are willing to buy Ford cars either. Such dealership experience will definitely be a cause of frustration for Ford Freestyle owners along with other Ford product owners.
Also read: Ford Aspire (3-star NCAP) Tests Build Quality of Maruti Dzire (2-star NCAP)