We have been talking about Ford EcoSport lately and yesterday we produced a couple of spy shots of the car where it was caught testing in Pune. The pictures had three similar looking EcoSport variants of which one was an entry level variant featuring forged wheels and non-painted bumpers.In that particular news we also mentioned that after the car's official launch in Brazil, now it is heading towards China and India.
Beside China and India, Ford wants to launch the EcoSport in Europe too and recently it officially confirmed the same. The company has said that it will launch the compact SUV in Europe in the next 18 months. Which means the EcoSport will make it to Europe towards the end of 2013.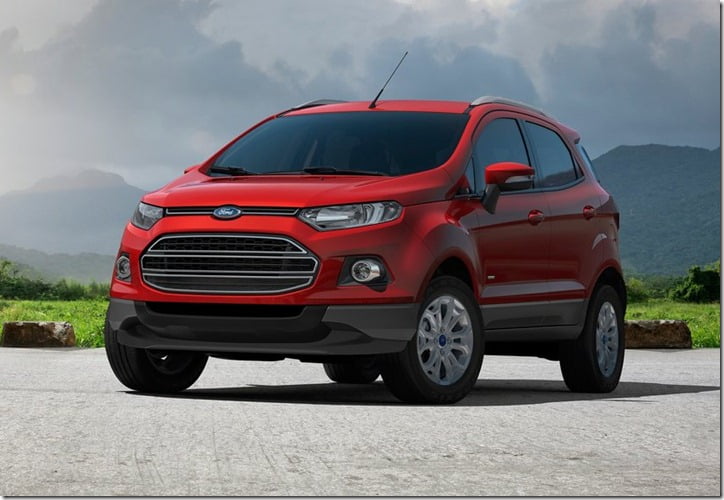 The car is built on Ford B3 platform that is also the base to the 2011 Ford Fiesta and the globally known Ford B-Max. We have been hearing that out of the two expected petrol engines; a 1.0 litre EcoBoost engine and a 1.5 litre engine, the 1.5 litre will make it to the Indian market. On the contrary for the European market, the 1.0 litre EcoBoost Technology engine will be there which is not only claimed to have good power but brilliant fuel efficiency too.
Below is the Ford EcoSport Europe Official TV Commercial video:
Now the European market are experiencing a severe slowdown which means the sales will be low too. In fact the poor financial conditions could cost Ford a hefty loss of up to 1 billion US dollars for the year 2012. To fight against the crawling market conditions, Ford has adopted the One Ford Plan under which it is going to transform more and more European models into global models. Ford plans to take 71% of European models to the global platform, as against the current 41%.
But does it mean Ford is not confident about its products? Probably no, because after the EcoSport launch in Europe it will bring in the next generation Mustang. The Mustang will go global in the year 2015. We have our eyes on the EcoSport European launch, so stay tuned for more updates on the same.
Also Read: Ford EcoSport Spied Testing in USA and Ford EcoSport Launched in Brazil
If you are confused between the Duster and EcoSport, we have compared the Ford EcoSport with the Renault Duster here.