Ford EcoSport has been discontinued in India and its owners are now getting vehicle emission recall notice, without any help from the service centre. Read more to find about Ford EcoSport Owner Gets Recall Notice, Service Centre CLUELESS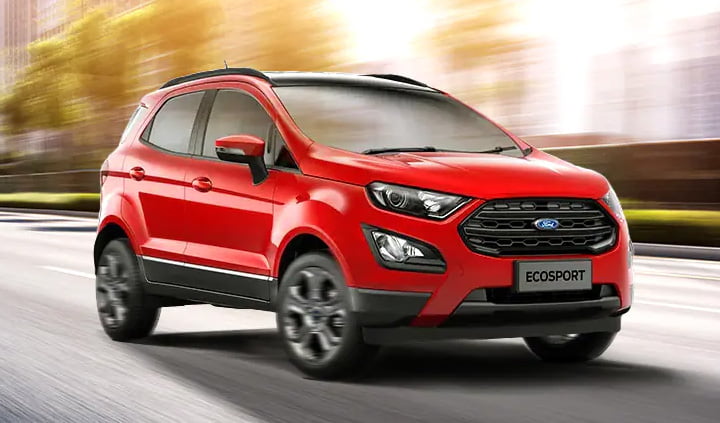 Also read: Fans Continue Buying Ford EcoSport Even After Discontinuation!
Despite a lot of loyal fans, Ford has officially ended its production in India. It was quite popular for offering stability, safety, and more. Now, some of its customers are facing emission inspection and recall notices. Ford announced a recall for select diesel variants of the EcoSport (alongside Figo, Freestyle, and Aspire) in September. So far, it has called back more than 31,000 units. The Ford EcoSport came with a 1.5-liter naturally aspirated petrol engine (120 hp peak power, 149 Nm torque) and the 1.5-liter diesel engine makes (100 hp peak power, 215 Nm torque). The 1.5-liter diesel Ambiente variant (base) of the EcoSport is said to cause higher exhaust tailpipe emissions after a certain period of use. According to Ford, it noticed the issue during in-service tests as per BS6 test procedures.
The affected vehicles are said to be the BS6-compliant models manufactured between January 01, 2020 and June 09, 2021. The company is now requesting customers' support toward the inspection of their vehicles to ensure compliance with Indian Emission Regulations. The inspection is supposed to address vehicles reporting emissions limits higher than standard regulations. Ford was expected to contact the owners of the suspected vehicles and ask them to bring their cars to the dealership/service center for an inspection. A customer has now received instructions to call their dealer and book an appointment under Voluntary Emission Recall 21E13. However, the service center remains clueless. There seems to be a clear communication gap between the company management and dealers.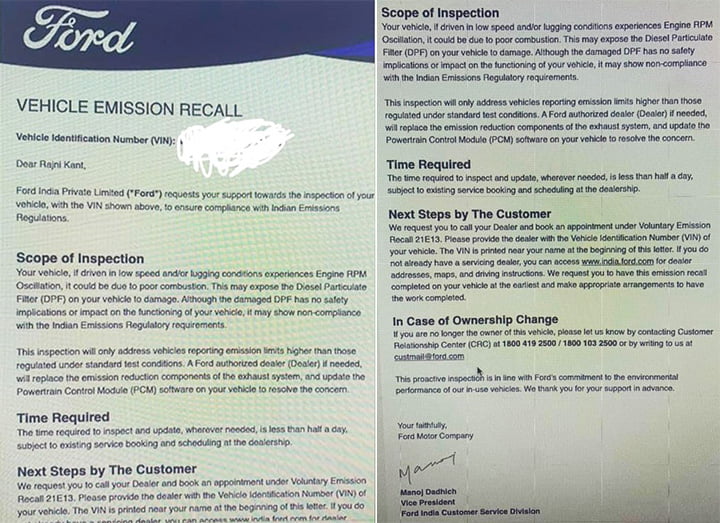 Also read: Fans Want Ford Ecosport Back As CBU- Smart or Stupid?
A Ford authorized dealer is supposed to replace emission reduction components of the exhaust system and update Powertrain Control Module (PCM) software to resolve the concern if needed. The time required to inspect and update is said to be less than a day. The servicing dealers, on the other hand, seem to have no instructions on how to proceed with the inspection and recall procedure.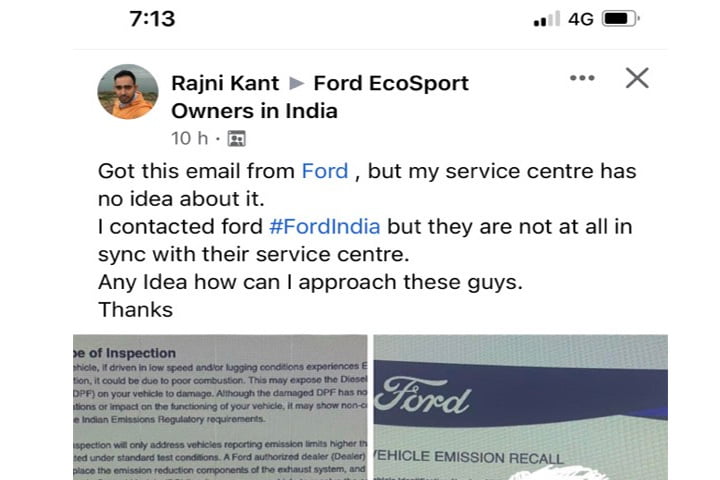 Ford claims that there are no safety concerns regarding the vehicle's function or driveability. However, due to poor combustion, your car can experience Engine RPM Oscillation in low speed or lugging conditions. This can damage the Diesel Particulate Filter and show non-compliance with Indian Emission Regulations requirements. If your Ford EcoSport vehicle falls under the recall, we advise you to get it inspected at the earliest. Ford still has over a million customers in India. While a lot of these loyal fans were disappointing Ford leaving the country, the recall notice without a proper process in place has become quite troublesome for the Ford EcoSport owners. You can check if your car has been recalled by visiting Ford India's website and entering the vehicle identification number (VIN).
Also read: Ford EcoSport User Buys MG Hector – Unhappy With High Speed Dynamics!