Here is yet another example of the loyalty of Ford EcoSport fans who keep buying the compact SUV even after discontinuation. Ford has recently announced that it will stop manufacturing cars in India. As a result, the dealerships will keep selling the Ford cars until the stock lasts. Thereafter, Ford will continue to operate in India, but as a niche player. It will only sell imported products like the Mustang, Mach E and Raptor/Ranger Pick up trucks. We have seen how people are massive fans of the build quality of Ford vehicles. The EcoSport is a testament to that. That is the reason why some fans are still continuing to buy Ford cars knowing very well that the company doesn't entirely exist in India anymore like it used to.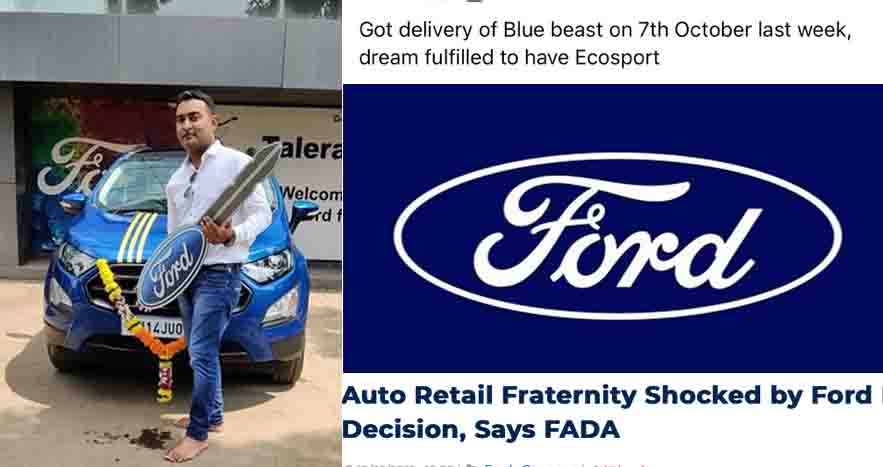 Also read: Crashed Ford EcoSport Hanging From Tree Shows Why We'll Miss It Bad
Fans Buy Ford EcoSport Despite Discontinuation
This is the last opportunity for people to buy new Ford cars in India. The dealerships won't be able to sell any after this bulk of stock ends. Many of the dealerships that have run out of stock have already beginning to shut down. There have also been many reports of people struggling to find service centres, especially in smaller cities. People have to travel long distances to bigger cities just to get their vehicles serviced. Despite that, the loyal fans of Ford are continuing to buy their favourite cars. Case in point, this guy who shared his excitement of buying his dream car, the Ford EcoSport in October. This is a clear indication of the popularity of the American carmaker among some automobile enthusiasts in the country.
Also read: Unlike Indians, Americans Celebrate Discontinuation of Ford EcoSport!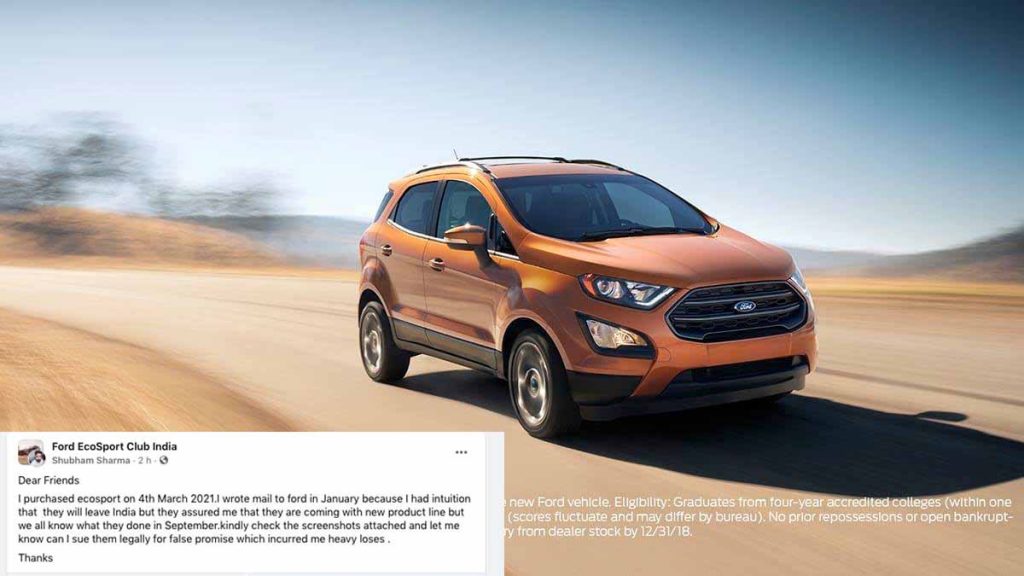 Specs
Before the discontinuation, the Ford EcoSport came with a 1.5-litre naturally aspirated petrol engine good for 120 hp and 149 Nm and the 1.5-litre diesel engine makes 100 hp and 215 Nm of peak power and torque respectively. There are options of either a 5-speed manual or a 6-speed automatic gearbox. It rivalled the likes of Hyundai Venue, Kia Sonet, Maruti Brezza, Mahindra XUV300, Tata Nexon among others.
Also read: What Should Ford Buyers Who Paid in Full But Awaited Delivery Do Now?