Ford customers are asking if they could cancel the delivery of EcoSport after the loan has been approved. After Ford officially announced that it will stop manufacturing cars in India, such queries along with many other doubts have flooded the EcoSport pages on Facebook. People, rightly, are worried about what will happen to their existing cars. Also, if they have not taken the delivery of their cars yet, is there an option to cancel it? How will the situation pan out with the banks after they have already approved the loan and transferred money to the car company? Here is one of such customers who is stuck with all these questions and we will try to address this issue to the best of our knowledge.
Also read: Ford EcoSport & Other to Discontinue After Dealers Stop Taking Bookings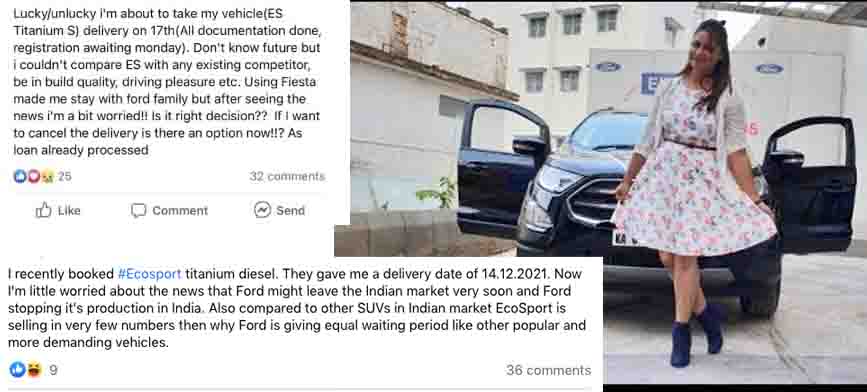 Can I Cancel My Ford EcoSport Delivery?
Now, there is no one right answer for this. Everything depends on the dealer's and bank's discretion. While it may be possible to cancel the delivery, the bank will charge various sorts of cancellation fees, early loan repayment penalty and whatnot since the money is already in the dealer's account. Similarly, the dealer could also deny the cancellation of the delivery of the car. It is best to sit and talk to the dealer and convince him/her to allow you to cancel the delivery. So, technically it might be possible to still cancel the delivery of your Ford EcoSport or any other Ford product but the process may be challenging. You have to be prepared for it.
Also read: Ford EcoSport Claimed To Transport 600kg Cargo But Should You Do It?
Should You Cancel Your Car's Delivery?
Well, this might be a better question to ask and a lot of people, in fact, have asked this as well. Ford has stopped the manufacturing of all its products. However, the service centres will still be operational. It is these service workshops and centres from where the companies generate revenue at the end of the day. Also, Ford is a company with values and they will not just leave India without taking care of their customers. The spare parts and service will still continue for quite some time. Also, Ford is not completely leaving India like Chevrolet. Ford will still operate through small volume imports of its niche products like the Mustang. The Mach E and Bronco will also come to India as CBUs in the future. So, if you are a Ford fan and want its product, now is not such a bad time to buy one. You might want to switch to some other car after 5 years maybe. Until then, the services should be there, although no one has a clear answer.
Also read: WATCH Ford EcoSport Go Off-Road & Race Kia Sonet, Maruti Brezza – VIDEO
Join our official telegram channel for free latest updates and follow us on Google News here.