The loyal fans of the Ford EcoSport in India are suggesting bringing back the compact SUV via the CBU route. Ever since the American carmaker had stopped manufacturing in India, the supporters of Ford products in India have been quite vocal in expressing their opinions to recommend unusual ways to make Ford rethink its decision. While Ford was not selling very high volumes towards the twilight stage of its stay in the country, it still has over a million customers already. Most of them are very loyal and passionate about Ford products. Therefore, Ford leaving India was disappointing news for them. This time, they have come up with a new suggestion with which Ford could still offer the EcoSport in our market. But how much sense does it actually make? Let us try to discuss this avenue too.
Also read: Fans Continue Buying Ford EcoSport Even After Discontinuation!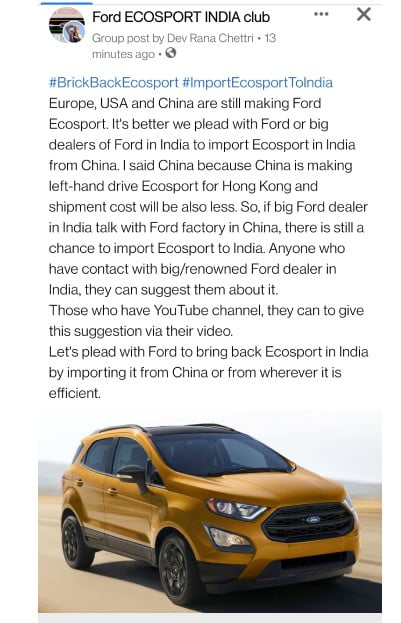 Ford EcoSport Fans Want CBU
As seen in the image above, Ford fans have come up with the idea of importing the EcoSport from China, the USA or Europe. While they are aware of the astronomical import duties involved in importing a car as a CBU, they are trying to suggest some ways to go around it. They are of the opinion that importing from neighbouring China might not incur heavy duties. However, this is not true. Importing any car to India does levy duties ranging from 60% to 150% or even higher in some cases. This would mean that the compact SUV might start costing somewhere in the vicinity of Rs 18 lakh, on road. This is almost the same amount as the top-trim of any mid-size SUV costs, for instance, Creta, Setos, Kushaq, Taigun or Astor. Irrespective of how big a fan of Ford you might be, there is no point in shelling out that amount for a compact SUV. Hence, the fans will have to understand that CBU is not the ideal way of having the Ford EcoSport back.
Also read: Latest Ford EcoSport Crash Yet Again Shows Why We'll Miss This SUV!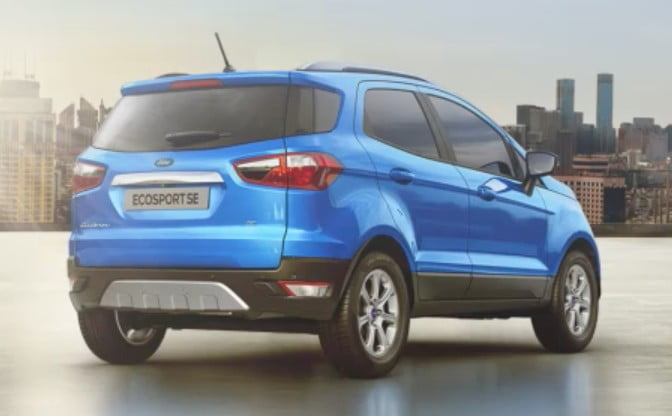 Specs
Before the discontinuation, the Ford EcoSport came with a 1.5-litre naturally aspirated petrol engine good for 120 hp and 149 Nm and the 1.5-litre diesel engine makes 100 hp and 215 Nm of peak power and torque respectively. There are options of either a 5-speed manual or a 6-speed automatic gearbox.
Also read: Unlike Indians, Americans Celebrate Discontinuation of Ford EcoSport!