It is true that Ford has some of the most loyal fans in India and the decision to quit the Indian market has come as a shock to some of them. One can't really blame them as Ford had operated in India for the last 25 years. Many customers have developed strong relations with Ford products and can't seem to comprehend Ford's decision to quit India. Ford had some of the most fun to drive and strong products in our market including the likes of Icon, Fiesta, Figo, Fusion, EcoSport and Endeavour. But failing to witness healthy sales to sustain their business in the country, the American carmaker decided to pull the plug. But the social media platforms have been inundated by the overwhelming support of the loyal fans for Ford. Some of them are even suggesting ways to contribute to the brand so that it can carry on operations here. Check out some of these posts by Ford product owners.
Also read: Ford EcoSport to Even Exit USA Despite Higher Sales Than in India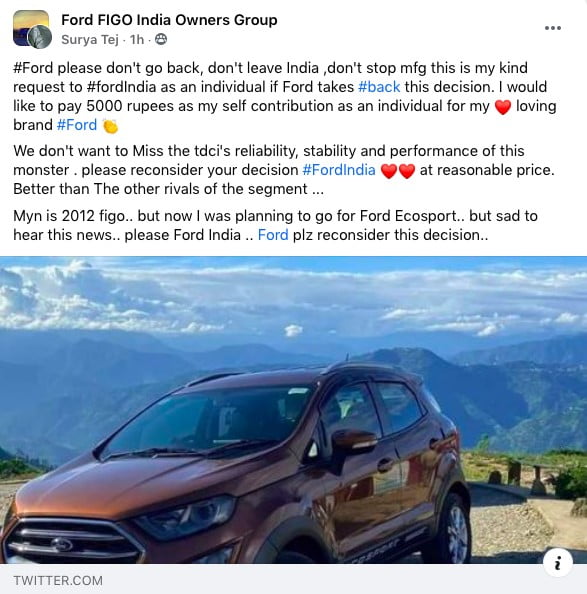 Ford India Fans
Some of the posts on Facebook pages along with the comments explain the degree of support that Ford India enjoys. Although it might be too late, they are still trying their best to make the American carmaker take back its decision to quit India. In a series of comments and posts on FB, some customers are offering to contribute financially to make Ford reconsider their decision of leaving India. Now, these might seem weird logic to a whole lot of people and they might well be, but the intention behind these comments is crystal clear. Having driven products like Ikons, Fiestas, EcoSports and many more, these people value the things that these cars offer. Some of the customers feel that these products are way ahead of the competition.
Also read: What Should Ford Buyers Who Paid in Full But Awaited Delivery Do Now?
But unfortunately, it hardly matters anymore. Ford, as a brand, has taken the decision and it is highly unlikely that they will reconsider. Ford has promised to ensure the services for the maintenance and spare parts of the existing vehicles. Also, technically, Ford will still operate in India in small numbers through imports. The products will include the likes of Mustang, Mach E and possibly the Ranger pickup truck. These will be sold as CBUs and Ford will continue to be a niche player in our market. But as far as the regular operation and production go, it just doesn't make sense with such low monthly sales. Therefore, it might be difficult for Ford India to take back its decision to quit India despite the desires of the fans.
Also read: Ford Freestyle Completely Crushed Between Buses Keeps Occupant Safe
Stay tuned to CarBlogIndia for more from Ford.
Join our official telegram channel for free latest updates and follow us on Google News here.