Ford India has announced birthday celebration of Ford Figo in India at 230-outlet nationwide dealer network in India. In the month of March 2012, Ford India will celebrate the same with the Ford dealerships across India decorated in a birthday theme with customers being encouraged to participate in fun filled activities and competitions like the Ford Figo Quiz and the Ford Figo Race with remote controlled cars before the cake cutting. The celebrations will also include fun games and events such as art competitions and slogan writing competitions for children and young adults, again emphasizing Ford's willingness to include all members of the family in the Ford family celebrations.
Leading the celebrations, Nigel Wark, Executive Director, Marketing, Sales and Service, Ford India, said,
"Despite a dip in the auto industry last year, the Figo has continued to witness growth not only in the domestic market, where it now has 150,000 proud and happy owners, but also in export markets. As we celebrate this wonderful journey with this innovative new campaign, we would like to thank all our customers, both in India and abroad, for the confidence they have shown in the Figo as a product and the loyalty they have shown towards the Ford brand."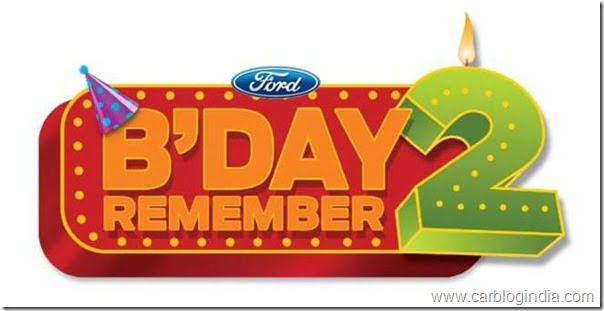 image – Ford Figo 2nds Birthday Celebration
With special offers and discounts across Ford product range, the 360 degree campaign aims to drive engagement using platform like print media advertising, radio promotions and on ground events and service camps at dealerships across India to celebrate the occasion.
The theme of the campaign is the 'Ford Family' wherein the highly capable Endeavour SUV and the value offering – the Fiesta Classic, are the Figo's elder brothers. And it is this set of brothers who, in a series of animated videos posted on popular social platforms like YouTube and Facebook and through media like radio, are inviting the consumers to come and join the celebrations at Ford dealerships across the nation. Below you can see the official YouTube Video for promotion of this celebration in India.
In keeping with the Ford promise of "Go Further", the celebrations won't stop with the birthday and will continue through the Ford Figo's birth month of March. As part of the month long celebrations service camps will also be organized, which become especially significant with summer around the corner and customers lining up to get their vehicles serviced in preparation of the harsh summer months.
Alongside its growing popularity in India, the total number of countries where the ever popular Ford Figo continues to find happy and proud homes has also grown over the last two years to 34 with the inclusion of Lebanon as its latest export destination.
So do join the celebrations by visiting a Ford dealership near you and experience the Ford Family fun!
Check out more-