February 2012 has been a month filled with achievements and activities for Ford India. In this month, Ford India opened 45 new sales outlet in 35 locations in one single day. Also on 28th Feb 2012 Ford launched the Automatic transmission variant of its popular global sedan Ford Fiesta 2011 in India. Also Ford started export of Ford Figo small car to a new global market, Lebanon. In terms of car sales, Ford India sold 10,424 wholesale and export units in February 2012, demonstrating sustained and stable growth for the second month of this quarter.  Domestic wholesale figures were 8035 units for February while export figures also remained high, with 2389 vehicles exported during the month.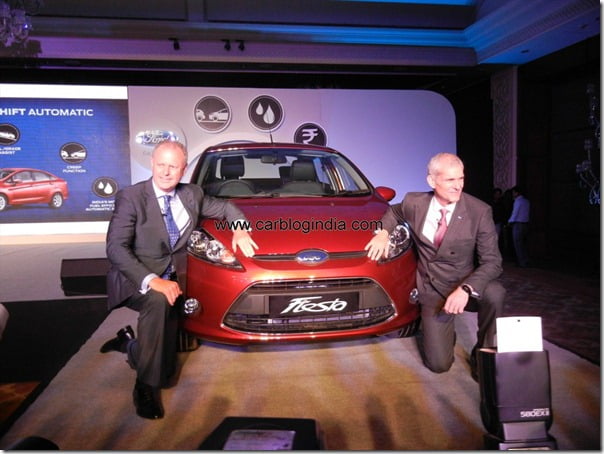 image – Ford Fiesta Automatic 2012 Launch In India
On February 16th, Ford India opened 45 new sales and service outlets across India in 35 cities and towns of India simultaneously. Living up to the company's new brand promise, "Go Further," Ford India has now strengthened its pan-India network to 230 sales and service outlets in over 123 cities.
Ford India's President and Managing Director Michael Boneham quoted:
"We have embarked on an exciting growth path in 2012 as evident with our 10,000 plus sales for the second month in a row, and addition of 45 dealerships across India in February. In addition to our commitment of bringing new vehicles to India, we are focused on augmenting the customer experience and going further to increase our footprint. By offering customers the comfort and convenience of automatic at an incredible price, Ford India is ready to Go Further in bringing transformative technologies to its customers."
With Ford India opening a new outlet every 10 days, including in tier II and III cities, the pan-India expansion will enable customers to enjoy world-class products and services from Ford along with best-in-class cost-of-ownership experience. The total number of countries to which the popular Ford Figo is exported increased to 34 countries this month with the commencement of exports to Lebanon. Ford India also augmented its All-New Fiesta range by introducing two automatic variants this month, the Fiesta PowerShift Automatic-Style and Titanium+ variants at an attractive price. With amazing fuel-efficiency of 16.97 km/L and a unique sealed-for-life transmission unit that requires no maintenance for 10 years or 240,000 kms, Ford's pricing makes the automatic variant attractive to manual owners.
check out more-
More Related News