At Consumer Electronics Show (CES) 2015, Ford has made some very interesting announcements including their Ford Smart Mobility Plan, 25 global mobility experiments and also a share-car project for India which will be piloted in Bangalore. Let us share some of the key details with you on all these three major points.
Ford Smart Mobility Plan is to use innovations and technology to take Ford to next level in terms of connectivity, mobility, autonomous vehicle development, customer experience and use of big data to serve the customers better. As we have already seen that Ford is one of the pioneers in terms of using in-car technology with the features like voice recognition, SYNC and more such fore-front smart technologies which make the concept of connect cars closer to reality.

Ford has also announced 25 global experiments related to mobility which includes car-sharing which it will test in Bangalore India for better utilization of cars among colleagues and apartment dwellers.  Among these 25 experiments, eight are in North America, nine in Europe & Africa, seven in Asia and one on South America. All these experiments are designed to better understands the upcoming trends and future needs of transportation and mobility by customers. Out of the 25 experiments, 14 are led by Ford and 11 are a part of the Innovate Mobility Challenge series. During his CES keynote, Ford President and CEO Mark Fields quoted:
"The experiments we're undertaking today will lead to an all-new model of transportation and mobility within the next 10 years and beyond."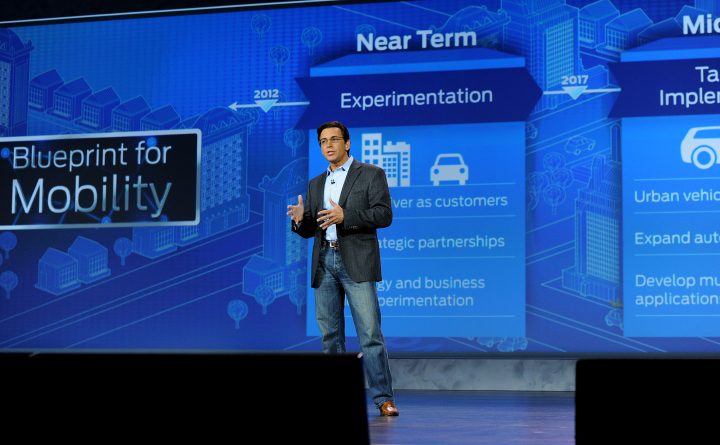 The core focus of these experiments is to address the four major global problems which are putting more and more load on mobility, these are- glowing population, expanding middle class, air quality & public health and changing customer priorities for mobility.
The 14 Ford led experiments include:
Big Data Drive: Dearborn, Michigan
Fleet Insights: United States
Data Driven Insurance: London
Remote Repositioning: Atlanta
City Driving On-Demand: London
Dynamic Social Shuttle: New York, London
Car Swap: Dearborn, Michigan
Ford Car-sharing: Germany
Share-Car: Bangalore, India
Rapid Recharge & Share: Dearborn, Michigan
Data Driven Healthcare: The Gambia, West Africa
Parking Spotter: Atlanta
Info Cycle: Palo Alto, California
Painless Parking: London
From Indian perspective, the Share-car experiment will allow small groups such as co-workers or families from same neighbourhood can share a vehicle. This will bring down the cost of owning and using a vehicle as it is a sharing model. The experiment aims as developing a model to schedule the use of vehicle and managing ownership.
Talking about the innovate mobility channel series, it has a variety of common challenges like finding parking spaces, gain access to medical care in remote areas, remove traffic congestion in urban areas to name a few.
Ford also mentioned its commitment to autonomous vehicle development. Ford already has a semi-automatic vehicle and is working on a the development of fully autonomous vehicle. A fully autonomous Ford Fusion Hybrid research vehicle is already under testing. The vehicle uses the same semi-autonomous technology in Ford vehicles today, while adding four LiDAR sensors to generate a real-time 3D map of the surrounding environment.
Commenting on autonomous vehicles, Raj Nair, Ford chief technical officer and group vice president, Global Product Development quoted:
"We're already manufacturing and selling semi-autonomous vehicles that use software and sensors to steer into both parallel and perpendicular parking spaces, adjust speed based on traffic flow or apply the brakes in an emergency. There will be a Ford autonomous vehicle in the future, and we take putting one on the road very seriously."
What do you think about these advancements? Do let us know in the comment section below.