After the appointment of Draupadi Murmu as the 15th President of India, Ram Nath Kovind, the former Prez finally left the office in the Mercedes Maybach S600.
The former President Ram Nath Kovind leaves his office in his Mercedes Maybach S600 vacating the space for the new President, Draupadi Murmu. Now, the President of India has the customised limousine as the official car. It has been designed specifically keeping the security of the President in mind. Therefore, you would understand why it is so heavily customised and ready for any kind of threat. Here are the details of this unique vehicle.
You may also like: 10 Exotic Cars of Our Politicians- Modi's Maybach to Thackerey's Range Rover
You may also like: 5 Bollywood Stars with Regular Cars- Madhuri's Nexon to John's V-Cross
Ram Nath Kovind Leaves In Prez's Mercedes
This modified Maybach S600 has been designed to withstand a ton of eventualities. Needless to say, it is bulletproof, bombproof, and explosion-proof, it has equipment for medical emergencies and features like run-flat tyres and alloys that are capable of covering a lot of distance even after getting shot. Apart from that, this vehicle has VR9-level ballistic protection, Handgun shots of up to .44 Calibre protection, Military Rifles Shots protection, Bombs, Explosives and Gas Attacks Protection. It has an oxygen supply to ensure the good health of the President in the unfortunate event of a Gas attack.
You may also like: Bollywood Kids and Their Cars- Suhana's Merc GLE 43 AMG to Shanaya Kapoor's Audi Q7
The video shows the former President taking leave and meeting and greeting the ministers and handing the baton to the new President. The grand ceremony has all the prominent political personalities including PM Narendra Modi. Everyone is bidding farewell to Ram Nath Kovind with folded hands and he also receives the good wishes in the same manner. Finally, he is seen getting in the car and driving off while Draupadi Murmu takes the office from now onward.
You may also like: 5 New Cars of Indian Stars- Kapil Sharma's Mercedes GLS to Madhuri's Porsche 911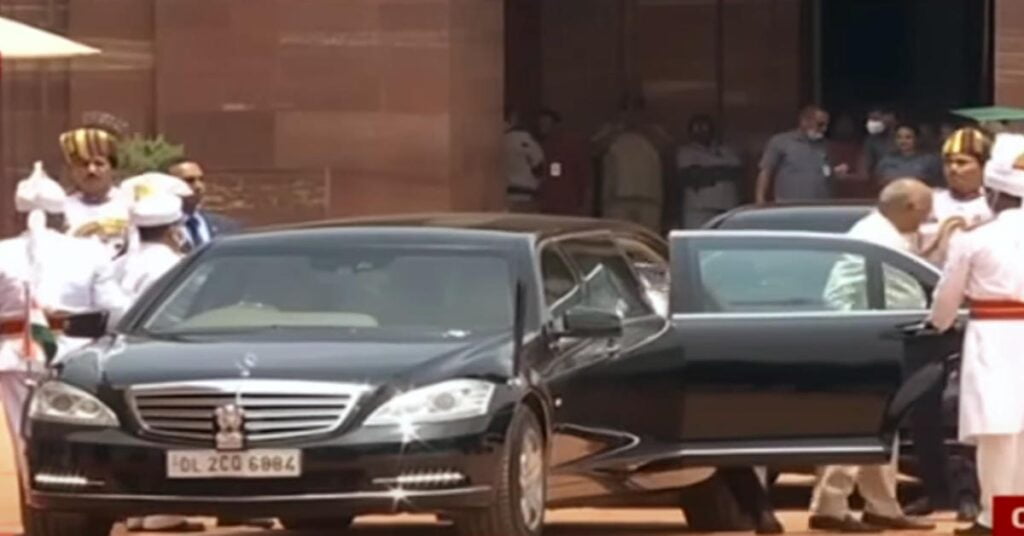 Specs
The Presidential Mercedes Maybach S600 Pullman Guard comes with a 6.0-litre V12 petrol engine that produces a mammoth 530 hp and 830 Nm of peak power and torque. This engine is mated to a 7-speed DCT and comes with air suspension and run-flat tyres. The vehicle has a 0-100 km/h acceleration time of under 8 secs and a top speed of 160 km/h. It seats 4 people and has a boot space of 530 litres and a fuel tank capacity of 80 litres. This beast of a car costs Rs 10 Crore which seems fair considering that this is supposed to be the safest car in the country designed to carry the first citizen of the country.
Join our official telegram channel for free latest updates and follow us on Google News here.