Recently, in Mumbai, a man was caught and told to appear in court for giving a lift to strangers. The said person was on his way to work in heavy rainfall, where he saw some people of a known IT company waiting for public transport. He was going to drop them on the way, but was caught by a policeman and was told to appear to court.
In metro cities, where no one cares for another person, a person helping others landed in trouble. Usually, most of the people ignore even if someone had an accident and just stand there to see the view. While some people who help strangers in their despair and try to be a good Samaritan, sometimes the society and government itself let them down. Recently, a man was fined and taken to court for giving a lift to stranded people. Nitin Nair, a Navi Mumbai resident, shared his ordeal over Facebook after he was caught by a traffic policeman for giving a lift to people stranded due to heavy rainfall.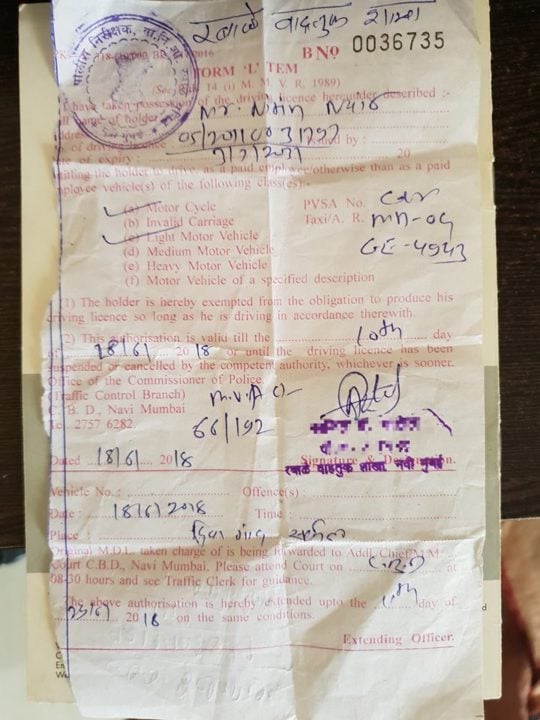 Nair, who works in an IT company in Navi Mumbai was travelling on the Belapur road, towards Gandhi Nagar from Airoli. While travelling in his car through heavy rainfall, he saw some people waiting for public transport, which as usual takes a hit during heavy rainfall. He saw them and recognized the IT company and offered them a lift to their office, as it came in his way. After he started his car, a traffic policeman caught him. He was asked to take a receipt and submit his license immediately. Upon asking the reason, the policeman said that it was illegal to ply passengers in a private vehicle.
Nair thought that the guy was making his own rules and was not serious. But when he handed the receipt to Nair and took his license, Nair was shocked. After much argument, still, Nair had to return without his license. He was told to pick up the license the next day from a nearby police station. However, upon going there, he was told to appear in the court to get another receipt for his license. After much shuttling from here to there, he went to the court next day at 9:30 AM. There, he was made to stand like a criminal and was asked to pay a fine of Rs 2,000 for this act. With some pleading, the fine was reduced to Rs 1,500.
According to Section 66(1), subsection 192(a) of the Motor Vehicles Act, 1988 no owner of a motor vehicle shall use a vehicle as a transport vehicle whether or not such vehicle is actually carrying any passengers or goods save in accordance with conditions of a permit granted by a Regional or State Transport Authority. According to this, if the passengers are paying money, then he was rightfully caught. But they were not paying anything, also the policeman did not ask them the truth. If you have a private vehicle, you cannot ply passengers who are paying you for the ride.
Some reports suggest that as Nair's vehicle had a carrier on top, the cops mistook him as a commercial vehicle. They came behind with a towing vehicle and stopped as soon as the people sat in Nair's car. After this drama, Nair still dropped off the strangers to their office after continuing to his work. This case could have been a case of mistaken identity, but without confirming and investigating, how can he be held. Such are the rules and the policeman, who hold an innocent guy guilty for helping his fellow citizens. Where regularly people are motivated to help anyone in need, here are the results of that. If such is the case, then who would help a stranger in need of help?
Readers Rating

Rated 4.7 stars




4.7

/ 5 (

Reviewers

)

Outstanding
---