In some interesting and unique achievement, the Indian Book of Records has a spectacular entry in its February edition. This is a handmade replica of a Mahindra showroom.
This handmade replica of the Mahindra showroom has been recently incorporated into the Indian Book of Records. The book holds extraordinary achievements of people from various fields. Just like the Limca Book or the Guinness Book of records, the Indian Book of Records is a great compilation to witness the kinds of talents we have. This latest addition to the record book is something that automobile enthusiasts will particularly love.
You may also like: Mahindra Releases 2nd Teaser of Upcoming e-SUVs – July 2022 Unveiling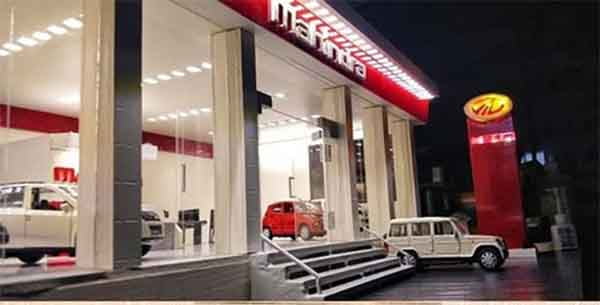 You may also like: Traffic Police in This City Offering 75% Discount On Challan Payments
Handmade Replica Mahindra Showroom
A certain Achyuth Vinayan of Kerala has come up with a miniature handmade version of the typical Mahindra showroom. The piece of art is made from foam and hard boards, acrylic glass, paints and bamboo sticks. The replica resembles how a typical Mahindra showroom would look like anywhere in the country. The measurements of the miniature model are 76 cm x 59 cm vs 25.5 cm. This is extremely compact and the detail that the architect was able to achieve even with such minute dimensions is extraordinary. While more details of the man or the model are not available yet, it would suffice to say that if looked in an image, it is hard to figure out if it is an image of a regular showroom or a model made of board and glass.
The model has a glass front with lights and the Mahindra logo. A Bolero is seen parked outside where the floor looks like original too. There are precise stairs with a protective railing that leads to inside the showroom. A Mahindra XUV500 is seen parked behind the pillar although a complete and unobstructed view is not available. A smaller REVA-like car is seen parked on the other side in red colour. The entry into the iconic book was dated February 7, 2022, which is fairly recent.
You may also like: WATCH Tata Nexon Dark Edition Crossing River Like A Boss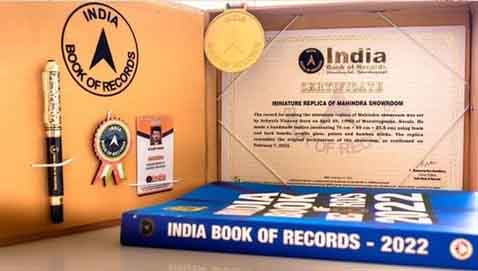 You may also like: This Modified Lamborghini Replica Is Actually A Honda Civic
Let us know what did you think about this impressive and innovative endeavour by Achyuth. Would you like to witness this handmade replica of the Mahindra showroom in flesh?
Join our official telegram channel for free latest updates and follow us on Google News here.