The unfortunate incidents of electric scooter caching fire continue and the latest entrant into this undesirable list is a Hero Photon EV electric scooter.
A Hero Electric Photon EV goes up in flames in Odisha. This latest incident adds to the woes of the EV industry in India which is witnessing incessant fires, particularly in the electric scooters. However, it becomes crucial to mention that Hero Electric is the largest electric scooter manufacturer in the country but this is perhaps the first fire incident reported. The others have mostly been the startup companies that manufacture electric scooters. Here are the details of this unfortunate case.
You may also like: Ola Electric CEO Engages in Twitter Spat With Autocar Editor Over Faulty Scooter
You may also like: From Tesla to Ola S1 Pro – Why Are EVs Catching Fire
Hero Photon EV Goes Up In Flames
This latest incident has been reported from Odisha where the electric scooter was being charged by the owner at his home. He suddenly heard crackles and saw flames coming out from the plug with which the EV was being charged. As he went to disconnect the plug from the socket, the fire had begun at the rear end of the electric scooter. Within a few moments, the entire tail section of the Photon electric scooter caught fire. The fire also engulfed a few household items placed nearby. Luckily, there were no injuries reported to any person. This adds to the slurry of electric scooters catching fire while being charged.
You may also like: 41,096 Electric Vehicles to Sell Every Day for Next 2 Yrs – Gadkari
According to the investigation conducted by Hero Electric, later on, the owner told them that the cause of the fire was not the battery of the electric scooter but the plug used to charge. That was confirmed by the investigating team that the AC phase wire and earth wire were in contact with each other causing a short circuit. The fuse that prevents the short circuit had malfunctioned and the fire could not be controlled. Hero has committed to helping the user to replace the burnt components and is refurbing the scooter to make it road-worthy again.
You may also like: Hero Splendor with India's 1st RTO-Approved Electric Kit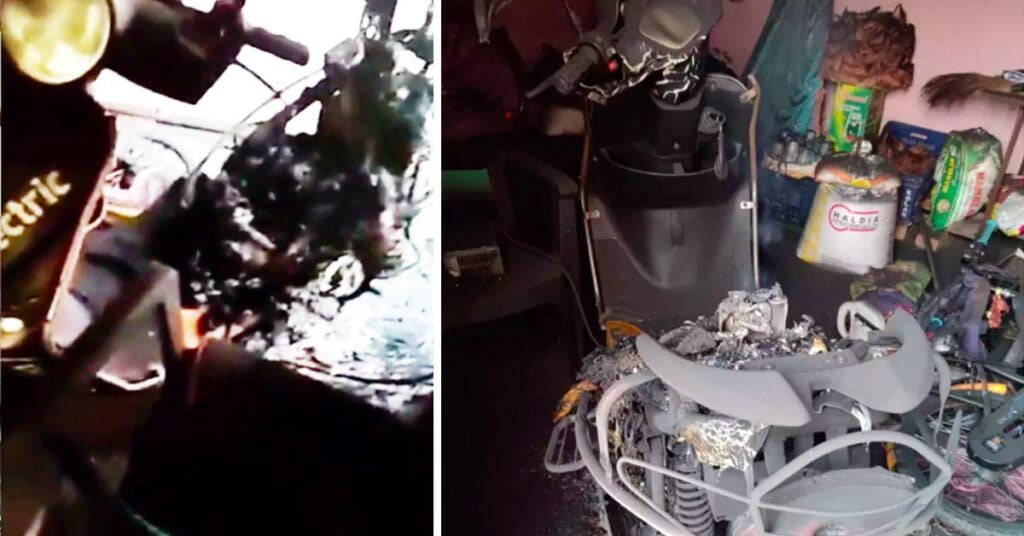 This adds to the tons of other such cases where the battery of the electric scooter had caught fire during charging or while being parked in sunlight. The extreme heat in the country could be one of the reasons why parked EVs are getting lit. We hope that the electric automobile industry deals with these fire issues and comes up with concrete solutions soon.
Join our official telegram channel for free latest updates and follow us on Google News here.