In a new statement, Nitin Gadkari has claimed that up to 30 million EVs will be sold in India in the next two years.
Nitin Gadkari has been quite vocal about the required improvements in the transportation sector. In a new statement, he championed the cause of EVs in the Indian market. The Minister for Surface Transport & Shipping seems quite optimistic about the future of local EV brands. While recent fire accidents have put a big shade on the EV craze in the country, he stated that smaller brands are finally breaking the monopoly of bigger names. Mr. Gadkari even claimed that up to 30 million EVs will be sold in India in the next two years. Let's take a close look!
You May Also Like: Maruti Head Honcho Says EVs Won't Help Curb Pollution – Full Details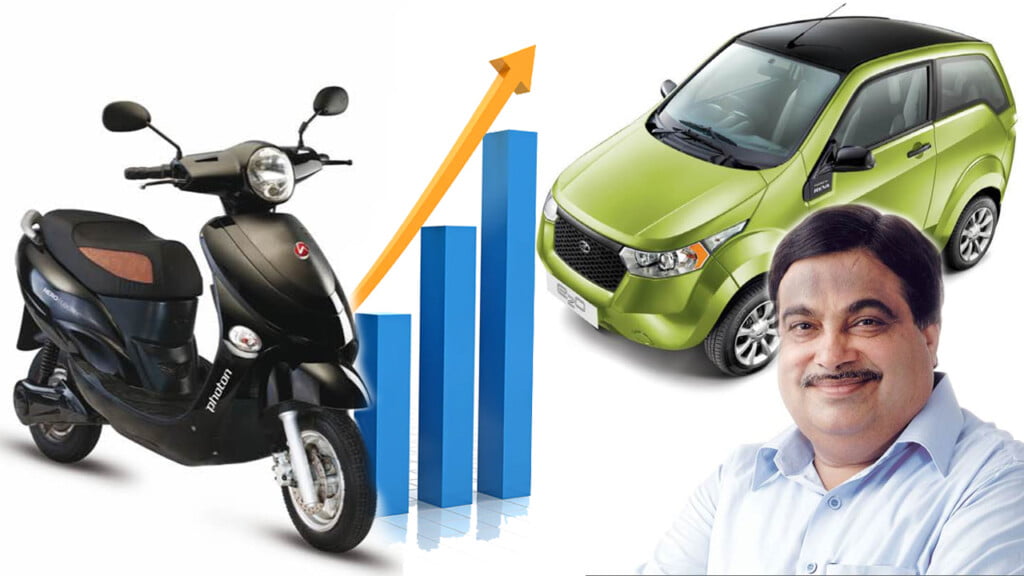 You May Also Like: Future Toyota EVs to Have Faux Manual Transmission
Referring to startups in the EV segment, the Union Transport Minister praised smaller players and startups for bringing good quality products to the market. He seemed optimistic about the EV segment growth in the coming years. He mentioned that there are about 250 startups currently working in the e-scooter segment itself. Mr. Gadkari also hinted at standardization of batteries as the battery technology is expected to be in high demand by 2030. He advised EV companies to take "advance action to recall all defective batches of vehicles immediately".
"In the next five years, it is expected that all vehicles will be electric and players in the EV segment should work together for the betterment of the country by developing innovative solutions for a clean and green future," said Nitin Gadkari. "By December end, the number will go up to 40 Lakh and in next two years, it will reach 3 Cr," he added. Mr. Gadkari was speaking at the launch of startup products incubated at Science and Technology Park in Pune. He also sought 'ideas, suggestions and recommendations' from EV players on the regulatory regime.
You May Also Like: At Rs 70/month, Man Charges 4 EVs & Home Appliances
As of now, 30 Million seems like a big number to achieve in just two years. This amounts to almost 41,096 units being sold every day. Currently, there are only 12 lakh EVs in the country. However, with ever-growing fuel prices, it is the right time to push customers toward electric options. Fortunately, the EV adoption rate has been steadily picking up for a while now. As per the Federation of Automobile Dealership Associations (FADA), 4.29 Lakh EVs were sold in FY22 in India. The overall Indian EV market is expected to grow to $15,397.19 Bn by 2027 at a CAGR of 47.09%.
You May Also Like: 3 New Tata EVs Coming Soon- Updated Nexon EV to Altroz EV
The biggest challenge EV brands face right is gaining trust. Several cases of electric scooters catching fire have built a bad image of EVs very quickly. Such incidents are a major cause of concern for potential customers. The government has already ordered an investigation into the fire incidents caused by faulty battery cells and modules. The Ministry of Road Transport and Highways (MoRTH) has also decided to follow a three-strike policy for electric two-wheeler manufacturers. Such actions by the government will go a long way in gaining the trust of the people.
Join us for FREE NEWS Updates on our Whatsapp Community or our official telegram channel.