With the rising fuel prices, the aftermarket automobile industry has come up with innovative solutions in the form of RTO-approved electric kit for two-wheelers.
Check out this unique RTO-approved electric kit for Hero Splendor. Now, you must have seen a lot of aftermarket electric vehicle conversion kits. However, this one holds the distinction of being the RTO-approved which makes it road-legal and eligible for incentives and insurance claims. One must be aware of the fact that all modifications to automobiles are prohibited in India. Most of the mods also result in the insurance being null and void. That is where this electric kit has an advantage over the others.
You may also like: Homemade Self-Balancing One-Wheeled 'KTM' EV is DOPE
You may also like: WATCH Honda Activa Hybrid Kit Installation and Ride Impression
Hero Splendor With RTO-Approved Electric Kit
This electric kit has been designed by GogoA1 who had already received the RTO approval for the components. The more challenging part is to get the model-level approval. For instance, in this particular case, all the Hero Splendor models after 1997 are approved by the RTO to install this kit. The documentation will make it official and the riders will be able to claim insurance even after installing this conversion kit as well. Additionally, the owners will receive a green number plate signifying an electric motorcycle. Once that happens, there will be no need for the PUC because the engine doesn't produce any emissions.
You may also like: Top 5 Petrol to Electric Car Conversion Kits With Prices
Conversion Kits
GogoA1 has been increasing its footprint in Maharashtra and other states with its authorised dealership coming up rapidly. One could purchase the kit on their website and get it installed at the official dealership located near you. If you want, they will also help you to submit the documents to the nearest RTO office to make it official. The kit has a range of 150 km which is more than enough for everyday use. The electric motor has been incorporated into the wheel hub along with the drum brakes which is the highlight of this kit.
You may also like: Homemade Honda Shine Electric Hybrid has a 150 km Range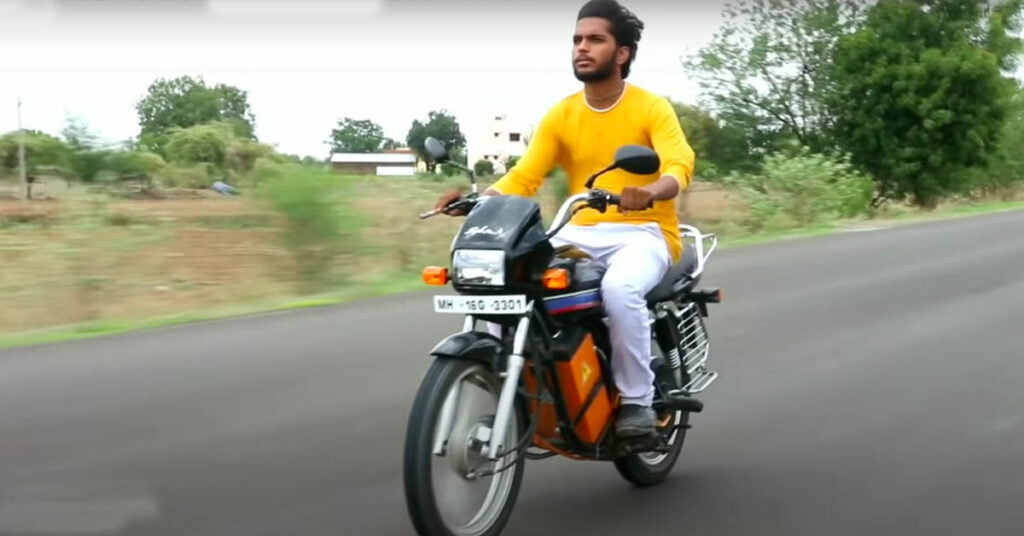 The battery is placed where the engine used to be. Alongside it is the electric controller with all the electrical connections. The electric bike is capable of achieving upto 70 km/h top speed even with 2 persons. It has been tested for water and getting wet, uphill with 3 people, where the performance didn't suffer. The prices of the conversion kits range from Rs 26,760 to Rs 1,00,000 depending on your requirement.
Join our official telegram channel for free latest updates and follow us on Google News here.