The era of converting traditional bikes into electric bikes has arrived and the aftermarket industry is booming with new and affordable solutions to achieve that every day.
A Honda Shine has been converted into a hybrid electric bike that could run on petrol, as well as electricity. We get to witness the converted models every day. New players are emerging in the market that develop affordable conversion kits to transform almost any existing bike into an electric motorcycle. The soaring fuel prices have forced the general public to look for alternative solutions. While for cars, it could be the CNG option, for bikes, these conversion kits are proving to be the sole alternative. Let us check out this latest conversion of the Honda Shine.
You may also like: Homemade Self-Balancing One-Wheeled 'KTM' EV is DOPE
You may also like: LML and eROCKIT to Sell Human Electric Hybrid Bike in India
Honda Shine Hybrid Electric
The video captures an interviewer who reviews the couple who brings their hybrid-electric Honda Shine. The video presenter is seen with his own electric scooter. However, he asks the owner of the hybrid Honda Shine to explain the process in depth. The aftermarket conversion kit has been neatly integrated into the bike with no apparent signs on the body save for a large exhaust-like pipe on both sides of the bike. Asking about it, the presenter is surprised to find out that these two components consist of batteries to power the electric motor. Speaking of the electric motor, it has been integrated with the wheel hub. That is the most common arrangement seen on most EVs.
You may also like: 67 Year Old Makes Electric Car that Costs Rs 5 to Run 60 km
The controller and the electric connections are all hidden from the sight and installed underneath the seat. What is interesting about this conversion is the fact that the traditional IC engine has been kept intact and is functional. In some conversions, the IC engine is taken out but this hybrid conversion allows the user to choose which mode he/she wants to drive in. With the switch, one could choose to either drive on petrol using the regular accelerator lever or on electricity using a switch mounted on top of the accelerator.
You may also like: At Rs 70/month, Man Charges 4 EVs & Home Appliances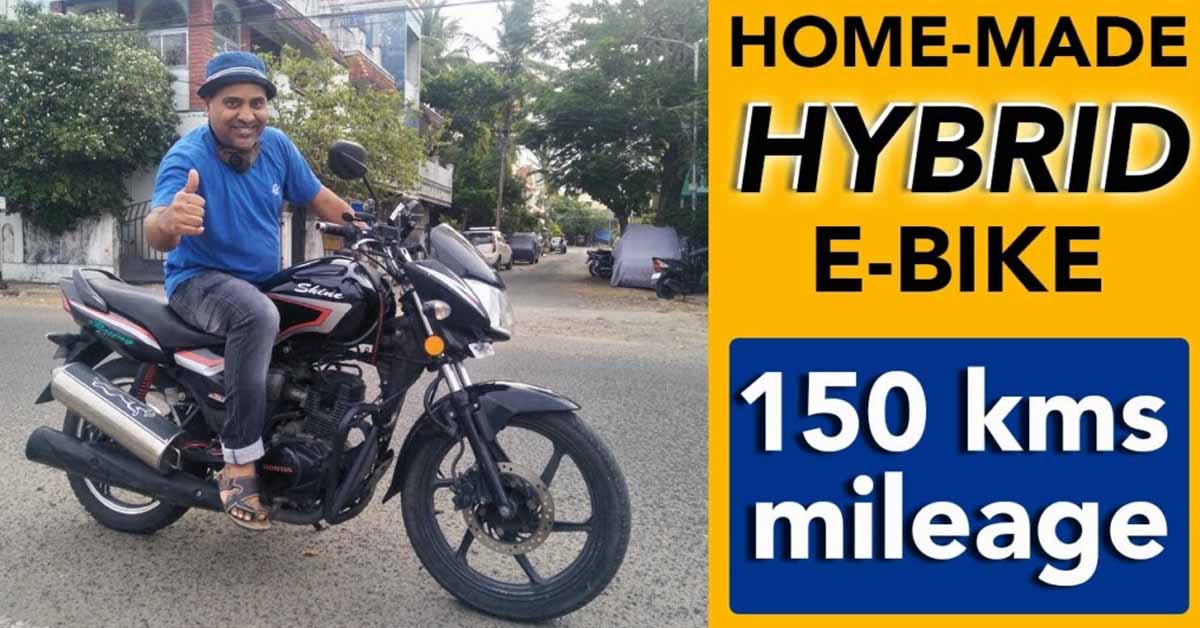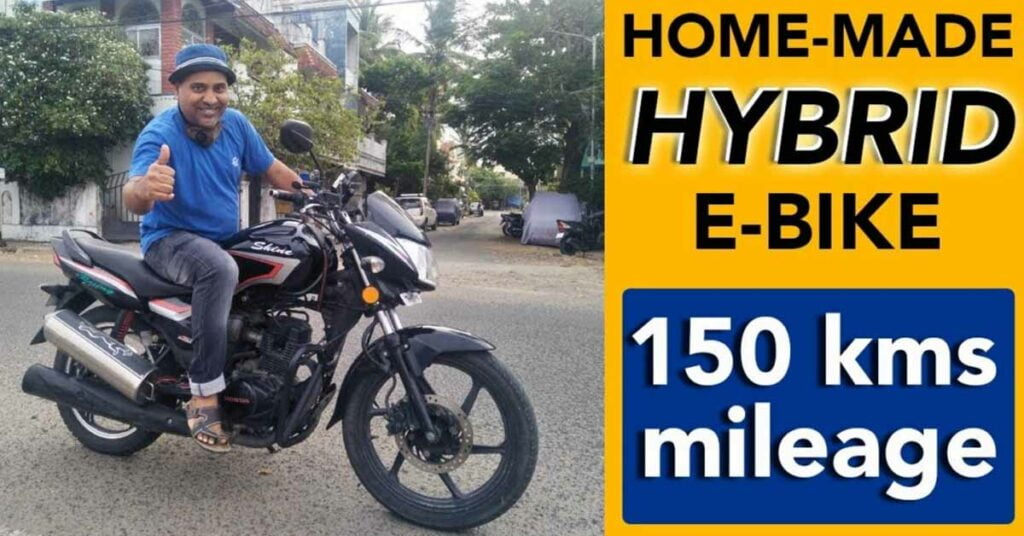 The details of the speed and fuel for the petrol drive are shown on the stock instrument console. The details related to the electric powertrain are displayed on an additional screen that has been attached to the mirror. This arrangement allows for a maximum range of 150 km in the electric-only mode which is quite handy. The charging time is just around 4 hours. In this way, this hybrid electric Honda Shine is capable of driving on both power sources.
Join us for FREE NEWS Updates on our Whatsapp Community or our official telegram channel.