HMSI (Honda Motorcycles and Scooters India) has recently inaugurated its second plant in Rajasthan adding additional production capacity to its Honda Scooters and Motorcycles in India. The production capacity will be further improved and the waiting time will become lesser especially in southern parts of India by 2013 mid when the next plant (HMSI's 3rd plant in India) which is the first plant in southern part of India will become operational. To promote industrial development in the region and create higher employment opportunities, the Govt. of Karnataka has given many conditional tax benefits to to HMSI for its plant in at the Narasapur Industrial Estate in Kolar district, about 52 km from Bangalore, Karnataka. HMSI will make a total investment of Rs. 1300 crore in this region to develop this plant.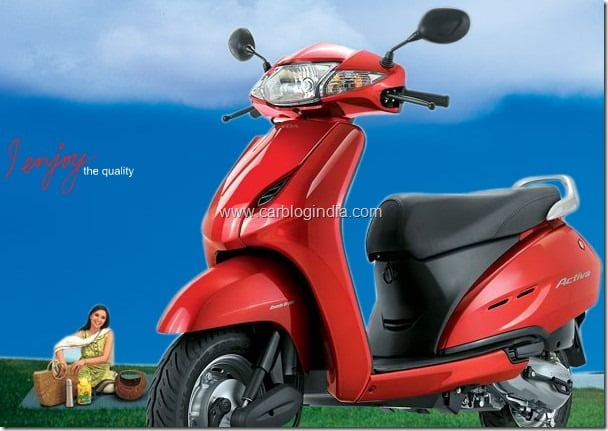 image – Honda Activa gearless scooter
The Tax and other Benefits offered to HMSI In Karnataka include:
Govt. will convert 40 per cent of the value-added tax into interest-free loan for 10 years which will be payable from the 11th year for the next 10 years
Govt. would reimburse 95 per cent of the central sales tax to the company for a period of five years
Govt. will exempt the company from paying stamp duty and registration fee for registering the land
Govt. will give 100% exemption from payment of entry tax on plant & machinery and capital goods for a period of three years
Govt. will provide 100% exemption from payment of entry tax on raw material inputs for a period of 10 years
Conditions for above benefits – Government will provide the above benefits on certain terms and conditions which include – HMSI would provide 85 per cent jobs to the local people in all departments of its plant at Karnataka. This will help generate a direct employment for 3200 employees and 15000 indirect or related employment positions because of HMSI plant in the region.
This move will help to develop the industrial region in the Kolar district as well as provide employment to the local people. Also there will be less time required to transport and deliver Honda Scooters and Motorcycles to the southern states in India as the other two plans are located far in the northern India region.
via – BS
check out more related news –